Format Read: e-ARC submitted by Novel Sidekick courtesy of Author
Length: 59 Pages
Series: Pacific Passion Book #3
Genre: Erotic, Paranormal, Shapeshifters, Ménage
Release Date: May 17, 2011
Publisher: Samhain Publishing
Formats Available: eBook, Kindle, Nook
Purchasing Info: Publisher, Author's Website, Goodreads, Kindle, Nook
Book Blurb:
Love speaks volumes without a single word.

In the months they've traveled together, Laurin Marshall and Matt Jentry's attraction has grown beyond spectacular sexual passion to into a deeper emotional connection. Still, Laurin wrestles with one last question: how a water shifter and an air shifter can possibly find permanent common ground.

Matt is content to wait patiently for Laurin to realize he has no desire to change her sky-borne nature. Until a giant golden eagle touches down on the Stormchild and tips the delicate balance of more than just the boat.

Laurin's obvious affection for the newcomer comes as a shock. And so does the flash of jealousy that interferes with his shamanic ability to heal the man's malady. While Matt struggles to balance his conflicted responsibilities, Laurin attempts to reconcile her undeniable feelings for one of her kind with her desire for Matt.

Somewhere between the ocean depths and the mountaintops, they need to find a love strong enough to call them both home to the Stormchild.

Warning: Familiar lovers (hot) with old rivals (hotter) and a wild curse-melting ménage (hottest yet). Get ready for one exotic paranormal that will make you look to the skies and sea with longing.
My Thoughts:
In the third story and final story of her Pacific Passions series, Vivian Arend continues to enhance Shaman Matt Jentry's and Lauren Marshall's world of oceanic and air shifters. Lauren and Matt's relationship has flourished during the time they have sailed the Pacific rim aboard the Stormchild. Matt is absolutely besotted with Lauren and wants to make a life with her. However Lauren is unsettled, having difficulty reconciling her heritage as an avian shifter and his as being one of the people of the sea. Both these characters have inherent magics which strengthens and deepens their bond when they make love.

After a time, Lauren shares her concerns and fears with Matt and to support her and hopefully help fulfill her sense of duty to the people of the air they make plans to return to her clan in the mountains. There she will not only reunite with her family but seek council with her grandfather, one of the clan elders. Lauren is very torn between her deep connection and love for Matt and a sense of responsibility to her people.
Then Kallen, an eagle shifter unexpectedly arrives on the Stormchild. Lauren knew, respected and desired Kallen before fleeing her clan and meeting Matt. The air shifter is under a complex disabling curse, which he knows only Matt and Lauren can cure through an intimate union. Kallen's presence and Lauren's obvious affection for him results in emotions Matt has never had to deal with before, jealously, fear of losing his lover, being lonely again, and, anger. In an attempt to regain his equilibrium Matt leaves Lauren and the Stormchild, and returns to the sea as one of it's creatures.
Matt and Lauren are forced to work through significant personal conflict in Silent Storm, and what I really liked about this story is that they both return to their natural habitats to bond with the elements and resolve their internal struggles. In the background is Kallen, a shifter who is destined to be leader of his people but because of betrayal at the hands of one close to him may have a very uncertain future, unless Matt and Lauren can embrace him.
Silent Storm is a story rife with sexual tension and conflict, and I feel it was aptly titled because each of the characters deal with their own "silent storm". Pay heed to the Samhain warning, this one is a smoker of a ménage with many graphically descriptive erotic scenes. That being said, I did not find the eroticism depicted in the narrative distasteful in the least. In fact I thought the intimacy was quite fitting given the character's passion and connection to nature. I thoroughly enjoyed Silent Storm and the Pacific Passion series. If you are interested in reading Silent Storm I would highly recommend you read the series in order, Stormchild is the first story followed by Stormy Seduction.

I give Silent Storm 4/5 Bookies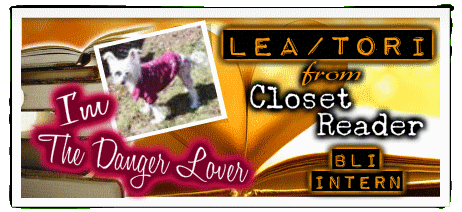 ***FTC Disclaimer: Most books reviewed on this site have been provided free of charge by the publisher, author or publicist. Some books we have purchased with our own money and will be noted as such. Any links to places to purchase books are provided as a convenience, and do not serve as an endorsement by this blog. All reviews are the true and honest opinion of the blogger reviewing the book. The method of acquiring the book does not have a bearing on the content of the review.