Format Read: e-Book purchased by reviewer
Length: 72 Pages
Genre: Erotic Paranormal Romance
Publisher: Changeling Press
Release Date: April 28, 2011
Formats Available: e-Book
Purchasing Info: Publisher, Author's Website
Book Blurb:
Tempest Kincaide is certain she must be the last twenty-eight-year-old virgin left in the entire world. Her fervent belief in holding out for her soul mate has kept her from doing what most women her age would have done long ago. She might consider a one-night stand, if only she weren't so terrified of admitting that she has no experience, no real knowledge of sexual practices beyond the theoretical, and no skill in pleasing a man.

Storm is a retired sex demon. After centuries of catering to humans' sexual whims, he's taken himself out of the family business. His self-imposed dry spell has lasted more than most humans' lifespans, but he's just fine with that. He's got a business degree and a real job now, and he's in no rush to return to his seducing, womanizing ways.

Until he meets Tempest at Final Cut in Miami, that is. Her innocent nature calls out to the demon in him, making her impossible to resist. He wants to give her everything she craves — and a few things she's never even imagined.

A memorable night at Final Cut leaves Tempest exhausted. But when she wakes up the next morning, naked and bound, she has no idea what she's gotten herself into. This might be her chance to lose that virginity she's been holding on to for far too long. But first she has to learn trust, passion, and the ecstasy of surrender… all at the hands of a sex demon who's determined to claim Tempest for his own.
My Thoughts:
Erotic author Lacey Savage's books are a guilty pleasure for me and
Miami Heat: Storm's Tempest
, is one of my favorites to date. As noted in the synopsis this is Tempest's story a virginal woman who meets Storm, an extremely charismatic, sensual and handsome 'man' in Final Cut, a bar that she wonders into after being stood up by her erstwhile friend Lucy. Tempest is 28 years old and has been saving herself for Mr. Right – her soulmate. While this type of characterization may sound cliché it works because of the juxtaposition Ms. Savage creates between Tempest and Storm, and due to the romance plot which in part is rather tongue in cheek.
Storm is a sex demon who has shunned his nature for a century, in fact he chose celibacy because he could no longer contend with being used solely for sexual pleasure by women. He is millennium in age and has been intimate with more women then he can count over his long lifetime. However, when Storm relinquished his sex demon ways he basically "bottled up" all that sexual energy and has kept it shielded in a tightly lidded box inside.
This is a very erotic tale as in ice water and fan needed! The intimate scenes are nuclear grade hot, sexually explicit and be warned the "c" word is used. lol When Storm lets down his shields and releases his mojo on Tempest the sensuality sizzles from the pages. I have to say, Ms. Savage's sex demons are gifted with many talents. 😉 Morning afters can be very dicey and such is the case for Tempest and Storm, especially when he summarily dismisses her because he knows his sex genie is out of the bottle so to speak.
Lacy Savage also introduces Adrian, Storm's sarcastic, uber sexy-sex demon brother who plays a pivotal role in the plot of this story. I loved Adrian, a playboy sex demon extraordinaire, who has willingly embraced his heritage. lol I'm hoping Ms. Savage will write his story at some point because I for one would love read who she characterizes as a match for Adrian.
I found Miami Heat: Storm's Tempest, to be a heartwarming, very hot and unique erotic tale that doesn't spare the humor. A tidal wave of sexual energy is released from Storm after his night of carnal pleasure with Tempest and it draws throngs of women from far and wide. There is a scene at Final Cut that can be best equated with a celebrity mobbing, the poor guy doesn't stand a chance. Storm is disgusted and appalled by all the attention, in fact, he pretty much loathes what he is. I really felt sorry for him.
I thoroughly enjoyed Miami Heat: Storm's Tempest and I feel Ms. Savage did have fun writing this story because of the underlying wit. However, while I knew Tempest and Storm would have their HEA, I was kept on tender hooks wondering how the author would resolve their conflicts. The conclusion of this novella doesn't disappoint.

I give Final Cut Miami: Storm's Tempest 4/5 Bookies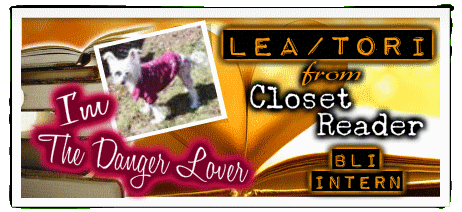 ***FTC Disclaimer: Most books reviewed on this site have been provided free of charge by the publisher, author or publicist. Some books we have purchased with our own money and will be noted as such. Any links to places to purchase books are provided as a convenience, and do not serve as an endorsement by this blog. All reviews are the true and honest opinion of the blogger reviewing the book. The method of acquiring the book does not have a bearing on the content of the review.