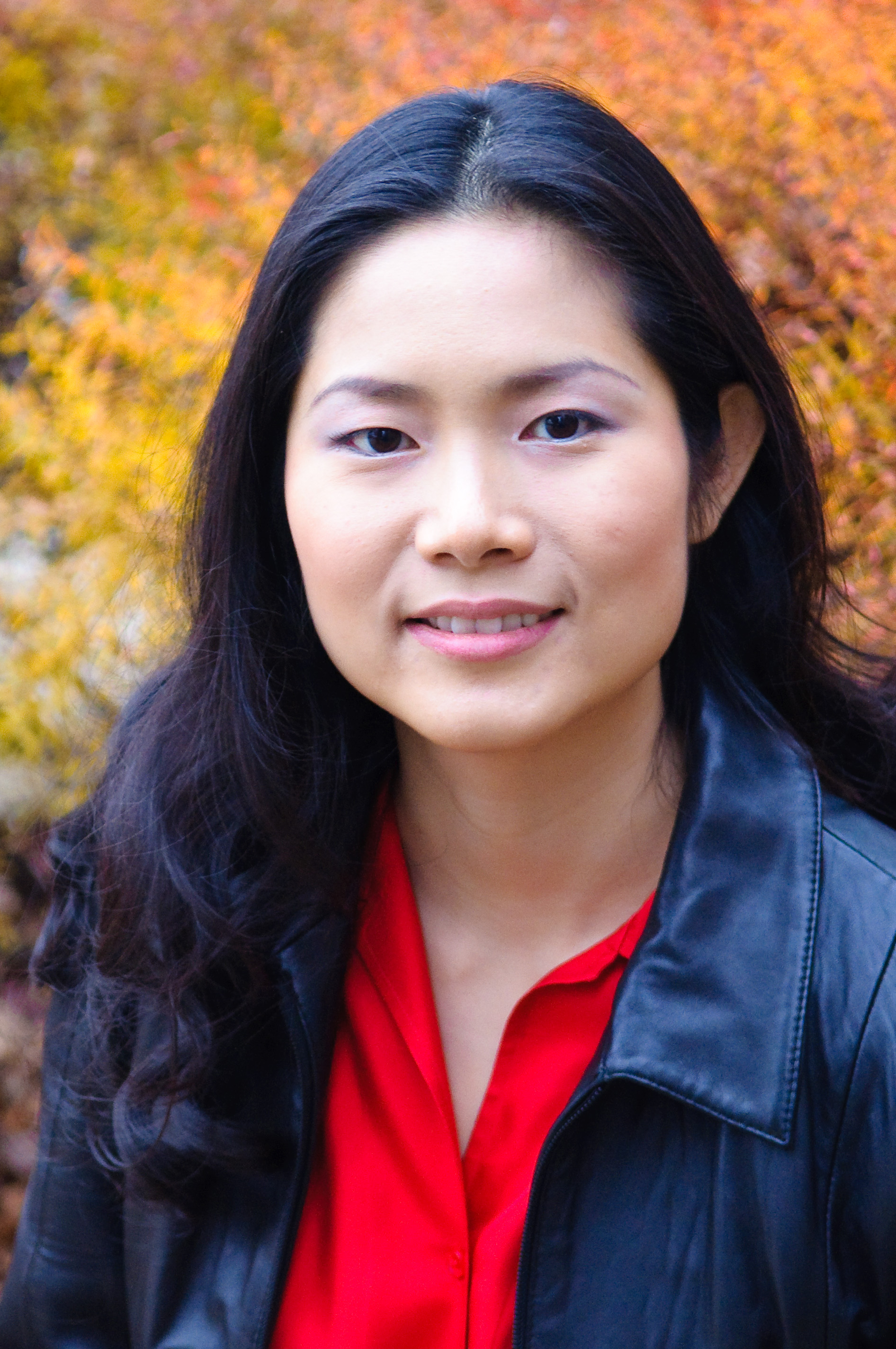 Today we are ecstatic to welcome Nadia Lee at Book Lovers Inc! Both Lea and myself were blown away by Nadia's recent release Carnal Secrets and spent e-mails gushing about how much we enjoyed it (as you can see in our joint review here)! So we were very happy that Nadia agreed to answer our questions and she was gracious enough to offer a copy of Carnal Secrets to a lucky BLI commentator, so read on and discover Nadia Lee if you haven't yet! 😉
BLI: Nadia, can you please tell us a bit about yourself?
Nadia: I was born in Asia, have lived in four different countries and speak 2.5 languages. 😉 I'm not one of those people who wanted to write since forever. When I was growing up, I wanted to be a plastic surgeon because I thought it'd be cool to make people beautiful. Then I learned that I'd have to take organic chemistry, so I switched to finance, IT and economics and became a management consultant instead. (Financial modeling, 3 accounting courses and 2 semesters of statistical analysis were much more appealing than even one semester of o-chem.)
My parents are still dumbfounded that I'm a writer now, since they know how much I hated English Lit in college. But a girl can read only so many depressing stories per year, and English Lit really pushed my limit.
BLI: Describe a typical day of writing? Are you a planner or pantser?
Nadia: I don't have a typical day, really. I get up, have breakfast, drink a cup of coffee while checking emails and start tackling whatever project needs my attention. I'm a planner, so I tend to spend a lot of time outlining or thinking about where the story should go before I write. Every time I try to pants it, I end up throwing away the draft.
When I get stuck or feel drained (creatively speaking), I lie on the couch and listen to music, take a walk, read or watch TV shows / movies. Sometimes I pester Hero Material (my husband). Though he's not much of a plotter, his head is full of interesting ideas, like an alpha werepanda + innocent weresloth romance. And sometimes, out of such ridiculous absurdity, he gives me an idea that I can use in my project.
BLI: What do you think is the difference between a reader and a real Book Lover?
Nadia: Both read, but I think Book Lovers have passion for the kind of stories they read. I think it goes beyond just casual reading. They are very knowledgeable and care deeply about genre conventions, tropes, expectations and so on so forth. I'm both, though it depends on what I'm reading.
Nadia: Carnal Secrets is a contemporary romance novel. Here's the blurb:
After a rapid change in management, Natalie Hall is surprised to find that she's being promoted so quickly. But when it becomes obvious that the new CEO is interested in her on a more personal level, she pushes him away — she doesn't want to repeat her past mistake of giving her heart to the wrong man.
A self-made billionaire, Alex Damon has his own reasons for pursuing Natalie. Her adoptive father, a powerful U.S. senator, is using his political clout to protect his friends the Rodales, who Alex intends to destroy for ripping his own family apart when he was a child. Furthermore, he suspects that Natalie is spying for the Rodales.
What he hasn't planned on is her unflinching sense of loyalty and integrity, the sizzling attraction between them that threatens to turn into something much more, and the dark secrets that can destroy them both.
I should warn you that the story contains passionate romance, revenge, corporate espionage, a scheming godmother (alas, no fairy godmother for my heroine), and a cat whose opinion trumps all. Oh, and a happily-ever-after. *vbg*
BLI: While at its heart Carnal Secrets is a passionate love story, you also address themes of biological ethnicity, childhood neglect and abandonment, corporate espionage, as well as betrayal in a plot that can only be described as riveting. What was the impetus behind this story, Nadia?
Nadia: Some years ago, I read an article about adoption in Asia and the kind of circumstances that force certain families to feel that they cannot take care of their own children. It had some interesting facts, but I didn't think much of it at that time.
Later, I found another article about how some families actually return adopted children, like defective merchandise or something. It doesn't matter whether the children's biological parents can be tracked down or not, or how long it's been since the adoption was finalized. The adoptive families just dump the children at the embassy of the country where they came from and say, "We don't want to be responsible anymore." I could hardly believe it. I've always assumed that if you adopted a child, you were responsible for the child's well-being just like any biological parent.
So I wondered what would happen if a family got stuck with an adopted child they did not want…and couldn't "return" her. The heroine's adoptive father is a senator, so you can just imagine the scandal if his family tried to "return" her.
BLI: Natalie Hall is a brilliant, well educated, very complex business woman who is personally vulnerable for a variety of reasons. Can you tell us a little about Natalie and her fascinating background?
Nadia: On the surface, Natalie appears to have everything. She's from a very powerful and well-connected family, and she's attractive, intelligent and well-educated. So it looks as though she's had a charmed life.
However, she could always sense that her family didn't really want her despite what they claimed publicly, and she worked very hard to earn their approval by acting proper, studying hard and so on. Of course, none of this really changed her family's attitude.
So because of her complicated relationship with her family, she always felt that she couldn't rely on them for help. That's why she's as independent as she is, and everything she's achieved — her career, education, savings, etc. — is something she worked incredibly hard for.
All this prepared her for dealing with Alex Damon when he shows up in the first chapter. He may be her boss, but she's not helpless or under his thumb. She doesn't have to work for him if she doesn't want to; she's well-qualified to get another job elsewhere, or just take time off and do something else, because she can afford to.
As much as I love a good Cinderella story featuring a poor working woman finding love with her rich and powerful boss, I wanted to do something different with the office romance in Carnal Secrets.
BLI: Alex Damon. WOW. Very hot, force of nature, self-made billionaire, ruthless businessman and the CEO of the company where Natalie works. At the beginning of the story when Natalie walks into her office and first meets Alex, his potent sexuality is literally palpable not only for her but for us as readers. You created an extremely strong, passionate, rather fearsome, yet vulnerable character here. Did Alex's character come to you first or was it Natalie's?
Nadia: Natalie's character came to me first because of the articles on adoption that inspired the story. Once I had her background sketched out, I had to figure out Alex. It was a delicate balancing act because he had to be just as strong and indomitable as Natalie without making her appear weak or passive. And even though her strength and will were going to be frustrating to Alex, he needed to have enough self-awareness to realize that he respected her for those qualities.
BLI: You indicate in your website bio that you are extremely well-traveled and have a background as a management consultant. Did your former career experience and travels help when you were fleshing out the characters and plot of Carnal Secrets?
Nadia: I don't know if I'm that well-traveled. I've yet to go to Europe. It's my dream to visit there. 🙂 But I've been around Asia quite a bit, including Hong Kong, so I was able to use that part of my travel experience to draft the scene in which Alex is buying something for Natalie (which takes place in Hong Kong).
My job experience did help, but also hurt a little too. I know the kind of lifestyle a lot of career-driven young women have. Also, it's easy for me to understand articles and technical books about hostile takeovers and so on.
On the other hand, the early drafts had lots of REALLY mind-numbing detail about hostile takeovers and so on. I thought it was cool (because I can be dorky like that), but most beta readers said their eyes glazed over. So I cut most of that out and focused more on the romance and various relationships rather than the technical aspects of Alex's revenge.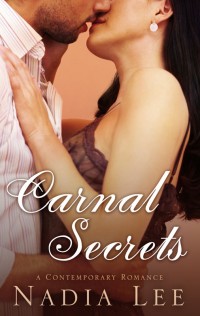 BLI: The cover art for Carnal Secrets is beautiful, and emulates the essence of the story. The art is credited to the brilliant Frauke Spanuth from Croco Designs. As a self-published author, you have full control over the art that entices folks to first take a look at your books. We noticed you have sold a story to Carina Press (congratulations BTW); any apprehension about turning over creative control with respect to cover art to a publisher?
Nadia: Thank you so much for your kind words on my cover and my Carina sale. 🙂
There's always a bit of apprehension about losing control, especially since I'm an extreme Type A and usually of the mindset that if I want something done right, I need to do it myself.
On the other hand, I also know my limitations. I'm horrible at graphic design, and if I'd done the cover myself, it'd have looked really bad. Like, ugly-as-low-tide bad. (Which is why I asked the uber-talented Frauke to do my website and covers. 🙂 )
Before I submitted to Carina, I browsed their website to make sure that their covers looked appealing and made me want to read the blurb. I also went to Amazon and BN to make sure that the small thumbnail images of Carina covers really popped on the screen.
So I trust that Carina's art department will do a good job, and that if I have any concerns, we can discuss them to ensure that we have a great cover that makes people want to check out the blurb and excerpt. 🙂
BLI: What was the most fun part of writing Carnal Secrets/or any of your books? And your favourite scene (or character if you have one)?
Nadia: The most fun part of writing any story is when my characters surprise me despite my outline. As I write, I sometimes go, "Oh no, he (or she) didn't!" or "Dang!"
For example, there's a fight between Alex and Charlie, two corporate CEOs, at Natalie's condo. They're not just hurling verbal insults; they're actually trying to beat each other up. When I was outlining it, I was going to have them say nasty things to each other, but it seemed right that they punch each other out, given the emotional undertones and tension.
My favorite scene from CARNAL SECRETS, however, is the BBQ scene. Natalie and Alex make up after an awkward parting earlier, and you get to see how they interact with each other and with other key characters. Also it's when Alex really sees Natalie's vulnerability behind her cool competent facade.
BLI: Can you summarize Carnal Secrets for us twitterstyle (140 characters or less)?
Nadia: Sizzling chemistry between a woman w/o lies & a man accustomed to betrayals leads them to unwanted romance and destructive secrets.
BLI: Now can you tell us 3 reasons why people should read your books/Carnal Secrets?
Nadia:
1. Strong heroines and hot heroes. 😀
2. I don't do never-ending series.
3. A Happily Ever After guaranteed. (Or at least, each book has at least happily-for-now, if it's a series.)
BLI: What can we expect next from the desk of Nadia Lee?
Nadia: I have THE LAST SLAYER, an urban fantasy with romantic elements, coming out from Carina Press in the fall/winter of this year. It's the first book in The Heartstone Trilogy. It has a smart-mouthed heroine and lots of immortal hotties with secret agendas. Oh and a hilariously subservient dragon. My agent pitched it as a "fun, fast read — think cotton candy and roller coaster rides, but with swords, magic, and supernaturally hot sex".
BLI: Will we see Alex and Natalie again?
Nadia: I hope so. A few people asked me about a sequel, and I want to write it, featuring Ethan and Kerri (Alex's and Natalie's best friends). But right now I'm sooo busy with other writing and real-life commitments.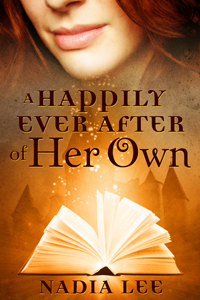 BLI: Your novella A Happily Ever After of Her Own is a magical romance story, not like any other. Would you like to tell us a bit more about it and how you got the idea to tell this story?
Nadia: A Happily Ever After of Her Own was initially serialized and given away for free to my newsletter subscribers. (I still give away short stories and/or books by authors I like, etc. to subscribers. If you're interested, you can subscribe to my newsletter via my website.)
Here's the blurb:
Melinda Lightfoot, a preschool teacher with an unusual ability to flit in and out of fairy tales, never thought she would get into trouble…
…until the Fairy Tale Police arrest her while she is in Beauty and the Beast. They offer her a deal: Find Beauty, who left the story when Melinda trespassed into it, or be charged with the ultimate crime — Fairy Tale Killer. If that's not bad enough the Beast tags along in search of his true love, and Melinda starts falling for the fairy tale prince. She must choose between doing the right thing and having her own happily ever after.
Warning: This title contains the following: Fairy Godmother, Wicked Witch, dysfunctional fairy tale families, ax-wielding executioners and a happily ever after (or two).
I got the idea one day because I thought it'd be cool to enter my favorite stories and experience them more viscerally, almost like being on a movie set or something. But then I wondered what would happen if something went wrong because you entered the story.
I chose a well-known fairy tale for A HAPPILY EVER AFTER OF HER OWN because I used to wonder what "And they lived happily ever after" really meant. Most fairy tales end with the girl marrying the prince or something like that. But is it really the happy ending? Perhaps I'm too cynical (?), but with the divorce rate what it is, I wanted to explore the concept of HEA and what it means to have one.
BLI: What was your favourite fairy tale as a child and why?
Nadia: I love the Korean version of Cinderella entitled, "Kongji and Patzzi". It's about a poor virtuous girl who's abused by her evil step-mom and so on. What I liked about Kongji and Patzzi was that not only was the good girl rewarded but the evil step-mom and -sister are punished by the good girl's wealthy and powerful aristocrat husband. I'm a vengeful reader, I'm afraid.
(I've read Grimm's version of Cinderella, which I also liked, much more so than the sweeter Disney version.)
BLI: If you had a magic power, what would you like to be able to do?
Nadia: I want the power to mute anybody or anything at will so I can have peace and quiet whenever I want. 😀
BLI: Can you share with us some little secret trivia, something that not many people know about you?
Nadia: Oooh…I already have a lot of that stuff on my website, but here's something that I haven't posted anywhere (or at least I don't think I ever did…).
One of my relatives in Korea is a poet and movie director. If I remember correctly, some of his films got nominated for some kind of prestigious award (or maybe even won it). But I've never watched any of his movies! I feel so terrible about that. And I can't even claim that it's because I don't speak Korean because I speak it fluently.
On the other hand, he's never read anything I've written. So maybe we're even! 🙂
~~~~~~~~~~~~~~~~~~~~~~~~~~~~~~~~~~~~~~~~
All you have to do is leave a comment/question for Nadia.
(You can read our full giveaway policy here)
Please leave us a way to contact you.
(Email address or twitter name – no way to contact you – no entry).
This giveaway is open worldwide!
Giveaway ends on Saturday, June 11th and we will announce the winner on Sunday.
Good luck!