Welcome to this week's news post, and its been a very drama ridden one for Romancelandia and Blogland and even for everyone at here at Book Lovers Inc.
First up, the genre of Romance took a total battering, (what else is new?) by columnist, Kimberly Sayer-Giles who cites, author Shaunti Fieldhahn, who studies into the differences between men and women. He states this humdinger "In fact, some marriage therapists caution that women can become as dangerously unbalanced by these books". I think this explains all the drama we been having because of Romance can make us dangerous unbalanced, and that it can be as addictive and just as harmful as pornography. I am not really surprised by this view because some people view romance as a cheap genre and its really porn for women, which full of ignorant tosh. The only good thing that came out of this cheap-shot article was the Twitter's hashtag,
#romancekills
which made light of the article. It really doesn't bother me if someone feels like that and other genres' get the same treatment for not being good enough. But I think the fact that Romance is one of the biggest selling genres in publishing and continues to grow is the perfect middle finger to the that article and the author behind this view.
There is a report this morning
about Borders which a lawyer working on the bankruptancy is claiming that most of the bookstores will be sold off in two to four weeks. I am not sure if that may be the case because of the huge debts associated with Borders but if this is the case its a very sad end chapter to the bookchain.
It looks like the long and tangled saga of Google's Book settlement may reach an end. The Book Seller has reported that a ruling is due next month about whether this will go ahead. Google is planning on scanning all books that have been published unless authors have opted out, this will create the biggest digital library ever. However there is obvious concerns especially about the issue of copyright.
And a headsup to authors who are on goodreads, I saw a tweet this morning by my lovely co-blogger Susi who found out that authors who have added their twitter deets on the site will get @replies from reviewers who have reviewed their books on the site. This will be for all reviews, the good and the bad. So if there is any authors who have added their details onto the site will need to be aware of this.
And for the delectable covers and upcoming books we have this week – well we got a treat!
Here is a sneak peek of the 2nd issue of the Alpha and Omega Graphic novel. Its a draft (and some things may change) by the cover artist Jenny Frison. David Lawrence will be writing it and Todd Herman is the comic illustrator. When I hear of further details of when it will be released – I will post it here!
Julie Kagawa's long awaited The Iron Knight has a cover!
Book seven of the Allie Beckstrom UF series by Devon Monk cover has been unveiled – it is slated for release on November the 7th!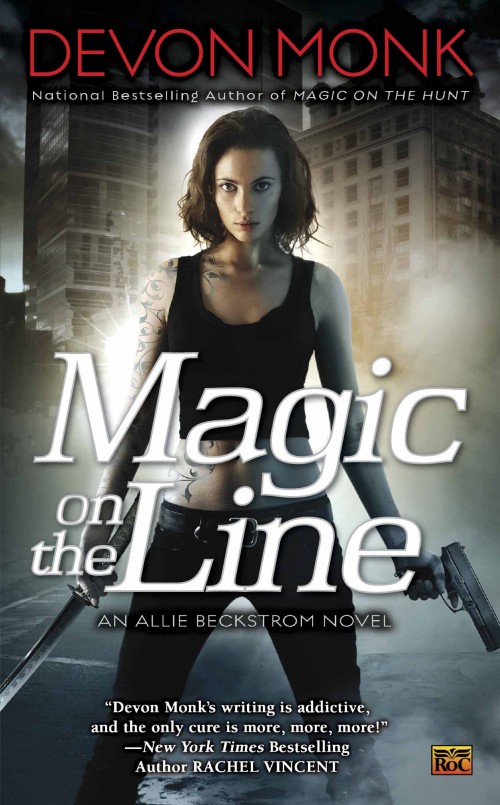 And finally The Business of Death by Trent Jamison – love the Urban fantasy noir feel to this!
And this week's question is either of the news posts that I have raised, such as the anti romance article or the Borders sell off but I would really like to know what book news has made people happy this wee? I think we need some good or even funny news!