Format Read: e-Book Galley provided by NetGalley courtesy of Carina Press
Length: 80,000 words
Release Date: August 15, 2011
Publisher: Carina Press
Formats Available: e-Book, Kindle
Purchasing Info: Author's Website, Publisher, Goodreads, Kindle, Nook, All Romance eBooks.
Book Blurb:
The chilling words of a killer: This is just the beginning…

Ten years ago, Lilly Carmichael left town without an explanation, breaking Braden Donnelly's heart. The death of her aunt has brought Lilly home—and face-to-face with memories she thought were long buried. Still getting over a traumatic incident from her work as an NSA agent, Lilly initially dismisses the face at her window as a figment of stress-induced paranoia.

Now the sheriff of Hudson Bay, Braden has spent the past year hunting a sadistic murderer. His investigation is turned upside down when new evidence indicates that Lilly is the killer's next target. Determined to protect the woman he's never stopped loving, Braden must race against the clock to trap a dangerous psychopath—before it's too late…
My Thoughts
With a heavy heart Lilly Carmichael returns home to arrange the funeral of her beloved Aunt Debra. Lilly was raised by Debra from the age of 5 following the death of her parents and therefore loved and treated her Aunt as her mother. Debra Carmichael's death was ruled accidental but in the opening pages of Deadly Obsession readers learn that she was murdered as part of an insane scheme instituted by a a sociopathic serial killer who has been eluding the police for a year.
Sheriff Braden Donnelly receives a call that another woman has been found, brutally raped, tortured and murdered. The murders had been occurring every 3 months and while the findings were the same on each victim the cruelty inflicted is escalating. To make matters worse, the women targeted were all connected to Braden in some way. Braden and Lilly had been high school sweethearts and he knows in his bones that she will be targeted by the madman.
I found Lilly Carmichael to be a complex and tortured heroine. She is a highly trained and skilled DEA Agent and a year prior to her Aunt's untimely death Lilly and her team were captured by terrorists when a mission went wrong. Lilly was one of the few alive when rescue came but while her physical wounds have for the most part healed, she continues to deal with posttraumatic stress and horrific nightmares. The graphic details are not spared regarding what Lilly endured and I really felt empathy for Lilly. While questioning her decisions at times I was also impressed by her strength in attempting to work through the crippling after effects of her trauma. I will say Lilly has not had an easy life.
Lilly and Braden were desperately in love as teenagers, and when she abruptly left him with very little explanation it broke his heart. She never shared the real reason why she fled town and Braden which caused deep wounds and an enormous rift formed between them. So, when Lilly opens the door of her Aunt's house to find her past love standing there she is at first surprised and then she finds herself drawn to him again. It's been 10 years since they parted but the sexual attraction blazes and tension thickens. There is so much ill will, however that Lilly and especially Braden have any intention of getting involved again. When Braden explains the reason for his visit and the background of the string of horrific murders, Lilly wisely accepts his offer of protection. Lilly is no fool. Then there is the prickly feeling that both of them are being watched.
The plot of this story moves along at a brisk pace, is rife with intrigue and tension, and as the frequency of the murders escalate the insane killer continues to keep one step ahead of the police at every turn. There are a number of sharp plot twists and turns in Deadly Obsession and startling revelations. Readers are given good look inside the twisted mind of a killer who butchers without remorse. In fact, he enjoys terrorizing his prey, becoming aroused by their misery. There are a couple of intense scenes that graphically depict his brutality. He institutes a terrifying game Lilly and Braden whose frustration escalates at his inability to find the bad guy.
Lilly and Braden's romance is a slow burn but despite their history they given into their feelings and passion. There is significant build up to the love scene and I have to admit I was relived when they finally become intimate. Braden is a strong, sexy, very appealing hero.
The identity of the killer isn't revealed until the closing scenes of the narrative and it certainly took me by surprise. And, the conclusion? A total nail biter involving the hero, heroine and a savage obsessed serial killer. Then, the lovers are ripped apart again, but never fear, Ms. Reus pens a wonderful HEA for Lilly and Braden.
Deadly Obsession impressed me as a stellar dark romantic suspense with a lovers reacquainted theme and an excellent gritty murder/mystery whodunit woven into the plot. Ms. Reus also developed excellent secondary characters who all play key minor and major roles in the story. I also liked the small town setting of this story where the townspeople rally together in support of Lilly at her time of loss. I really like Katie Reus's voice and am so looking forward to reading more of her work.

I give Deadly Obsession 4 Bookies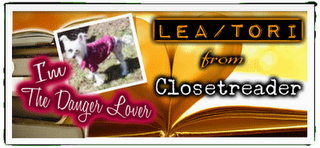 ***FTC Disclaimer: Most books reviewed on this site have been provided free of charge by the publisher, author or publicist. Some books we have purchased with our own money and will be noted as such. Any links to places to purchase books are provided as a convenience, and do not serve as an endorsement by this blog. All reviews are the true and honest opinion of the blogger reviewing the book. The method of acquiring the book does not have a bearing on the content of the review.