Format Read: Paperback submitted by Hatchett Book Group (Forever Romance) for review
Length: 448 pages
Genre: Romantic Suspense
Release Date: June 1, 2011
Publisher: Forever, Hatchett Book Group
Formats Available: Mass Market Paperback, Nook
Book Blurb:
He lurks in the shadows, waiting and watching . . . And once he has you, all you can do is. . .

Megan Flynn thought she was falling in love. Cole Williams wasn't just handsome and passionate, he was one of the good guys. Or so she thought, until he arrested her brother-the only family she has left-for a murder she knows he couldn't have possibly committed. Now, with her heart broken and her brother's life hanging in the balance, Megan will risk everything to prove his innocence. Even if that means throwing herself into the path of a sadistic killer with a hauntingly familiar MO.

Seattle Detective Cole Williams had given up on making Megan see reason where her brother is concerned. But when she insinuates herself into the most shockingly brutal case Cole has ever worked, he can't stand idly by. Plunged into a secret world where the city's elite indulge their darkest desires, Cole will do whatever it takes to bring down a madman who has made Megan his most coveted prey.
My Thoughts:
There are books that provoke powerful visceral emotions for some readers. It's the sort of read that rockets to the top of your favorites and spoils you for any novel you pick up for days afterward. In my case, I will re-read coveted passages because I long to experience the feelings again. Jami Alden's Beg for Mercy was such a read for me.
As the story opens Megan Flynn is with homicide detective Cole Williams, a man she has been dating for a while. They have yet to be intimate, but Megan is completely besotted with him and is sure this is the night. Cole is more than ready to push past platonic into what he knows will be a fiery sexual relationship with Megan. Just as things get hot and heavy Cole's cell phone rings and as a dedicated, by the book career cop he responds to a call to the scene of a murder. What is startling and heart rendering about the scene is that the man suspected of committing what is a heinous, brutal rape and murder of a young woman is Megan's beloved brother Sean. So, after being drawn into a hot sensual scene between the hero and heroine of this novel readers witness Megan's heartbreak. She arrives at her brother's to find him being dragged handcuffed from his home charged with a murder she knows in her bones he couldn't have done. Then she loses her lover who morphs into a stone cold homicide detective arresting the man who he steadfastly believes tortured, raped and murdered a woman.
Fast-forward two years and readers find Megan making the painful journey to the penitentiary where Sean is incarcerated for the murder of Evangeline Gordon. The evidence was irrefutable according to the prosecutors, and the jury found Megan's highly decorated war veteran brother guilty. Not only that, he has been sentenced to the death penalty and just lost another appeal. Over the past 2 years Megan Flynn has been on a relentless quest to find the evidence necessary to exonerate Sean. She will not give up on her brother. The scene in the prison when she makes her weekly visit to see Sean ripped at my heart. He is emotionally beaten and broken. He has steadfastly maintained his innocence but has lost hope that anyone will be able to prove that he didn't murder Evangeline. In an emotionally charged conversation Sean tells his sister there will be no more appeals, he wants an end to his ordeal, he cannot bear living in hell any longer and would rather have it ended. Further, he bars Megan from seeing him again. I could feel the depth of Sean and Megan's pain.
Megan is an intelligent, caring human being and along with earning a living writing articles for magazines and doing copy writing, she volunteers as a Court Appointed Advocate for young women. When her latest charge, Devany (a precocious teenager with a bucket load of issues) stumbles upon the scene of a gruesome murder she calls Megan for help. It is in these difficult circumstances that Megan and Cole meet again and despite a history littered with betrayal and pain sparks fly.
Now don't get me wrong, Megan doesn't forgive Cole easily. Ms. Alden carefully crafts a tempestuous romance full of conflict, remorse and guilt. Cole deeply regrets his previous treatment of Megan, but he also believes she is delusional in her belief regarding Sean's innocence. Like Megan I felt angry with Cole because of his lack of initial support for her but as the story progresses I was able to forgive him for a variety of reasons. You would need a machete to cut through the sexual tension in this book and when they finally do become intimate readers are treated to smoking hot love scenes.
Megan discovers a tiny clue regarding Sean's case, something the authorities may have overlooked and launches her own investigation in a race against time to save her brother. And Cole? He risks all to try and keep her safe.
A word of warning, in Beg for Mercy Jami Alden has developed an antagonist, whose sadistic brutal acts are not left to the imagination. The killer is especially scary because, while psychotic, he is still able to fit into the social mainstream and no one would guess the depth of his depravity. And, he has his sights set on Megan.
Ms. Alden deftly crafted each scene in Beg for Mercy advancing a plot that is littered with surprising twists and turns. The character development is exemplary introducing a cast of stellar secondary characters who all play important major and minor roles in the story. The dialogue, graphic imagery and prose pulled me in, providing an excellent visual. There were times when I felt Megan's actions were reckless regarding her safety, but I understood her desperation as the clock is ticking down to Sean's execution.
I am now panting to read Hide from Evil, Sean Flynn's story which will be released in November 2011. In March 2012 readers can look forward to Book III in the series, Run from Fear.
At it's heart Beg for Mercy has a lovers reacquainted theme, but IMHO it is a riveting, multi-layered romantic suspense about a woman who risks all, never losing her steadfast conviction that her brother is innocent. This one is headed to my keeper shelf.

I give Beg for Mercy 5 Bookies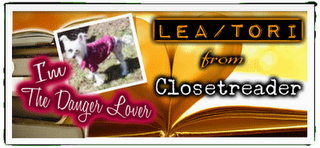 ***FTC Disclaimer: Most books reviewed on this site have been provided free of charge by the publisher, author or publicist. Some books we have purchased with our own money and will be noted as such. Any links to places to purchase books are provided as a convenience, and do not serve as an endorsement by this blog. All reviews are the true and honest opinion of the blogger reviewing the book. The method of acquiring the book does not have a bearing on the content of the review.