Format Read:
e-ARC submitted by author for review
Length:
224 Pages
Release Date:
August 23, 2011
Publisher:
Harlequin Romantic Suspense
Genre:
Romantic Suspense
Formats Available:
Mass Market Paperback, Kindle, Nook, eBook
Purchasing Info:
Author's Website, Goodreads, Book Depository, Amazon.com, Barnes & Noble, eHarlequin, Books-A-Million, Powell's, Chapters, Kindle, Nook, eHarlequin ebook
Book Blurb:
"I'm not afraid anymore."
For years, court reporter Mattie Nolan kept her child a secret. The man she once loved chose his dangerous job—undercover cop—over her. But now, Sacramento detective Dom Jeffries is all that's standing between her and the drug kingpin set on revenge against everyone who put him away. Including Mattie.

Though teetering on the edge of burnout, Dom goes undercover as a bailiff in Mattie's courtroom. While he pretends not to remember her, thoughts of her touch, her smell and the smile that had been his alone keep resurfacing. Then he uncovers the secret she's protecting. To save the daughter he's never known and the woman he's never forgotten, Dom's ready to sacrifice not just his job, but his life…
My Thoughts
Dominic "Dom" Jeffries and Mattie Nolan were lovers in college and had big plans. Then Mattie discovered Dom was determined to become a police officer and she couldn't deal with the inherent danger involved with his chosen career. They therefore parted ways and Mattie gave birth to their daughter nine months later. Dom has no idea he is a father.
Flash forward 10 years to present day and readers are introduced to Dom as a seasoned undercover detective on the verge of burnout. He is grieving and angry due to the loss of Joel, his best friend and former partner in a tragic shooting. There are rumors swirling that Joel was a corrupt cop and Dom knows in his bones this is false. He therefore accepts an undercover assignment as a bailiff in the court of Judge Butler, who presided over the conviction of a local crime lord. A defense attorney has been murdered and a detective involved with the case is missing. Joel had asked Dom to take the assignment prior his death to keep an eye on the courtroom and find out if anyone associated with the judge was involved with the bad guy. When Dom reviews the files detailing the people surrounding Judge Butler he is stunned to find Mattie is the court reporter.
Not long after she split up with Dom, Mattie married a man who ironically was a police officer and quite a daredevil. Mattie's husband was good to her and her little girl raising Jordan as his own. Unfortunately her husband was killed in an accident when Jordan was 5 years old. Mattie has not remarried and has worked hard to make a cozy home for herself and Jordan. She has never forgotten Dom and while she harbors significant resentment at his choice of career over her, she still remembers their intimate moments, his touch. Then she enters the courtroom to discover Dom is the new bailiff.
I loved the way Ms. DePaul advanced the romance plot of this story. Dom initially pretends he doesn't recognize Mattie because of his undercover assignment but as the plot progresses and Mattie's safety is threatened, he reveals that he knew who she was from the first moment. There is plenty of conflict in Dangerous to Her, not only must the hero and heroine deal with the issues surrounding their previous relationship, but deception, a looming danger, and there are trust issues in that Mattie is terrified that Dom will try to take Jordan from her if he finds out she is his daughter.
Dom is certainly a strong, handsome Alpha hero but Ms. DePaul paints a realistic portrait of a man whose stressful demanding career has taken it's toll. He deals with a health issue that plagues him at the worst of times. What really impressed me about Dom is his integrity and dedication to finding the truth regarding Joel. Mattie battles her desire for Dom, fearful of being hurt again. Sizzling sexual tension builds over the course of the narrative until they finally become intimate. There is light bondage written into a very sensual love scene.
Dangerous to Her has an intense, thrilling suspense subplot involving organized crime and corruption. There is action, drama, surprising plot twists, and the author provides a nail biter of a climax to the story involving Mattie, her brother Tony, Dom and a couple of nasty antagonists. The identity of one of the bad guys completely surprised me.
I don't usually like stories with a secret baby theme, but this one was an enjoyable page turner. When Dom discovers that he is a father it tugged at my heartstrings. As well, I loved the characterization of Jordan herself, a happy, loving child with her father's blue eyes, and his inherent zest for adventure. Further, the story is written so Dom makes sure his daughter is protected from harm which I liked.
Mattie's brother Tony is a recovered drug addict who plays a pivotal role in the plot of Dangerous to Her. While he caused a lot of heartbreak for Mattie in the past he works hard to make amends and turns out to be quite a heroic figure. Ms. DePaul crafted a wonderful conclusion to the story and leaves the doors open for a sequel – Tony's story which I would love to read. If you enjoy a fast paced romantic suspense with reacquainted lovers and secret baby theme you may like to give Dangerous to Her a try.
I give Dangerous to Her 4 1/2 Bookies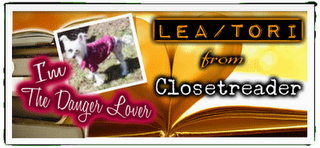 ***FTC Disclaimer: Most books reviewed on this site have been provided free of charge by the publisher, author or publicist. Some books we have purchased with our own money and will be noted as such. Any links to places to purchase books are provided as a convenience, and do not serve as an endorsement by this blog. All reviews are the true and honest opinion of the blogger reviewing the book. The method of acquiring the book does not have a bearing on the content of the review.