Format Read: e-ARC provided by Author for review
Publisher: Berkley Sensation
Length: 320 Pages
Genre: Paranormal Romance
Series: Para-Ops Book II
Release Date: October 4, 2011
Formats Available: Paperback, Nook
Purchasing Info: Author's Website, Amazon.com, Barnes & Noble, Powell's, Books-A-Million, Chapters, Goodreads, Nook
Book Blurb:
Although he keeps company with a vampire and a were, human Shaman Caleb O'Flare can definitely hold his own. But neither his psychic ability nor his healing powers can help his sexy-as-hell teammate, Wraith-a ghost with no memory of her human existence, who cannot experience touch without pain.

No wraith has managed to exist past its tenth year, so her time is about to run out. She wants only two things before accepting her fate: to learn her human identity, and experience one night with Caleb…
My Thoughts:
In Virna DePaul's Para-Ops world wraiths are an enigma. They are the walking dead with no memory of who they were before transitioning into a wraith. The author fully develops these beings giving significant insight into their etiology, and in particular the tragic past of Wraith, the novel's angry, emotionally volatile heroine who named herself for her race. Even among Otherworld races wraiths are unusual, they have a blue tinged hue to their skin, white hair and their eyes are opaque. They have no vital signs, they regenerate when injured, and in their tenth year they begin to revert to human, then die. Wraith has reached her tenth year and is fully aware her days are numbered. Wraith has the same need to belong and be loved as any human being but physical touch causes these beings pain. I would certainly describe Wraith as a kick ass, tough as nails heroine but her self loathing is palpable, believing herself to be a freak. Wraith has endured significant suffering and betrayal since her transition.
This novel has a Prologue that takes readers back weeks prior the inception of the Para-Ops team. We find psychic shaman Caleb O'Flare living on a Sheyote Reservation where he is approached by Mahone, the FBI head of Para-Ops with a goal of recruiting the experienced and gifted ex-Army medic. I think Caleb is a stellar, well developed hero. At times, he 'trances out' as a vision overtakes him that is a garbled foretelling. Caleb is able to walk in the Otherworld and commune with spirits. He has healing powers and using mental power he can force an individual to be truthful. Caleb is a complex multifaceted character who carries a heavy burden of guilt surrounding the brutal torture and murder of his best friend, the feline Prince Elijah during the war. He has an innate sensual aura that swirls up from the pages and wraps around you. And, he wants the prickly Wraith who using caustic, sarcastic wit needles Caleb attempting to force him away every time he tries to get close to her. I have to say, Caleb gives as good as he gets. It makes for great sport.
I found Chosen By Fate to be far more relationship driven then it's predecessor Chosen By Blood. To say Caleb and Wraith's romance is a complex would be an understatement. There is conflict aplenty, as Caleb is a healer who is committed to easing suffering, Wraith suffers when touched. He is one patient man and through persistence and compassion, he gradually "tames the shrew", breaking down the thick wall Wraith has erected around herself one brick at a time. While she craves the passion Caleb offers, she is also frightened of her heart being broken. Ms. DePaul writes extremely sensual love scenes adapting the intimacy to suit Wraith and Caleb's unusual needs.
Chosen By Fate has a suspense subplot involving a string of heinous club rapes in the feline community. Tensions are simmering to the boiling point and if the perpetrator isn't found and stopped it is feared violence will erupt bringing a tenuous Otherkind / human peace to an end. Mahone mobilizes the Para Ops team sending Wraith, Caleb, Dex and Lucy into the club scene undercover to track down and bring in the bad guy. One surprise after the other greets the team leading to startling revelations concerning the felines and a member of their royalty.
Meanwhile, intrigue continues at the Vamp Dome where an evil plot involving the clandestine group, the Quorum is revealed. There are unexpected confessions concerning one of the characters who I thought was a particularly nasty antagonist when introduced in the first novel of the series. All is not what it seems and the depth of conspiracy and who is involved rocks Knox to the very core of his being.
Then there is the mysterious deity the Goddess Essenia who is she? What part does she play in the fate of the world's population, human and Otherborn alike? Ms. DePaul further develops the perplexing werebeast Dex, whose story I can't wait to read. Dex and Lucy play an important pivotal role in the plot of this story and there are surprises in store regarding their relationship. An intriguing female vampire is also introduced and I'm hoping to see more of her in future novels.
Virna DePaul keeps up the fast pace, intrigue and passion in the second novel of her Para-Ops series. I can only say this read was an emotional, page turning rush. Wraith's story, her complexities and turbulent relationship with Caleb tugged at my heartstrings. The dramatic climax of this novel includes a paradox that I thought was absolutely brilliant. If you are interested in reading Chosen By Fate I would strongly suggest you read Chosen By Blood first because there is a story arc and Ms. DePaul continues to build the Para Ops world introduced in the first book.
I love Virna DePaul's voice and am so looking forward to reading Book III, Chosen By Sin. I understand fans won't have long to wait. 😀

I give Chosen By Fate 5 bookies.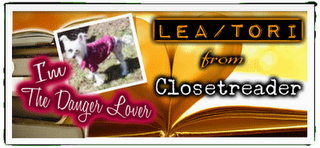 ***FTC Disclaimer: Most books reviewed on this site have been provided free of charge by the publisher, author or publicist. Some books we have purchased with our own money and will be noted as such. Any links to places to purchase books are provided as a convenience, and do not serve as an endorsement by this blog. All reviews are the true and honest opinion of the blogger reviewing the book. The method of acquiring the book does not have a bearing on the content of the review.