We are excited to welcome National Bestselling Author Virna DePaul back to BLI today! Virna is here on the next stop of her blog tour celebrating the release of Chosen By Sin, the third book in her highly acclaimed Para Ops Series. Fans of Virna's series will know Chosen By Sin is sexy Werebeast Dex Hunt's story & I for one can't wait to "sink my teeth" into this one. 🙂
Virna is a very busy lady! She is a former prosecutor and multi-published author of paranormal romance and contemporary romantic suspense. In addition to her extensive Back List and Chosen By Sin, which hit the stands January 1, 2012, we can look forward to her next contemporary romantic suspense, It Started That Night coming from Harlequin in May 2012, and Shades Of Desire, will be published by HQN in June 2012.
Virna has a fun post to share with us today, and a sneak peek into Dex's book! Please pay careful attention to the awesome giveaway opportunities detailed at the end of Virna's article!
Take it away Virna!
Welcome to stop #5 in my blog tour For Chosen By Sin (Para-Ops #3).

Thank you to Book Lovers Inc. for having me here today! This tour focuses on my writing and my paranormal series, but also my Twelve Resolutions for 2012, as well as the resolutions of my hero in Chosen By Sin, werebeast Dex Hunt. Those of you who know Dex know he's a bit…difficult, so I'm curious to see what he comes up with. (Psst: Dex doesn't actually know it, but his "resolutions" are more like a Twelve-Step Program designed by me to get him to his HEA).
I'll be giving away a prize to one commenter from this blog stop, but I'm also giving away one grand prize to one blog tour follower. See the giveaway details below! 🙂
The Para-Ops Series: Five years after the Second Civil War ends, humans and Otherborn—humanlike creatures with superhuman DNA—still struggle for peace. To ensure the continued rights of both, the FBI forms a Para-Ops team with a unique set of skills. (Chosen By Blood (Book 1), Chosen By Fate (Book 2))
So what's Resolution #5 for me? Use my home office! I have a one-story house with lots of wood floors and three young boys. A couple of years ago, my husband built me an office in the garage so I could have my own "get away" space. It's pretty and cozy with a row of tall bookcases with all my books! The only problem is I still associate working in my office with working at home, and I'm constantly distracted by the million and one things I need to do there. So usually I write in the main house or at Starbucks.
And what's Resolution #5 for Dex Hunt?
Here's a hint from Chosen By Sin.
"Let me see your arms, Ella." His tone brooked no disobedience. Although Ella initially hesitated, she finally stepped closer and held out her arms. Dex tugged up her sleeves and examined the marks. The patches ran from her wrists to her elbows, the wounds shiny and still healing.

"These are skin graphs. Why? If you're not sick, why would—"

"Please don't tell Jes," Ella pleaded, on the verge of crying again. "Don't tell her you saw. She's just trying to help us."

He struggled to get past his confusion. "Us?"

"The Draci. She wants to help us live longer and I want that, too. I don't care how much it hurts. I'll do what you say and Jes will keep doing her experiments and she'll find a way to make us live longer. That's all that matters."

"She's experimenting on you?" Dex breathed out, his head starting to pound.

Dex, it hurts so much.

Denial pushed into his brain and outward. He grabbed his head and groaned.

No, no. Not Jes. She made him feel good. She helped others.

Didn't she?
Dex's fifth resolution is to whole-heartedly trust Jes, a vampire female he's come to love and respect, even in the face of damning evidence and past mistakes.
Want to see a trailer I made depicting the Para-Ops characters as I see them? Dex is particularly yummy! Here's the link
Length:
254 Pages
Genre:
Paranormal Romance
Series:
Para-Ops Book III
Release Date:
January 1, 2012
Formats Available:
Paperback, Kindle
Purchasing Info:
Author's Website, Amazon.com, Goodreads, Nook, Kindle
Book Blurb:
The longest life isn't always the happiest one…

For now, werebeast Dex Hunt serves on the Para-Ops team, but his true purpose is to kill the werewolf leader he blames for his mother's death. Biding his time, Dex keeps his emotional distance from his team members and anyone else he might care for, including a mysterious vampire he met in L.A.

As a doctor, vampire Jesmina Martin has dedicated her immortal life to healing others. As a scientific researcher, she's trying to prolong life spans, in particular those of her adoptive dragon-shifter family and the werewolf who saved her as a child. Her greatest hope lies with Dex, a werebeast she believes can gift immortality to others.

Only Dex knows nothing about his gift or the fact Jesmina wants to harness it. After a passionate night together neither expects to see the other again. Weeks later, they are reunited in France and forced to acknowledge a fragile miracle—a new life struggling to survive. At the same time, they must stop a group of rebel shape-shifters hoping to unleash every demon in hell. But before Dex and Jesmina can save their child or the world, they must relinquish their secrets, face their fears, and open themselves to love.
Where to find Virna:
Website
Facebook
Twitter
Chosen By Sin Website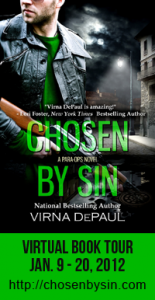 ~~~~~~~~~~~~~~~~~~~~~~~~~~~~~~~~~~~~~~~~
~*~*Giveaway*~*~
Thanks to Virna's generosity we have a copy of one of her backlist books for one lucky commenter!
All you have to do is leave a meaningful comment about the post or a question for Virna!
(You can read our full giveaway policy here)
Please leave a valid email when placing your comment so we can inform you if you win.
This giveaway is open worldwide!
Giveaway ends on Friday, January 20th; and we will announce the winner on Sunday.
CHOSEN BY SIN GRAND PRIZE TOUR GIVEAWAY
What was Dex's "resolution" that Virna talked about today?
Do you know the answer? Fantastic!! Because…
Virna is also gifting a $100 Amazon gift card to one randomly selected reader who leaves the answer to this question during the blog tour. Go to: VIRTUAL TOUR GRAND PRIZE You can be entered to win the grand prize once each day by simply following the tour from January 9 – 20, and leaving your answer with each day's different resolution!!
Virna is also offering autographed copies of CHOSEN BY SIN for purchase during this blog tour. To purchase an autographed copy, please click on the link for information
Good luck!