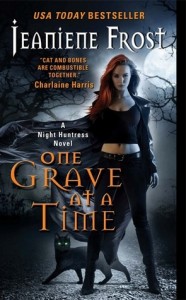 Format Read: Paperback copy purchased by reviewer
Number of Pages: 358
Release Date: August 30, 2011
Publisher: Avon
Genre: Paranormal Romance
Formats Available: Mass Market Paperback, Kindle, ebook, audio
Purchasing Info: Amazon, Book Depository, Goodreads, Author's Website, Avon
Book Blurb:
The grave is one wrong step away.

Having narrowly averted an (under)world war, Cat Crawfield wants nothing more than a little downtime with her vampire husband, Bones. Unfortunately, her gift from New Orleans' voodoo queen just keeps on giving–leading to a personal favor that sends them into battle once again, this time against a villainous spirit.

Centuries ago, Heinrich Kramer was a witch hunter. Now, every All Hallows Eve, he takes physical form to torture innocent women before burning them alive. This year, however, a determined Cat and Bones must risk all to send him back to the other side of eternity–forever. But how do you kill a killer who's already long dead?
My Thoughts:
Oh well, what can I say about Jeaniene Frost and her series Night Huntress that I haven't already said??? I seriously love and admire that woman beyond words and so I do her work! One Grave at a Time, is yet again a brilliant addition to her successful series!
One Grave at a Time flows easily, is full of adventure and action packed scenes, as the previous books in the series, and although I was a bit afraid that this time the story would drag a bit (I don't know, I think I was afraid that everything was already set in order somehow,I guess) I'm glad to say that it didn't,not even one tiny bit,drag that is…!
Jeaniene Frost delivers a story so well thought and well built and gives her readers indications that there are so many more things to say about that universe, that the series can easily continue to the next books.And here's how easily my previous fears that everything was set for Cat and Bones are dispersed…!
I liked the new elements that were introduced in the series, how things resume after Don's death and Jeaniene Frost's imagination never ceases to amaze me.Cat and Bones is the hottest couple in PNR literature.I have only one complaint,just one tiny little complaint… I missed the hot sex scenes that Frost has accustomed her readers in this book.There was just one,and although creative didn't really have the spark some of her other's scenes have.
All in all, One Grave at a Time is as good as the previous books of the series and honestly,if there's someone who hasn't started this series yet, they need to do so immediately!
I give One Grave At A Time 5 Bookies
***FTC Disclaimer: Most books reviewed on this site have been provided free of charge by the publisher, author or publicist. Some books we have purchased with our own money and will be noted as such. Any links to places to purchase books are provided as a convenience, and do not serve as an endorsement by this blog. All reviews are the true and honest opinion of the blogger reviewing the book. The method of acquiring the book does not have a bearing on the content of the review.