It's our great pleasure to welcome New York Times Bestselling Author to BLI today! Alexandra is here to celebrate the release of her latest novel Bound by Darkness, which which is a Zebra Paranormal romance released on November 29, 2011. Bound by Darkness is the Eighth novel in Alexandra's enormously popular Guardians of Eternity series of novels and we are going to chat about her series and her latest book!
Lea: Alexandra! It is such a thrill to be able to chat with you today, thank you so much for joining us!
Alexandra: I'm delighted to be here, and thanks so much for inviting me!!
Lea: Alexandra, to start off can you please tell us a bit about yourself?
Alexandra: I actually came to writing from my love for theatre. I've always been a huge reader, but when I was younger I hoped to work on stage. After taking a playwriting class I realized I actually preferred to create my own characters rather than mimicking someone else's. I worked on a play (that I would still love to finish), but my heart has always belonged to romance, so I swiftly turned my efforts to novels.
On a more personal note, I've been married to my college sweetheart for 27 years (yikes that makes me feel old) and I have two sons who I'm gently trying to push from the nest. 🙂
Lea: Describe a typical day of writing? Are you a planner or pantser?
Alexandra: I'm a little of both. Writing a continuing series had made me realize I have to have an overall story arc that runs through the books, as well as basic structure for each book. But there are always surprises that happen along the way, which is what keeps writing these stories fun!!
My typical day is usually getting up around six am and exercising (I'm kind of a health nut) and then taking care of email and any promo work. Then, I sit down to write. I often put in at least ten hours or more when I'm in the middle of a book. Once I start I can't think of anything else until it's finished. 😀
Lea: Can you please give readers a little overview about your wonderful Guardians of Eternity series and maybe talk about the original impetus for the stories?
Alexandra: The beginning was a direct love affair with Buffy the Vampire Slayer 😉 I was writing historical under the name Deborah Raleigh and the vampire craze hadn't really started, but I was fascinated by the blend of horror and humor and romance. I actually wrote When Darkness Comes just for myself. It wasn't until it was almost done that I sent it to my editor.
The Guardians of Eternity started with a clan of vampires in Chicago who were thrust into the role of protecting the world from the Dark Lord. As the stories have progressed the range of characters has increased to include Werewolves, fairies, imps, Sylvermyst and one very charming gargoyle!
Lea: What can we expect of Bound by Darkness?
Alexandra: The danger has definitely been amped up in this book. The Dark Lord is threatening to tear down the barriers between worlds and Ariyal is determined to stop him, even if it means sacrificing the babies that were created by the evil deity. Jaelyn is a vampire who has been trained to be the ultimate hunter. Nothing and no one can escape her once she's on their trail. She'll do whatever necessary to capture Ariyal, despite the passion that is ignited between them.
Lea: What I thought was great twist is that hero Ariyal, a Fey Prince played an antagonistic role in Devoured by Darkness, Book 7 but we sort of knew he wasn't really destined to be evil. He has a conscience and has had a rough go of it hasn't he? Please tell us more about Ariyal and how he came to know heroine, Jaelyn?
Alexandra: Ariyal is a dark fey, but when his people (the Sylvermysts) were exiled with the Dark Lord, his tribe remained behind as sex slaves to Morgana le Fay. He knows that the return of his god will mean an eternity of hellish torment. He's desperate to protect his people, even if it means joining with the 'bad guys'. Of course, things could be worse. The vampire sent to capture him is drop-dead gorgeous and sexy enough to make the chase far more fun than it should be.
Lea: Is it safe to describe elite vampire warrior Jaelyn as a kick ass heroine? She is beautiful but at the same time lethal isn't she? LOL
Alexandra: I loved creating Jaelyn! She's a woman who can take care of business, although her years of brutal training have destroyed her ability to trust others. She's learned the hard way that opening her heart will only lead to pain.
Lea: Jaelyn is actually sent to capture Ariyal so their relationship is initially adversarial, although this changes doesn't it?
Alexandra: They are forced to work together, but they both understand that at any minute they might be on opposite sides once again. It adds a definite edge to their growing relationship. 😀
Lea: I'll Say!
Would you advise readers to enjoy your novels in order or do you think Bound by Darkness or any of your stories can be read as a stand-alone?
Alexandra: I try to make sure that they can each be read as stand-alones, but I think that they're better read in order. Each story has a hero and heroine, but the characters from previous books do make appearances and there's an overall story arc that has been running through the last few books.
Lea: As a reader I have to agree! I started your series with Bound by Darkness and am actually working backward and I had no difficulty becoming immersed in your world. You give an excellent foundation so a new reader doesn't get lost in the storyline. 🙂
You have integrated some pretty evil antagonists into the plot of this story, please share a little about the bad guys in Bound by Darkness.
Alexandra: It's always so much fun to write the bad guys! Sometimes they're more complex than the 'good guys' 🙂 In Bound by Darkness, the overall bad guy is the Dark Lord that was actually introduced in the very first book of the series. He's been gaining power and attempting to return to the world, and now he has a group of loyal followers who are willing to betray their own people for the opportunity for glory.
Lea: I have to ask about favorite character Levet. Please tell us about the Gargoyle whose presence is felt in your stories.
Alexandra: Levet appeared in my second story Embrace the Darkness and I have to admit I fell in love with him. He's a stunted gargoyle with fairy wings who says exactly what's on his mind and can destroy a vampire's conceit at a hundred paces. 🙂 Thankfully, he's also charming enough to win the hearts of my heroines and possesses a courage that more than makes up for his small stature.
Lea: Levet is such an endearing character and I love the French! lol
What do you think is the secret of the longevity of your series? You are continuing to gather fans with each publication, is it difficult to keep the series fresh or do new heroes and heroines come to you while writing each book?
Alexandra: I've been amazed to have the series doing so well! It isn't quite as dark as many paranormal and Urban Fantasy series, and I think that it might attract readers who enjoy some humor along with the danger and romance. I try to make sure that each story builds on the last book, and yet is different enough that it keeps the readers' attention. The new characters do tend to appear during a story, sometimes not being fully fleshed out for a book or two. It's a great way to introduce new cast members and decide if they're going to have the complexity to become a lead character or just remain on the sidelines.
Lea: Will there be more books in the Guardian's of Eternity Series Alexandra?
Alexandra: Absolutely! 😀 I've recently signed a new contract and while I have distant plans to write another series, I still have books I want to finish for the Guardians!
Lea: What can readers look forward to next from the desk of Alexandra Ivy?
Alexandra: Fear the Darkness (Caine and Cassie's story) will be out next September and I'm currently working on Santiago's story.
Lea: Oh, Santiago! I LOVED that guy! 😉
Please summarize Bound by Darkness for us twitterstyle (in 140 characters or less)?
Ariyal is determined to halt the Dark Lord from making his life a genuine living hell. Jaelyn has never hunted prey she couldn't bag and tag, but she might just have met her match.
Lea: One last hard question: Please tell us 3 reasons why people should read your books? (LOL)
Alexandra: Hmmm…this is hard! 🙂
1. Insanely yummy, alpha vampires and Weres (along with a Sylvermyst).
2. A fast paced story with lots of action (and some hot sex)
3. A very funny gargoyle who says what we all want to 😀
Lea: Excellent Answers and all very true!!
Alexandra, thank you so very much for taking time out of your busy schedule to chat with us today it's been such a pleasure!
Alexandra: Thank you so much, Lea!! I'm so happy for a chance to chat with you.
Series: Guardians of Eternity Book 8
Release Date: November 29, 2011
Publisher: Zebra Paranormal
Genre: Paranormal Romance
Formats Available: Mass Market Paperback, Kindle, Nook, eBook
Purchasing Info: Author's Website, Goodreads, Amazon, Barnes & Nobel, Book Depository, Chapters, Kindle, Nook, All Romance eBooks
Book Blurb:
Desire is the deadliest weapon.

The Sylvermysts have a reputation as sinister cousins to the fey, and none are more mysterious than Ariyal and his tribe.

To save his people from banishment, he faces a new challenge: Jaelyn, an elite vampire warrior sent to capture him. By rights, he should kill her on sight. Yet he cannot bring himself to hurt her—or to resist her…

Jaelyn is stunningly beautiful, utterly lethal—and always alone. Until Ariyal. From their first encounter, she knows that what's between them is more dangerous than simple lust. And as they unite to thwart a terrifying prophecy that will mean the end of
his clan and of the world they know, she will risk everything to
fulfill her destiny by his side…
The Guardians of Eternity Series:
When Darkness Comes
Embrace the Darkness
Darkness Everlasting
Darkness Revealed
Darkness Unleashed
Beyond the Darkness
Devoured by Darkness
Bound by Darkness
Novellas:
Taken by Darkness in Yours for Eternity
Darkness Eternal in Supernatural
Where Darkness Lives in The Real Werewives of Vampire County
Where to find Alexandra:
~~~~~~~~~~~~~~~~~~~~~~~~~~~~~~~~~~~~~~~~
~*~*Giveaway*~*~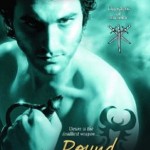 Alexandra has generously offered a print copy of Bound By Darkness to one lucky commenter!
All you have to do is leave a meaningful comment about the interview.
(You can read our full giveaway policy here)
Please leave a valid email when placing your comment so we can inform you if you win.

This giveaway is open worldwide!
Giveaway ends on Saturday, December 17, 2011; and we will announce the winner on Sunday.
Good luck!