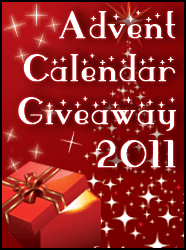 Welcome to the 2nd day of Book Lovers Inc Advent Calendar. Each day we will offer you one great read in a giveaway on all 24 days till Christmas.
Today you will have the chance to win a book from Suzanne MacLeod's Spellcrackers.com series. This year I read and loved The Bitter Seed of Magic (Book #3)  and I decided to share the love with you! This series is a real 'Coup de Coeur' for me and I hope you'll have the chance to enjoy it too. I always say this series has a little something more that other UF series don't have. It's hard to explain but when I read them I felt it was different. I'm now completely addicted and I think I can safely say next book is gonna ROCK (*evil laugh*)
Purchasing Info: GoodReads, Suzanne's Website, Amazon, Book Depository

Book Blurb:
On the surface, Genny's life seems ripple-free right now. Finn, her sexy boss, has stopped pushing for a decision on their relationship. The seductive vampire Malik al-Khan has vanished back into the shadows. And the witches have declared her no longer a threat. But unless Genny can find a way to break the fertility curse afflicting London's fae, she knows this is just the lull before the magical storm. Then a faeling – a teenage girl – is fished out of the River Thames, dead and bound with magic, and Genny is called into investigate. As she digs through the clues, her search takes a sinister and dangerous turn, exposing age-old secrets that might be better left buried. Then another faeling disappears, and Genny finds herself in a race against time to save the faeling and stop the curse from claiming its next victim – herself!
The Review:
This book was fantastic. It's even better than the 2nd book. The story has so many twists and turns, it was a 'OMG'-fest in my house. (Suzanne you're still EVIL!) I just didn't see any of these events coming. Suzanne McLeod created a very fascinating and complex world. I didn't want the book to end.
[…] Fanta-bulous, that's how i'd summarize this book. The Bitter Seed of Magic is an action-packed adventure filled with twists and turns. Vampires, Fae, Witches and so much more…this books has them all. It keeps you on the edge of your seat from start to end and you can never guess what's going to happen next (or I don't have much imagination lol). I salute Suzanne's fertile imagination and I can only say this: Give this series a try! It's well worth your time, you won't regret it… Read the rest of the review.
~~~~~~~~~~~~~~~~~~~~~~~~~~~~~~~~~~~~~~~~
~*~*Giveaway*~*~

Since I love this series so much I'm offering 1 book in the Spellcrackers.com series (winner's choice. I'll even pre-order) to 1 lucky commenter!
All you have to do is answer the following question: Did you have an Advent Calendar with chocolate in them when you were a kid? Do you still have them now? (I still have 1 every year! NOM)
(You can read our full giveaway policy here)
Please leave a valid email when placing your comment so we can inform you if you win.
This giveaway is open to everyone! (Anywhere Book Depository ships to)
Giveaway ends on Saturday, December 17th  and we will announce the winner on Sunday.
Good luck!