Welcome to this week's news post and we have global anti-trust investigations, the results of the bad sex awards for fiction, authors behaving badly again and more books to watch out!
First up a few weeks ago, I reported that the Office of Fair Trading is going to investigate Agency pricing in the UK. Well it looks like that that the EU and US authorities will also be investigating as well. The investigations will focus whether the Big six publishers joined forces with Apple to collude upon pricing. The publishers have stated adamantly that they are innocent but it will be very interesting to see how these investigations will pan out and if it is proven true it will be one very expensive decision.
The winner for the Bad Sex Awards in Literary Fiction and the dubious honour goes to David Guterson who wrote this gem about the art of love-making. "In the shower, Ed stood with his hands at the back of his head, like someone just arrested, while she abused him with a bar of soap.After a while he shut his eyes, and Diane, wielding her fingernails now and staring at his face, helped him out with two practiced hands,one squeezing the family jewels, the other vigorous with the soap-and-warm-water treatment.It didn't take long for the beautiful and perfect Ed King to ejaculate for the fifth time in 12 hours, while looking like a Roman public-bath statuary.Then they rinsed, dried, dressed and went to an expensive restaurant for lunch."
I think these authors need to read a good romance or erotica to get some good hints!
Amazon is definitely on the road to becoming a major powerhouse in publishing. They have announced that they will be acquiring children's Publisher, Marshall Cavendish which holds over 450 titles.  They have recently started imprints which focuses on Romance, Mystery and general fiction. It will be very interesting to see how all of this plays out in the future and whether this venture is successful.
Author P.C Cast strikes again with her habit of mocking people  in her successful YA House of Night series. In a previous book, she snarkily mocked Anita Blake and caused a flamewar with fans. . It looks like this time she has a personal issue with bloggers and parents who disagreed with her use of  'Retard' in a previous book. Reviewer and blogger Cellidhann has a concise summary with the excerpt here.
Personally I find this really distasteful and I totally agree with Cellidhann about this issue, the fact that P.C Cast incorporated this in her book, I find petty and actually in a ironic way sounds like the very people she's mocking who are P.C. Also defending the use of 'Retard' and trying to make that as an acceptable term albeit not a positive one smacks of ignorance and the fact she's writing for a young adult audience too I find very disappointing and frankly this is petty. But she's not the first author to do something like this who, because of their reach and popularity thinks this is a great way to get back at their detractors, authors like Victoria Laurie who named and killed off a character after a person she disagreed with in real life and Michael Crichton who named a paedophile after a critic. Frankly I find this really off-putting as a reader especially since most of her readers will be unaware of the basis of this.
And now for the books to watch out for!
First up! Allison Pang's 2nd book in the Abbey Sinclair series, A Sliver of Shadow which is slated for release in March of next year.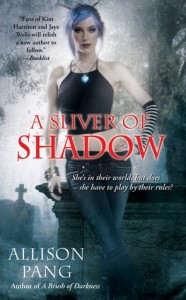 Just when her new life as a TouchStone – a mortal bound to help OtherFolk cross between Faery and human worlds – seems to be settling down, Abby Sinclair is left in charge when the Protectorate, Moira, leaves for the Faery Court. And when the Protectorate's away…let's just say things spiral out of control when a spell on Abby backfires and the Faery Queen declares the Doors between their worlds officially closed. 
The results are disastrous for both sides: OtherFolk trapped in the mortal world are beginning to fade, while Faerie is on the brink of war with the daemons of Hell. Along with her brooding eleven prince Talivar and sexy incubus Brystion, Abby ventures to the CrossRoads in an attempt to override the Queen's magic. But nothing in this beautiful, dangerous realm will compare to the discoveries she's making about her past, her destiny, and what she will sacrifice for those she loves.
D.D Barant's new 5th Bloodhounds book: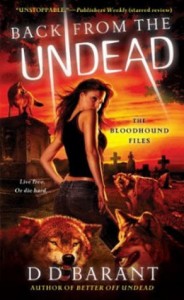 Another work day, another case for the Bloodhound Files. But this time, Jace is truly stumped: How is she, a mere human, supposed to penetrate the dark heart of a child-trafficking ring of pire orphans—one that turns out to be part of a blood-farm operation, in the crime-ridden border city of Vancouver, British Columbia?
Jace is in over her head. But with the help of her former lover, Tanaka—whose family is one of the last samurai clans left in Japan—she stands a chance at seeking justice for the condemned children… Until the Yakuza tries to put an end to Jace's investigation. Jace risks more than death—this time, it's the fate of her very soul that's in danger . . .
And finally we have Hot Under Pressure by Louisa Edwards – I just adore the smokin' hot cover!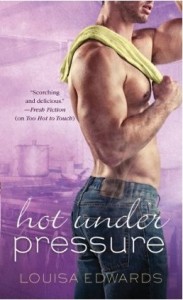 Loaded with the hottest dishes and sexiest chefs, the Rising Star Chef competition is about to boil over for one pair of all-star cooks who can't stand the heat—of working so close together… 
SHE'S THE ONE HE LEFT BEHIND 
Henry Beck thought he'd already faced the toughest kitchen challenge of his life. After all, what could top sweating it out as a Navy cook on a submarine? But when he learns his competition for the title of Rising Star Chef is the sweet hippie girl he married…and left…ten years ago, the heat is on. 
HE'S THE ONE SHE CAN'T FORGET 
Now Beck and Skye Gladwell are going head to head in the finals…and sparking up old flames every time they touch. But Skye wants more than a win over the man who abandoned her when she needed him most—she wants a divorce! Then her sexy almost-ex makes a deliciously dangerous proposition. He'll give in to her demands, but if his team wins the RSC, he has a demand of his own…one last taste of the only woman he ever loved.
So what do you think of the P.C Cast's incorporating her personal criticisms into her books? Do you think that authors should be able to vent using their books? And what was the worse sex scene have you have ever read? 
I am going to leave you with this fun parody vid of A  Girl with a Tramp Tattoo – a riff on the Stieg Larrson's trilogy! Made me giggle 😀