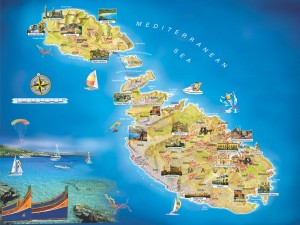 I seem to be in a vicious cycle of revisiting past locations in any of the books I've been reading lately, so I thought I would take a different route today. I'm currently reading I Am Half-Sick of Shadows by Alan Bradley. The book takes place somewhere in the English country side, but I thought it would be much more interesting to see where the author lives.
In fact, Mr. Bradley grew up in a town not 20 minutes from where I live now, but he has since moved to the lovely island of Malta. I have to be honest here, I had no idea where Malta was and (forgive me, anyone who resides there) at times mistake it for Madagascar (it might be time for me to bone up on my geography lessons :p ).
Anyway, I hope you've packed your bathing suit, as I whisk you away to the island of Malta, situated in the Mediterranean Sea:
So, who wants to tease me with their escapades in Malta? It was never really a place I thought much about but seeing these images, I would love to visit!