Welcome to this week's news post and it has been a bit quiet in the world of books and publishing but there is news of more YA books being adapted to movies, the Nook may finally arrive across the big pond to the UK.
First up, Barnes and Noble have announced that the Nook will soon be available in the UK, in the near future and will be part of on an ongoing international roll-out for their ereading devices. However, it is not made clear on who they would be joining forces with to distribute the Nook in the UK. WH Smiths already has teamed up with the Kobo and Waterstones will be unveiling their own dedicated device in the next year. But it does look that the ereading market is going to heat up even further.
This might be good news on the VAT front for European Kindle readers. Luxembourg has announced that they will reduce their VAT rate from 20% to a super reduced rate of  3% in the new year. This may or may not affect Agency pricing but if it is the case it may also undermine it. This goes along with France's decision to cut VAT for ebooks and although it goes against the current form of  EU VAT regulations – they have stated that they will pay the fines for these breaches. Nonetheless this move will be a huge concern to publishers and other booksellers as this will give Amazon a bigger edge in the market front.
Following in the footsteps of Amanda Hocking, Colleen Houck, Young Adult book, Tiger's Curse which is about a young girl who cares for a tiger who is a cursed prince,  was a self published success although later it was published via Splinter Books along with the sequels. The book has been picked up to be adapted for the big screen treatment by Paramount Pictures and will be produced by Mary Parent who is behind movies like You, Me and Dupree.
Some News in Brief:
All Things Urban Fantasy have their annual voting for best UF book  covers of 2011 up on their blog.
Nalini Singh has posted, the title of the next Guild Hunter book, Archangel's Storm which is slated for release in September 2012. Jason will be the hero but no hints or news who will be the heroine but I am psyched!
And now for books to watch out for!
I adore the covers for Jaci Burton's Play by Play series – they are seriously lickable. Taking the Shot is slated for next March.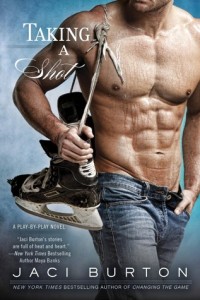 If you want to score, you have to get in the game…

The last thing Jenna Riley needs is more sports in her life. While her brothers are off being athletic superstars, she's stuck running the family's sports bar, whether she likes it or not. Then in walks pro hockey stud Tyler Anderson. As much as Jenna would like to go to the boards with him, she's vowed to never fall for a jock—even one as hot as Ty.

Ty, intrigued by the beautiful bar owner, becomes a regular. He senses that Jenna wants to do something more with her life. And as he gains her trust, the passion between them grows, as does Ty's insistence that Jenna should start living for herself. With his encouragement, Jenna starts to believe it, too…

But first, Jenna has to figure out what she wants, what she needs, who she loves, and if she has the passion and pride to take a shot at having it all—including Ty…
Julie James next FBI book has a cover and a blurb. About That Night is out on April.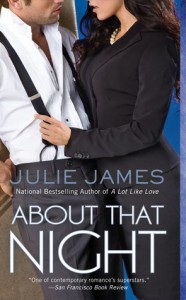 HE'S PLAYING GAMES

Though Rylann Pierce tried to fight the sparks she felt for billionaire heir Kyle Rhodes the night they met, their sizzling chemistry was undeniable. But after being stood up on their first date, Rylann never expected to see him again. So when she finds herself face to face with Kyle in a courthouse nine years later, she's stunned. More troubling to the beautiful Assistant U.S. Attorney is that she's still wildly attracted to him.

BUT SHE'S MAKING THE RULES

Just released from prison, Kyle Rhodes isn't thrilled to be the star witness in a high-profile criminal case — but when Rylann comes knocking at his door, he finds she may be the one lawyer he can't say no to. Still as gorgeous and sharp-tongued as ever, she lays down the law: she doesn't mix business with pleasure. But Kyle won't give up on something he wants — and what he wants is the one woman he's never forgotten..
Elizabeth Hoyt's fourth Maiden Lane book, Thief of Shadows.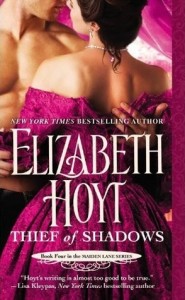 A masked man…
Winter Makepeace lives a double life. By day he's the stoic headmaster of a home for foundling children. But the night brings out a darker side of Winter. As the moon rises, so does the Ghost of St. Giles—protector, judge, fugitive. When the Ghost, beaten and wounded, is rescued by a beautiful aristocrat, Winter has no idea that his two worlds are about to collide.

A dangerous woman…
Lady Isabel Beckinhall enjoys nothing more than a challenge. Yet when she's asked to tutor the Home's dour manager in the ways of society— flirtation, double entendres, and scandalous liaisons—Isabel can't help wondering why his eyes seem so familiar—and his lips so tempting.

A passion neither could deny…
During the day Isabel and Winter engage in a battle of wills. At night their passions are revealed…But when little girls start disappearing from St. Giles, Winter must avenge them. For that he might have to sacrifice everything—the Home, Isabel…and his life.
Instep cover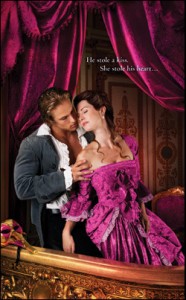 And finally His Dark Bond by Anne Marsh. I really enjoyed the first book of this series and definitely looking forward to this instalment.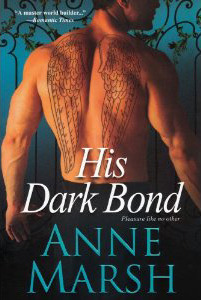 Zer is no angel – well, not anymore. He's explored every flavour of sin imaginable, drinking in the pleasures of humanity. But now he must find the woman who carries his salvation in her very blood…a woman like Nessa St. James.

Nessa has considered the bargain the Fallen offer. Anything she wants in exchange for accepting Zer's bond? No way. Not her. Not when she finds out about the mind-blowing ritual involved and the marks of surrender that will ink her skin. But with a serial killer to stop and centuries of experience on his side, Zer will do whatever it takes to change her.
What do you think of the VAT changes for ebooks in Europe? And does the news of the Nook arriving in the UK and internationally will tempt you to waiting instead of getting another reader that is already available?