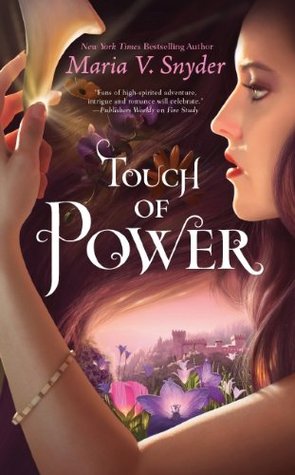 Touch of Power by Maria V. Snyder
Laying hands upon the injured and dying, Avry of Kazan absorbs their wounds and diseases into herself. But rather than being honored for her skills, she is hunted. Healers like Avry are accused of spreading the plague that has decimated the Fifteen Realms, leaving the survivors in a state of chaos.


Stressed and tired from hiding, Avry is abducted by a band of rogues who, shockingly, value her gift above the golden bounty offered for her capture. Their leader, an enigmatic captor-protector with powers of his own, is unequivocal in his demands: Avry must heal a plague-stricken prince—leader of a campaign against her people. As they traverse the daunting Nine Mountains, beset by mercenaries and magical dangers, Avry must decide who is worth healing and what is worth dying for. Because the price of peace may well be her life….
Lady Seductress's Ball by Eliza Knight
One Perfect Night by Rachael Johns
Melt by Natalie Anderson
Chronic Fear by Scott Nicholson
On a Dark Wing by Jordan Dane
Scandal at the Cahill Saloon by Carol Arens
Count to a Trillion by John C. Wright
The Doctor and the Kid by Mike Resnick
Embrace by Cherie Colyer
Make Me Shiver by Aline Hunter
Manhattan by Ronni Cooper
Legacy by Molly Cochran
Isn't the cover for Touch of Power just the prettiest thing??? I'm so looking forward to jumping head-first into another of Maria V. Snyder's worlds. The new release Make Me Shiver by Aline Hunter (a.k.a. the fabulous J.A. Saare) is also on my shopping list this week. How about you–any new releases that strike your fancy for some holiday reading?