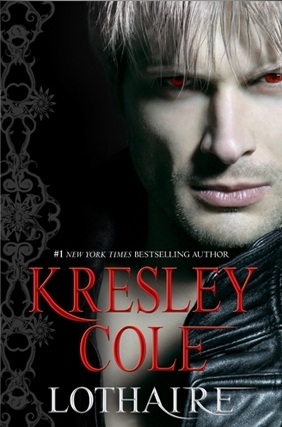 Lothaire by Kresley Cole
From the humblest of beginnings a millennia ago, Lothaire the Enemy of Old rose to power, becoming the most feared and evil vampire in the immortal world. Driven by his past, he will not rest until he captures the vampire Horde's crown for himself. The discovery of his Bride, the female meant only for him, threatens to derail his plot.

Elizabeth Peirce is a mere mortal, a glaring vulnerability for a male with so many blood foes bent on annihilating anything he desires. Yet soon he discovers his Bride's secret. A magnificent power dwells inside the fragile human, one that will aid his quest. But to possess that power, he will have to destroy her. Will Lothaire succumb to the torments of his past, or seize a future with her?
The Canvas Thief by P. Kirby (1/9)
Chain Reaction by Zoe Archer (1/9)
Copper Beach by Jayne Ann Krentz (1/10)
Demon's Caress by Crystal Jordan (1/10)
Destiny's Fire by Trisha Wolfe (1/10, YA)
The Gathering Storm by Robin Bridges (1/10, YA)
Jessica Rules the Dark Side by Beth Fantaskey (1/10, YA)
Amazon Heat by Melinda Leigh and Rayna Vause (1/9)
A Million Suns by Beth Ravis (1/10, YA)
Nameless by Kyle Chais (1/10)
Rocky Mountain Haven by Vivian Arend (1/10)
Runner by Anitra Lynn McLeod (1/10)
The Scarred Heir by Denise Patrick (1/10)
The Rook by Daniel O'Malley (1/11)
Come In and Cover Me by Gin Phillips (1/12)
Last week's book release schedule was absolutely nuts, with a slew of heavy-hitter series titles and brand new standalones, all threatening TBR piles worldwide. This week, in comparison, provides a bit of a respite, but there are still some noteworthy books coming out. For my part, I'm pumped about Zoe Archer's latest sci-fi romance title. Kresley Cole has her latest in the Immortals After Dark series, and followups A Million Suns (by Beth Ravis) and Jessica Rules the Dark Side (by Beth Fantaskey) look promising, indeed.
How about you…see anything you like this week???