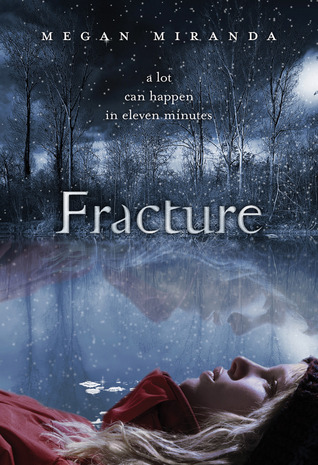 Fracture by Megan Miranda
Eleven minutes passed before Delaney Maxwell was pulled from the icy waters of a Maine lake by her best friend Decker Phillips. By then her heart had stopped beating. Her brain had stopped working. She was dead. And yet she somehow defied medical precedent to come back seemingly fine–despite the scans that showed significant brain damage. Everyone wants Delaney to be all right, but she knows she's far from normal. Pulled by strange sensations she can't control or explain, Delaney finds herself drawn to the dying. Is her altered brain now predicting death, or causing it?

Then Delaney meets Troy Varga, who recently emerged from a coma with similar abilities. At first she's reassured to find someone who understands the strangeness of her new existence, but Delaney soon discovers that Troy's motives aren't quite what she thought. Is their gift a miracle, a freak of nature-or something much more frightening?
The Best Mistake by Kate Watterson (1/16)
Don't Bite the Messenger by Regan Summers (1/16)
Sex, Lies and Surveillance by Stephanie Julian (1/16)

150 Pounds by Kate Rockland (1/17)
The Asylum by "L. J. Smith" (1/17)
Bloody Claws by Winter Pennington (1/17)

Dark Victory by Michele Lang (1/17)
Ghosts of Boyfriends Past by Vivi Andrews (1/17)
Hallowed by Cynthia Hand (1/17)

In the Lion's Mouth by Michael Flynn (1/17)
Passion Play by Opal Carew (1/17)
The Psychic and the Sleuth by Bonnie Dee, Summer Devon (1/17)

Shadows in Flight by Ender's Game (1/17)
Something Wikkid This Way Comes by Jane True (1/17)
Stolen Away by Alyxandra Harvey (1/17)

Tempest by Julie Cross (1/17)
The Thorn and the Blossom by Theodora Goss (1/17)
Fifty Shades Freed by E. L. James (1/19)

Pear-Shaped by Stella Newman (1/19)
Truth by Julia Karr (1/19)
The Red Girl by Luke Walker (1/20)
This week brings a fairly varied selection of releases, from the sci-fi powerhouse Orson Scott Card's Shadows in Flight to the sweet chick-lit Pear Shaped to the m/m mystery The Psychic and the Sleuth. As a big fan of Card's sci-fi series, I'm most looking forward to this latest installment. However, Don't Bite the Messenger looks like a lot of fun (stay tuned for a review of it next week, here at BLI). And The Red Girl looks like a creepy, exciting time.
How about you; does anything strike you interest from this week's selection of new releases? Anything new to you?