Today at BLI, we've got the immense pleasure of welcoming back the ever-fabulous Laura Kaye, author of numerous romance novels that span across subgenres. She stops by to talk about a very special person: Shayla McKinnon, the main character in her latest release, In the Service of the King. Shayla is an intelligent, complex, beautiful badass with a hell of a story to tell. Read on to find out more about her and her world! Please give Laura—and Shayla!—a warm welcome.
Character Profile: Meet Shayla McKinnon
If you like heroines who go after what they want, you're really going to enjoy meeting Shayla McKinnon, the heroine of my dark erotic vampire romance, In the Service of the King, which releases February 1 from Harlequin Nocturne.
Where is Shayla from?
Shayla's family is Irish, but she currently attends university at Oxford and studies Celtic history and culture.
How old is Shayla?
Shayla is twenty years old, the year when human blood is most potent for maintaining the immortality and humanity of a vampire.
What is Shayla called?
Shayla McKinnon is her given name, though the feeding ritual that brings her to Dunluce Castle also makes her a "Proffered"—a human virgin specially trained to service elite vampires. The Proffered is one part of the alliance between the vampires and The Electorate, influential humans with whom the vampires have shared knowledge of their existence in a joint effort to fight the Soul Eaters, evil, addicted vampires who steal human souls by draining their victims of blood then eating their hearts.
What does Shayla look like?
Ooh! I'll let Kael describe her! I love that first moment the hero sees the heroine!: "For the love of all that was holy, the creature before him was magnificent. Perfectly posed despite the thundering sprint of her heart, her long black-brown hair was braided and intertwined in the traditional way, ribbons and flowers threaded throughout. The sheerest of white silk robes did little to hide from his vision the sexy muscularity of her body. She was not thin, which pleased him. He had once turned away a Proffered for being too thin—he was 250 pounds and nearly feral once blooded, and he'd feared crushing her. Instead, this woman appeared strong, athletic. She was young, to be sure, but also womanly, with curves where women should have curves, with rounded flesh that would fill his exploring hands and strong grip."
What kind of childhood did she have?
A normal one, totally oblivious to the knowledge that anything supernatural existed in the world, until one day when she was fourteen, and strange men showed up at her house and informed her parents that her older sister Dana had been killed by people known as "Soul Eaters." That was the day Shayla determined that, somehow, she would find a way to aid the good vampires in destroying the monsters that had killed her big sister.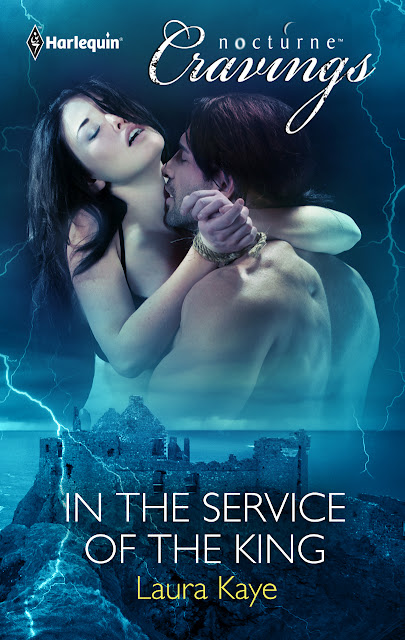 What does Shayla do for a living?
Having pursued an advanced track through high school and college, Shayla is pursuing a Masters degree at Oxford University in Celtic history and studies.
How does Shayla deal with conflict and change?
Shayla's direct and assertive, interesting character traits for someone who also has submissive tendencies. And these seeming contradictions are part of what enthralls the vampire king so much.
What special powers does Shayla have?
Well, as a mortal, Shayla doesn't have any preternatural powers. However, she clearly has some power over Kael. He says: "He would've been impressed with her responsiveness if he hadn't been so completely enthralled by those eyes. Her left iris was a brilliant emerald, nearly rivaling his own in the intensity and clarity of green. Her right, however, was a bright turquoise, touched by green to be sure, but without question a deep, dazzling blue. The effect of her mismatched gaze, paired as it was with her fair, creamy skin and dark tresses, was arresting. His mouth gaped in rapture of her beauty. Powerless to resist, he leaned down and cupped her left cheek in his hand. He stroked his thumb across her cheekbone, his finger playing with the ends of her eyelashes. "You have been touched by magic."
Does Shayla have a romantic interest in anyone?
Since her sister died, Shayla has dreamed of meeting a vampire warrior along whom she could fight and mete out vengeance. Of course, she recognizes the romantic nature of what is a teenage fantasy, but some part of her holds onto the hope, when she meets Kael, that he might be the answer to her prayers. And she is immediately intrigued and attracted, not just to the idea, or to his kingship, but to Kael, the man.
So, I hope you enjoyed this sneak peek into In the Service of the King's heroine, Shayla McKinnon. Please leave a question for Shayla or her author lady—we'd both be glad to tell you more!
Thanks for reading!
Laura Kaye & Shayla McKinnon
About Laura Kaye
Voted Breakout Author of the Year in the 2011 GraveTells Readers' Choice Awards, Laura is the bestselling and award-winning author of a half-dozen books. Hearts in Darkness is a finalist for the EPIC eBook Award for Best Novella, Forever Freed won the NJRW Golden Leaf Award for Best Paranormal of 2011, and North of Need, the first book in the Hearts of the Anemoi series, was named GraveTells' Best Book of 2011 and won their 5-STAR Gold Heart Award, and won Sizzling Hot Read of the Year at Sizzling Hot Books. Laura lives in Maryland with her husband, two daughters, and cute-but-bad dog, and appreciates her view of the Chesapeake Bay every day.
Buy Laura's Books
Website | Blog | Facebook | Twitter | Newsletter SignUp
Psssst! Heads up, fabulous folks!
To celebrate her new release, Laura is giving away one e-copy of In the Service of the King at each stop on her New Release Tour, 1/30 – 2/15! (More on that at the end of this post!) In addition, all commenters from across the tour will be entered to win a prize bag filled with swag and various vampire items, perfect for the vampire lover! RULES: Must leave e-mail address & if from U.S. in comment. Ebook prizes open to international; prize bag to U.S. only.

In the Service of the King
Book 1 in the Vampire Warrior Kings Series
from Harlequin Nocturne Cravings
Kael, Warrior King of the Vampires, loathes the Night of the Proffering. He needs the blood of either his mate or a human virgin to maintain his strength, but hasn't enjoyed the ritual since he lost his mate centuries ago. Kael doesn't want a new companion, yet his resolve is tested when he lays eyes on his new offering, Shayla McKinnon. He is drawn to Shayla's beauty and poise…and the submission she offers. She is eager to give him anything he wishes, including her innocence, to please him. Will Kael give in to their overwhelming desire–even if it means risking Shayla's life? (Click here to read an excerpt of the book, on Laura's website)
~~~~~~~~~~~~~~~~~~~~~~~~~~~~~~~~~~~~~~~~
~*~*Giveaway*~*~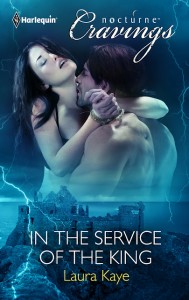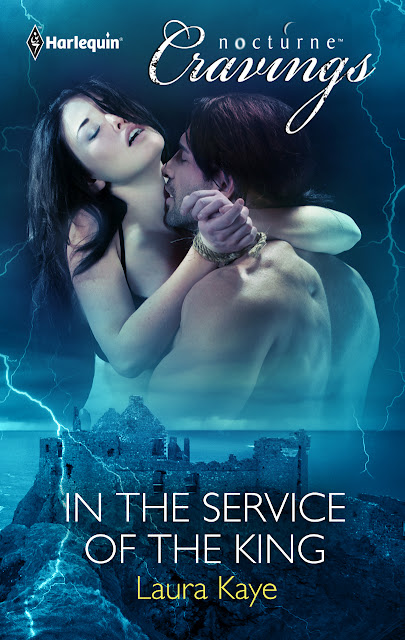 As mentioned above, Laura has very generously offered a digital copy of her latest release, In the Service of the King, to one lucky commenter!
All you have to do is leave a meaningful comment or question about Laura's post; or if you have a general question for Laura, please ask!
(You can read our full giveaway policy here)
Please make sure to include a valid email address in the comment form.
This Giveaway is open Internationally!
Giveaway ends on Saturday, February 11, 2012; we will announce the winner on Sunday.
Good luck!