Today we welcome Claire Robyns to Book Lovers Inc, her latest historical romance, The Devil of Jedburgh (lookout for our review which is also going up today), released on the 6th February 2012. Claire is here today to talk about the uniqueness of historical romance revolving around Scotland! Over to you Claire…
Fiction writers make stuff up. That's what we do. We make up people, places, names, events and faces. And then we make up families to fit our people and their lives into. Except in Scottish Historical Romance. I don't think I've read a Scottish historical with a fictional clan and I'm no exception to that rule. I've tried, I really have, once I even got my clan map out and figured out where to squeeze my fantasy clan into… and then I just couldn't do it.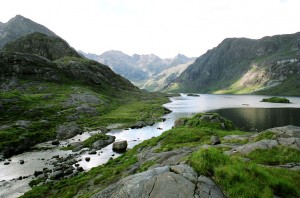 Then again, finding the perfect clan fit for my hero/heroine and my story is so much fun, so maybe that's the problem. Whatever your hero/heroine/villain is, whatever shenanigans they get up to, whether they're strong, weak, villainous or heroic, there's a clan already handcrafted just for them.
In The Devil of Jedburgh, I didn't need to look far and wide for either my hero or the villain.
The Armstrongs, on both the English and the Scottish sides of the border, were notorious reivers and all round bad, bad news, and Johnnie Armstrong was wildly acclaimed the biggest rogue of them all. He led a large band of men and tore through border dales, leaving mayhem in his path. Johnnie's been on the backburner of my mind for a long while, waiting for the perfect role.
Now as for my hero Arran, I knew straight away where he fit in. The Kerr clan are famous for being left-handed, which gave them great advantage in sword fights and made them admirable warriors and unbeatable foes.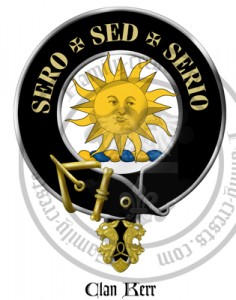 Here's a snippet from the poem, The Raid of The Kerrs, by James Hogg
But the Kerrs were aye the deadliest foes

That e'er to Englishmen were known

For they were all bred left handed men

And fence [defence] against them there was none
Oh yes, that's exactly where my hero belongs. The Kerrs also generated some myths in the wake of their great fighting abilities, some enemies believing that their left-handed advantage was a gift from the devil. Check, check and check, since my heroine, Breghan, has been brought up on rumours of the Devil of Jedburgh…
"'Tis said you roam the bogs at night to prey upon the souls of restless children," Breghan said daringly.

"Cross your heart, lass," he returned. "The priests would have that only God and the devil may lay claim to a soul."

She could see by the light in his eyes that he was more amused than angry and gave him back the source of that particular rumour. "The Kerrs fight left-handed because the devil rides heavy on their right shoulder."

The gleam slowly faded from his eyes until he was looking at her with dark, mesmerising intensity. He took her hand in his and placed it on his right shoulder. "Tell me," he said softly, "what does the devil feel like?"
As fascinating as myths are, I based some of my decision on fact as well. Mary, Queen of Scots, had a tumultuous reign with her noble barons changing sides and turning traitorous on the whisper of a breeze. The Kerr clan, however, was always steadfast in their support of Queen Mary, firm believers in her God given right to rule. They never wavered in their loyalty and, not only did I need that kind of man for my plot, but that's a hero I can fall in love with.
I'd love to hear of any Scottish Historical you might have read containing a fictional clan. Or do you have a favourite clan in your reading, or perhaps one you'd like to see in a story one day? Please leave a comment (about anything) and I'll be giving away an ebook copy of The Devil of Jedburgh.
The Devil of Je
dburgh
Raised on rumours of The Devil of Jedburgh, Breghan McAllen doesn't want an arranged marriage to the beast. The arrogant border laird is not the romantic, sophisticated husband Breghan dreams of—despite the heat he stirs within her.

In need of an heir, Arran has finally agreed to take a wife, but when he sees Breghan's fragile beauty, he's furious. He will not risk the life of another maiden by getting her with child. Lust prompts him to offer a compromise: necessary precautions, and handfasting for a year and a day, after which Breghan will be free. For a chance to control her own future, Breghan makes a deal with the Devil.

Passion quickly turns to love, but Arran still has no intention of keeping the lass, or making her a mother. He loves her too much to lose her. But when a treasonous plot threatens queen and country, Breghan has to prove only she is woman enough to stand by his side.
…
Places to find Claire:
 ~~~~~~~~~~~~~~~~~~~~~~~~~~~~~~~~~~~~~~~~
~*~*Giveaway*~*~
Claire has generously offered an ebook copy of The Devil of Jedburgh, her latest novel to a lucky commenter!
All you have to do is answer one of Claire's questions at the end of the post.

(You can read our full giveaway policy here)
Please leave a valid email when placing your comment so we can inform you if you win.
This giveaway is open worldwide!
Giveaway ends on Saturday 18 February 2012; and we will announce the winner on Sunday.
Good luck!