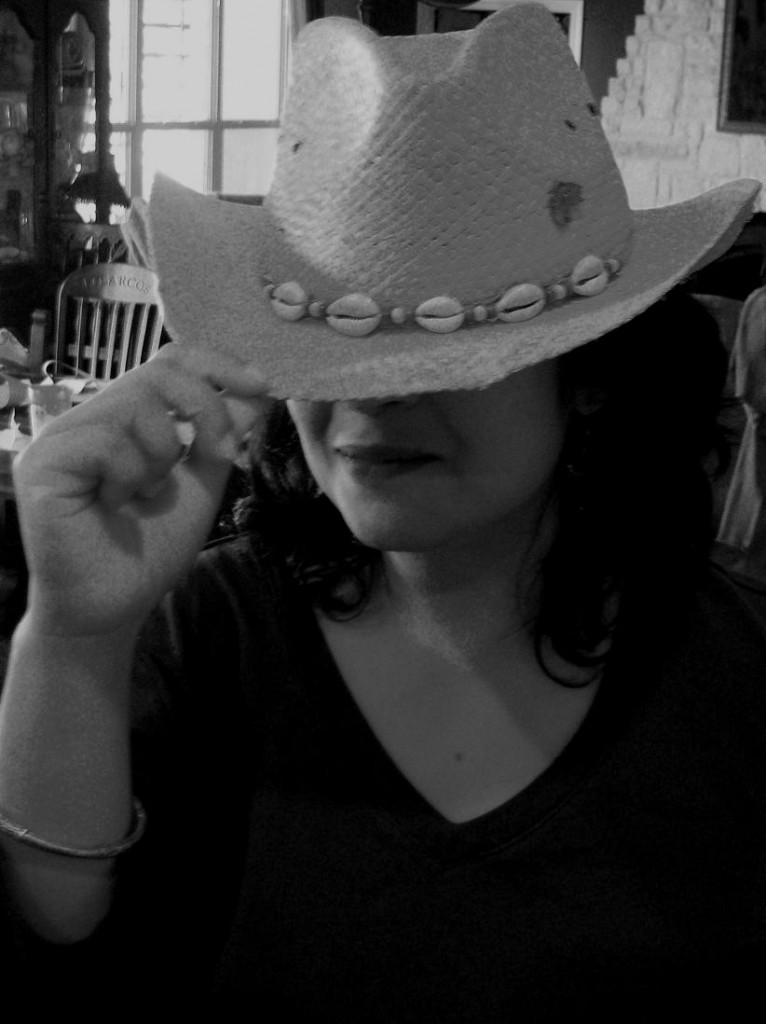 We're excited to welcome paranormal romance author Mina Khan to BLI today! She stops by to talk a bit about her childhood in Bangladesh, including one particular summer during which she had a brush with an unexplainable and magical occurrence. Those experiences helped later shape her storytelling and inform the mystique of her tales about djinns! So without further ado…welcome, Mina!
 ——-
Thanks Alisha & Book Lovers Inc., for inviting me to share my favorite paranormal creature with your readers.
My debut novella, The Djinn's Dilemma (Harlequin 2011), featured a djinn-human hybrid assassin who falls for his human target and must keep her alive from the bad guys. My second novella, A Tale of Two Djinns (coming out March 2012), is a Romeo & Juliet story involving warring djinn families, feminists & a happy ending! ☺
So yes, I have djinns on my brain. They are part of my story-psyche.
"Djinn," pronounced "gin," are the same as genies. They are supernatural creatures of "smokeless flames" with deep roots in the Middle Eastern mythology that preceded Islamic culture, and their stories spread not only in the Middle East, but far into Asia and Africa.
Growing up in Bangladesh (located on the Indian sub-continent), I was surrounded by the idea of djinns. I grew up in a house supposedly built at a crossroads of the djinn and human world, nourished on skin-tingling tales about these otherworldly supernatural creatures with awesome scary powers–stories of djinns falling obsessively in love with human women and stealing them away from their families, stories where humans inadvertently insulted invisible djinns and paid dearly for their mistake, and stories of djinns granting wishes and making impossible dreams come true.
My imagination has always been very active, and after such stories I'd see shadows looming on the walls and catch flitting movement from the corner of my eye. In other words, I'd be deliciously scared silly. And I would beg for more stories from my grandmother and aunts.
But for a long time, the stories remained stories. Then one summer my family visited Faridpur, my mother's village in Bangladesh. Only one or two houses in the neighborhood had color television back then. So, though we were invited to dinner at an aunt's house, my cousins and I (we were about 11 or 12) remained at another relative's house to watch an episode of MacGyver (yes, I'm dating myself).
After the show, we trekked our way to dinner. While the village had electricity, street lights didn't exist at every corner and it was very dark. We had a kerosene lantern to light our way, and some of the older cousins gleefully told stories of djinns and ghosts.
At one point we had to pass a small family graveyard. As we walked past, two fiery balls hurtled out of the dark and crossed our paths, merely inches from our faces. Absolute silence held for a long moment. Without any discussion, we broke into a run and screamed all the way to my aunt's house. To this day, I don't know what exactly we saw that night…but I can recall the bone-liquefying terror.
Since then, I believe there are many things in this world we can't explain. I believe stories can hide a greater truth and words have power. I write to explore the depth of my nightmares and the breadth of my imagination. I write to make sense of the world.
So what stories did you grow up with? Have you ever had a brush with something extraordinary?
Author Bio:
Mina Khan is a Texas-based writer and food enthusiast. She daydreams of hunky paranormal heroes, magic, mayhem and mischief and writes them down as stories. Between stories, she teaches culinary classes and writes for her local newspaper. Other than that, she's raising a family of two children, two cats, two dogs and a husband.
She grew up in Bangladesh on stories of djinns, ghosts and monsters. These childhood fancies now color her fiction. Her debut novella, THE DJINN'S DILEMMA was published November 2011. A second novella, A TALE OF TWO DJINNS, will be available March 2012.
Where to find Mina:
Website | Twitter | Facebook | Goodreads

The Djinn's Dilemma

Rukh O'Shay, half-djinn and assassin, is used to taking out the bad guys. But his latest assignment, Sarah White, is nothing like he expected. A glimpse of her bright aura reveals her gentle spirit, while her luscious beauty clouds his mind and makes him long for only one thing—to taste her.

Sarah shares the feeling of raw desire at Rukh's touch. He can turn her on with a glance, and satisfies desires she didn't even know she had. But Rukh had been hired to kill her—and the only way to save her is to find out who wants her dead before someone else finishes the job…

Find it at Goodreads – Amazon – Publisher Website – Barnes and Noble
~~~~~~~~~~~~~~~~~~~~~~~~~~~~~~~~~~~~~~~~
~*~*Giveaway*~*~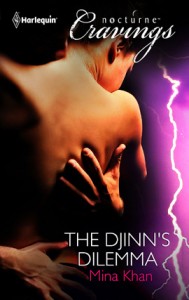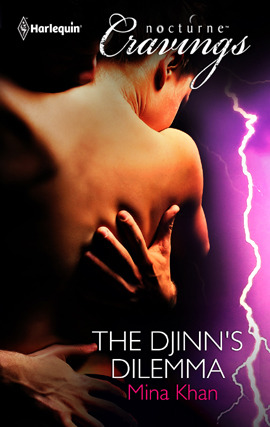 To celebrate Mina's visit to BLI, two lucky commenters will win an ebook copy of The Djinn's Dilemma!
All you have to do is leave a question for Mina or answer her own question to you, noted above: what stories did you grow up with? Have you ever had a brush with something extraordinary?
(You can read our full giveaway policy here)
Please be sure to include a valid email address in the comment form (need not be in the actual body of the comment).
This giveaway is open to all!
Giveaway ends on Saturday, February 25th, 2012; we will announce the winner on Sunday.
Good luck!