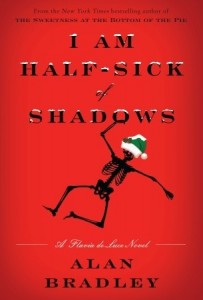 Format read: Hardcover
Series: Book #4 in the Flavia de Luce series
Genre: Mystery
Release Date: November 1, 2011
Number of pages: 297 pages
Publisher: Delacorte Press
Formats available: ebook, audio
Purchasing Info: Goodreads, Author's Website, Amazon
Book Blurb:
It's Christmastime, and the precocious Flavia de Luce—an eleven-year-old sleuth with a passion for chemistry and a penchant for crime-solving—is tucked away in her laboratory, whipping up a concoction to ensnare Saint Nick. But she is soon distracted when a film crew arrives at Buckshaw, the de Luces' decaying English estate, to shoot a movie starring the famed Phyllis Wyvern. Amid a raging blizzard, the entire village of Bishop's Lacey gathers at Buckshaw to watch Wyvern perform, yet nobody is prepared for the evening's shocking conclusion: a body found, past midnight, strangled to death with a length of film. But who among the assembled guests would stage such a chilling scene? As the storm worsens and the list of suspects grows, Flavia must use every ounce of sly wit at her disposal to ferret out a killer hidden in plain sight.
My Thoughts:
Reading the above blurb, would you even guess that Flavia de Luce is an eleven-year-old crime solver? Well, I didn't either [read the blurb properly it would seem :p ], so I was taken aback when I first started reading I Am Half-Sick of Shadows. I guess that's what I get for not reading the other books in the series. I wouldn't exactly consider this book a YA read either, despite the young age of the main character. This is in large part due to the subtlety of Alan Bradley's writing.
Flavia is precocious, to say the least, so when she mentally considers which poison she could use to cause discomfort to people that annoyed her (a common recurrence, usually directed at her her sisters) I applauded her spunk. I even thought of maybe taking up chemistry as a hobby myself. 😉 Mad scientist thoughts aside, Flavia had my sympathies too. She's still a relatively young girl, but with her family situation as it was, you could feel her I'm-out-of-place-in-this-family sentiments vividly. My heart broke for her a little every time her sisters would treat her badly. A small sense of resolution was found by the end, though, which was nice.
What I enjoyed most about the story, was the setting of the crime. It was post-World War Two, in a country manor in England. Combining a snow storm and a performance that banded some of the local residents together…stranded. You just knew the mystery would be worthy of a comparison to Agatha Christie. The thing that set it apart was the humour, mostly from Flavia's lack of understanding of the real world or her child-like interpretations. Those are always fun, in my opinion.
I really enjoyed the story, though for me the mystery itself took second place to the family issues. Also, Flavia's crazy ideas about trapping Father Christmas made for a few chuckles. I'm not sure many other kids would have gone to such lengths. I Am Half-Sick of Shadows was a fun read with a whole lot of heart.
I give  I Am Half-Sick of Shadows 4 stars
***FTC Disclaimer: Most books reviewed on this site have been provided free of charge by the publisher, author or publicist. Some books we have purchased with our own money and will be noted as such. Any links to places to purchase books are provided as a convenience, and do not serve as an endorsement by this blog. All reviews are the true and honest opinion of the blogger reviewing the book. The method of acquiring the book does not have a bearing on the content of the review.