Welcome to this week's news post and it is pretty packed with major announcements from JK Rowling, exclusive info on The Shining sequel from Stephen King and major wtfery from Amazon.
I will open up this week's edition from the big news from J.K Rowling which basically set my twitter stream alight with pure utter giddyness. Little Brown and Company will be publishing J.K Rowling's first adult book in English language countries – and Hachette will be publishing outside the UK and US. There is no real details about the title or what kind of book this will be although rumours are floating around it may be a crime novel set in Edinburgh. Rowling states that – "The freedom to explore new territory is a gift that Harry's success has brought me, and with that new territory it seemed a logical progression to have a new publisher."Further news about the book and title will be slated later this year.
Well it looks like its the turn of Amazon to play the big bad guy this week with news that about Amazon removing all links to buy the IPG (Independent Publishers Group – who represent a group of indie publishers) books from the Kindle store due to a contractual disagreement over new terms when it was up for renewal. Over 5000 ebooks have been removed although they are still available in other ebook retailers although the print books are still available to buy. It looks like this may run and run as both parties refuse to budge on the terms but if Amazon is trying to wrangle a bigger stranglehold it is going to get very ugly in the future.
Another tidbit on Amazon, is that Barclays analysts are downgrading predicted Kindle Fire sales from 18.4 million to 17.1 million tablets. This may be due to the new Nook tablet which is available this month and many customers may be attracted due to the specs from the previous tablet.
This is a pretty sad – Douglas Brinkley from the NY Times declared in his review that a non-fiction book about the life behind the scenes on the Obamas by Jodi Kantor who is also a NY reporter, as a chick lit non-fiction. The sexism is pretty galling and its not the first time the NY Times has been linked with sexists articles. But like this article states on this sad affair I very much doubt he would have stated this if it was a man who wrote this and this book had a serious approach and was written by a respected journalist who followed the family closely.
News in Brief:
This news has made me a happy bunny! I reported a few weeks ago that Ann Aguirre has a new spinoff series based on her Grimspace books. Well there is more books sold! She has recently signed up for a new YA series called The Beauty Trilogy, which is described as a Faustus meets Mean Girls. Ann has also sold the final Razorland book, Horde and its slated to come out next year! She also has another series which is a Steampunk Fantasy duology, Apparatus Infernum out too. For more info check out the full deets here!
Stephen King's new book is the followup to the mega successful The Shining – to catch Stephen reading an exclusive extract from Dr. Sleep check it out here!
And now for the books to watch out for.
This book has pinged by radar so BIG TIME! I also am lusting after it so much! Defiance by C.J. Redwine
Within the walls of Baalboden, beneath the shadow of the city's brutal leader, Rachel Adams has a secret. While other girls sew dresses, host dinner parties, and obey their male Protectors, Rachel knows how to survive in the wilderness and deftly wield a sword. When her father, Jared, fails to return from a courier mission and is declared dead, the Commander assigns Rachel a new Protector, her father's apprentice, Logan—the same boy Rachel declared her love for two years ago, and the same boy who handed her heart right back to her. Left with nothing but fierce belief in her father's survival, Rachel decides to escape and find him herself. But treason against the Commander carries a heavy price, and what awaits her in the Wasteland could destroy her.

At nineteen, Logan McEntire is many things. Orphan. Outcast. Inventor. As apprentice to the city's top courier, Logan is focused on learning his trade so he can escape the tyranny of Baalboden. But his plan never included being responsible for his mentor's impulsive daughter. Logan is determined to protect her, but when his escape plan goes wrong and Rachel pays the price, he realizes he has more at stake than disappointing Jared.

As Rachel and Logan battle their way through the Wasteland, stalked by a monster that can't be killed and an army of assassins out for blood, they discover romance, heartbreak, and a truth that will incite a war decades in the making.
Renegade by J.A Souders has a really interesting premise and I love the cover!
Since the age of three, sixteen-year-old Evelyn Winters has been trained to be Daughter of the People in the underwater utopia known as Elysium. Selected from hundreds of children for her ideal genes all her life she's thought that everything was perfect; her world. Her people. The Law.

But when Gavin Hunter, a Surface Dweller, accidentally stumbles into their secluded little world, she's forced to come to a startling realization: everything she knows is a lie. Her memories have been altered. Her mind and body aren't under her own control. And the person she knows as Mother is a monster.

Together with Gavin she plans her escape, only to learn that her own mind is a ticking time bomb… and Mother has one last secret that will destroy them all.
I love the cover and the premise for this book, Ironskin by Tina Connolly!
Jane Eliot wears an iron mask.

It's the only way to contain the fey curse that scars her cheek. The Great War is five years gone, but its scattered victims remain — the ironskin.

Now Jane returns to the war-torn country to help a fey-cursed child. Helping the unruly Dorie suppress her curse is hard enough — she certainly didn't expect to fall for the girl's father, the enigmatic artist Mr. Rochart. But her blossoming crush is stifled by her own scars, and by his parade of women. Ugly women, who enter his closed studio — and come out as beautiful as the fey.

Jane knows he cannot love her, just as she knows that she must wear iron for the rest of her life. But what if neither of these things are true? Step by step Jane must unlock the secrets of her new life — and discover just how far she will go to become whole again.
And finally – Joss Ware's Envy books have been reissued with new covers and I totally love the new grittier tone look. Joss also unveiled the latest book, Night Forbidden on her facebook page – here is the cover but to check out the reissues clicky here!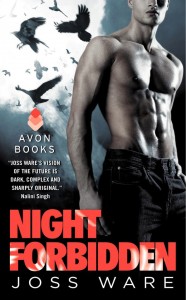 So what do you think of J.K Rowling's new book? Are you excited or disappointed that it may not be a YA/Children's book?