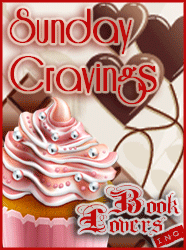 Hello my fellow Book Lovers and welcome to another week's Sunday Cravings! I hope you all had an amazing weekend and you filled your batteries for a brand new week. How are you managing with all those amazing titles? I know I can barely keep up with everything 🙂
Thankfully, next week, although once more full with amazing titles, is a bit less crammed. This week, we have more YA titles hitting the shelves and among the highlights are Spell Bound by Rachel Hawkins and The Savage Grace by Bree Despain. Told you, this week has mostly YA titles 🙂
So, let's see which titles are among our Sunday Cravings!
Lea: Rocky Mountain Desire by Vivian Arend
Matt Coleman always figured at this point in his life, he'd be settled down with a family. Since his ex split for the big city, though, no way will he give anyone else the chance to drop-kick his heart. Physical pleasure? Hell, yeah, he'll take-and give-with gusto, but nothing more.

Hope Meridan is working long hours to hold on to her new quilt shop, going it alone since her sister/business partner ran off. Sex? Right, like she's got the time. Not that she doesn't have the occasional dirty fantasy about Matt. Fat chance he'd dream of knocking boots with her-the younger sister of the woman who dumped him. Nope, she'll just have to settle for the F-word.

"Friends" would be far easier if there wasn't something combustible going on between them. And when casual interest starts to grow into something more, their tenuous bond strengthens in the heat of desire. But it may not survive the hurricane-force arrival of the last person either of them ever wanted to see again…

Warning: Small-town rivals, men in pursuit and family meddling-in good and bad ways. Look for a cowboy who knows how to rope, ride and rein in a hell of a lot more than eight seconds of sheer bliss.
I'm currently reviewing Viv Arend's book, and I'm really liking it! Definitely a craving. I love her voice!
Anna: Spell Bound by Rachel Hawkins
Hailed as "impossible to put down," the Hex Hall series has both critics and teens cheering. With a winning combination of romance, action, magic and humor, this third volume will leave readers enchanted.

Just as Sophie Mercer has come to accept her extraordinary magical powers as a demon, the Prodigium Council strips them away. Now Sophie is defenseless, alone, and at the mercy of her sworn enemies—the Brannicks, a family of warrior women who hunt down the Prodigium. Or at least that's what Sophie thinks, until she makes a surprising discovery. The Brannicks know an epic war is coming, and they believe Sophie is the only one powerful enough to stop the world from ending. But without her magic, Sophie isn't as confident.

Sophie's bound for one hell of a ride—can she get her powers back before it's too late?
I really love this series from Book one, so naturally I just can't wait for the thirst installment. I loved how fresh the story is and how easy Hawkins' writing style flows. A definite crave 🙂
What about you Book Lovers? Which are your cravings for the week to come?