Welcome to this new edition of The Good, the Bad and the Are-You-Kidding-Me? This week we will concentrate on efforts on different editions of the same books. As you may have noticed we have a slight cover addiction and our shallowness can be seen in our shelves. BUT there are times even a cover addict has to make a choice. Not only can we choose between pretty and ugly, UK or US but the price always plays a role at times. Or as in Susi's case a little bit of stupidity (head hangs in shame).
So here take a glimpse at the books we have in shelves- same content different outside.

Susi : These books are a case of Susi going on a book binge without proper caffeination. *le sigh* I bought the first 3 before book 4 was out and I browsed amazon.de and selected them and nearly DIED when they arrived and I realized I didn't pay attention to the publisher imprint and edition. #headpalm Well so now all my books have a different size and it sucks to put them in a shelf because the first one is the smallest and I usually try to size-sort my book so they have to be in the wrong order GASP or at the end of a shelf. *pouts* I want a pretty boxed set like Caro.
The covers are great- all of them. They always make me ohhh and awww. But well those damaged pages in one of them are over the top though.
Caro : Susi's story is pretty much mine on so many other series. I have series where I have 4 or 5 different versions none matching. At first I only looked at the price and now I have some heavily mismatched series. *sigh* I have been lucky with the Nora books. I was late to this series and they were already all out when I got interested. When browsing the Amazon.com (which is just torture since shipping to Europe usually costs an arm) I saw this pretty boxset which was on SALE! Even with the shipping it cost less than 2 books separately. Yes I also have a Boxset addiction. They are purrfect.

Susi : I have to admit that I wasn't fond of the Sugar Daddy cover when I bought it. But I got it because it was cheap and I wasn't sure if I would like the book. Now I love the cover. Well it seems to be prettier in real. And I got the other 2 because well I wanted the same edition for once. I don't get why the dude on Blue-Eyed Devil stand on that road shirtless and all and well the book is blue. The Smooth Talking Stranger cover is awesome though. She has great legs. I have to say I do like Caro's covers. Soooo pretty and well they look more modern.
Caro : For long I didn't get these books because the US covers just didn't do a thing for me. Let's be honest the first 2 really aren't attractive (nor very interesting). I completely fell for the UK editions. SO gorgeous. I have NO idea if they fit the books at all but I love them so much I don't care LOL. Every time I look at Blue-Eyed Devil I feel the need to run in a field. It screams SUMMER to me *g* *pets pretty books*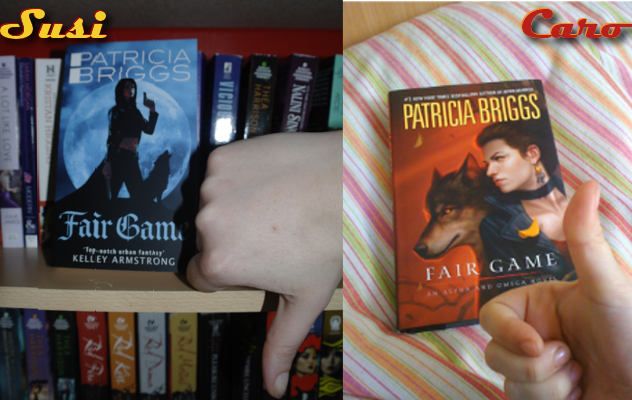 Susi : When I realized how much cheaper the UK version is and well I was buying so many books at that time I grudgingly decided to get this one and buy the US when I have more money and it's out in paperback. LOL The UK cover sucks- it's blue and Anna has a gun. O_O I love the US cover and Caro is teasing me endlessly with the prettiness of her copy. Want.
Caro : I'm sooooorry *looks ashamed of herself* I pre-ordered the US copy months before the release to get a better price. I like the US cover but it's not my favorite. I have to say I chose that one because I find the UK covers Fugly. Why would Anna have a gun? And well I just really dislike the whole UK covers for this series.

Susi : I have to say I do like these old fashionded covers. They remind me of the paperbacks my dad read- you know the Bradburrys. I find it annoying that on all these covers they say Nora Roberts writing as J.D. Robb– why have a pseudonym when you put the real name on it too. Silly.
For the UK covers I think they have nothing to do with the books and they don't look like science fiction or futuristic romance at all. I always wonder if they do that to lure unknowing people into buying them.
Caro : I'm right there with you on the stupid pen names. I understand pen names but having both on the cover is just o_O . I don't like much the US covers. They indeed look like old mystery books and I'm just not a fan. I am shallow and I want pretty feathers and butterflies even if it doesn't match the story at all LOL. I really love the pretty UK covers. If I get the following books in the series I'll keep buying these.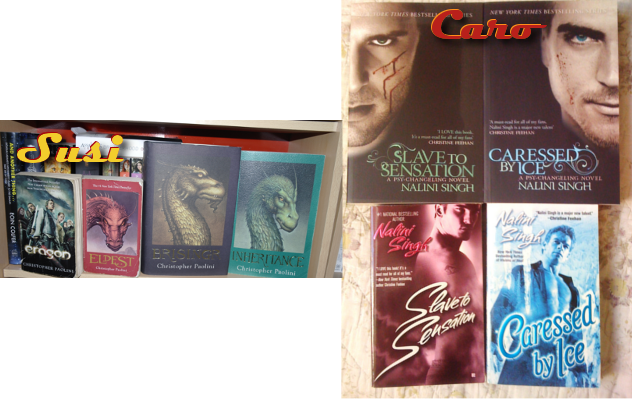 Susi : LOL well the Paolini collection. As you can imagine we started after we saw the sucktastic movie and wanted to know if the book is any better. After we got the cheapest book available (it even has stupid movie pics in the middle) we bought book 2 in paperback and were hooked. I got book 3 on release day in Hardcover because I didn't know that Book Depository existed and amazon had only that edition. I was more clever with book 4- which is a HUGE paperback. After book 3 we said we will get a boxed set after book 4 is out because as you can see book 1 and 2 are both read more than once and it does show. But now that I read book 4 I'm not so sure anymore.
Caro volunteered to make the comparison of UK/US Sigh covers with her own copies (which I didn't even know she had both)– mine are currently being read by a friend. I have the US ones and would also like to get the UKs. The US copies are way cheaper but also ugly. But well the UKs weren't out when I bought mine so I'm now stuck with those. *sad Susi*
Caro : About the Paolini: YUCK! I think the books got so bad I could just burn my copies (of course I won't! I'm not a hillbilly). I just want to say *point finger at Susi* AH AH you got the movie tie-in!! LOL I have exactly the same editions of Eldest and Brisingr. It makes me laugh when I see the covers with each dragon because it reminds me of a poster with the evolution of mankind…only with dragons.
*hides in shame* Of COURSE I told you I had the UK and US editions of the Psy books…didn't i? LOL Well I only have the 2 of them in UK. I really dislike the US covers. REALLY REALLY dislike them. I don't love all the UK covers but these 2 did work for me. I am a little ashamed of having them twice but I couldn't resist. NOMMMMM
Do you buy books because of their cover? Would you pay more for a book if it has a prettier cover?
Do you buy books of the same series in different editions? (UK/US/paperback/Hardcovers…)
Do you also have books in more than 1 edition? (come ON just admit it! I can't be THAT crazy right?)