Welcome to this week's news post and this week has is full of tidbits and updates from the world of publishing – with more news about Google's new tablet device which was unveiled this week as well as books to look out for!
Last week I reported on Microsoft's new tablet – the Surface, well hot on its heels Google has launched their own tablet called the Nexus 7  this week. And I have to say it looks mighty tempting especially with the specs which boasts of a fast processor and great graphics as well as top of the range screen at an attractive price of around $200. Google has already laid out its Play platform,  which hosts movies, music and apps and will also offer a cloud service to its users. For more info and detailed specs, check out the Nexus site here. It is also  rumoured that Amazon will be releasing a new version of its Kindle Fire in the next month or so but it does look like there are some sweet deals now with affordable tablets coming up now.
Talking about Amazon, reports this week looks like that they are in the running in  buying Dorchester's backlist of books. If they win the bid and there is no guarantee that they might win it, Amazon promises to pay any outstanding royalties and uphold current contracts. However the disputes with ex Dorchester authors such as Brian Keene isn't clear due to the fact that Dorchester sold books which they lost the rights to sell and publish. The auction for the rights of Dorchester's books will be held in August and hopefully the authors who have been caught out will get their issues resolved.
News in Brief:   Wen Spencer has posted a snippet of her new book, Eight Million Gods at her blog and it looks pretty good!
Nalini Singh has announced a Psy/Changeling anthology which will feature previous published novellas, Beat of Temptation and Stroke of Enticement as well as all new two stories. The anthology is slated for next March!
And finally Damon Lindelof, one of the producers of Lost has teamed up with HBO and author Tom Perotta to produce and write a new series based on Perotta's book, The Leftovers. The book focuses when the earth has experienced the Rapture and that the repercussions on those left behind dealing with the aftermath. They will both write the pilot script for development into a series.
And now for the books to watch out for the coming months!   Sylvia Day's sequel to her uber popular erotic romance Bared to You has a cover and a blurb for Deeper into Youwhich was recently picked up by Penguin and is slated for this October.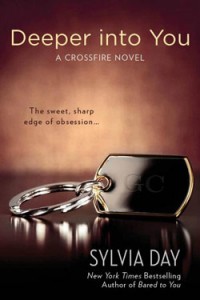 Gideon Cross. As beautiful and flawless on the outside as he was damaged and tormented on the inside. He was a bright, scorching flame that singed me with the darkest of pleasures. I couldn't stay away. I didn't want to. He was my addiction… my every desire… mine.
My past was as violent as his, and I was just as broken. We'd never work. It was too hard, too painful… except when it was perfect. Those moments when the driving hunger and desperate love were the most exquisite insanity. We were bound by our need. And our passion would take us beyond our limits to the sweetest, sharpest edge of obsession…      
I adore this series! Alien vs Alienthe 6th book in Gini Koch's zany and funy sci fi romance series and Dan Dos Santos has done a brilliant job on this installment!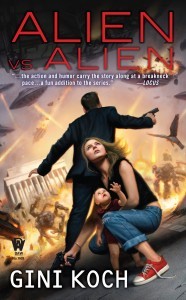 Jeff and Kitty Katt-Martini and the rest of the American Centaurion Diplomatic Corps are still recovering from their introduction toWashington D.C. politics, parties, and conspiracies. So when compromising pictures arrive, no one's too surprised. They're also the least of anyone's worries.
Evil androids running amok, birds of all kinds and from all places creating havoc, a Senator trapped in an ever-tightening web of intrigue, and escalating international tensions all seem tough but manageable. But the disappearance of Jeff Martini and Charles Reynolds during the International One World Festival signals more than the usual nastiness — and it looks like even ACE can't help them. Then new trouble arrives in old packages and even with the best hackers in the world, beings from near and far, the full might of Earth's military, and the Wonder Twins on their side, Centaurion Division's outmanned and outgunned. Now Kitty's racing against the clock to find not only Jeff and Chuckie, but to keep the peace between Middle Eastern countries, all while searching for the bases of super-soldier operations — to stop them or die trying
And talking of Dan Dos Santos, the cover for the first omnibus volume of the Alpha and Omega: Cry Wolf graphic novel by Patricia Briggs and David Lawrence and illustrated by Todd Herman was also unveiled this week!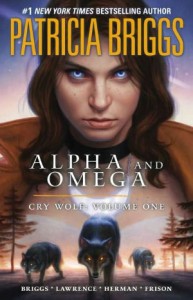 The cover of the 3rd book, The Indigo Spell  of Richelle Mead's Bloodlines series was also released this week and is out later this year!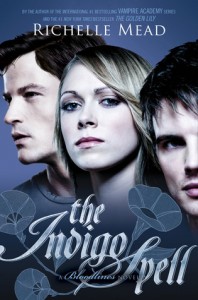 So what do you think of the Nexus? Does the specs appeal to you and is the game changer in tablet market? And what do you think of Amazon's desire to buy the rights for Dorchester's books? Is it a good thing or will this make them too powerful?