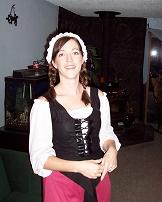 Today we are happy to welcome to BLI contemporary romance author Tamara Morgan, whose debut novel Love is a Battlefieldd is a romance full of fun, men in kilts and one of the most determined and entertaining battle of the sexes (check out my review here)! Please give Tamara a warm welcome and read on to learn more about her, the novel and the Highland Games! 😉
Stella: Hi Tamara, welcome to Book Lovers Inc! Can you please tell us a bit about yourself?
Tamara: Thanks for having me! I'm a freelance copywriter by day and a romance writer by night—both of which mean I spend quite a bit of time on my computer. Sadly, this makes my life a lot less interesting for an interview than one would hope.
But I will say that I am a total re-enactment junkie. I love to attend Renaissance fairs, Highland Games events, Civil War battles, and other events that straddle the line between fact and fiction.
Lest you get the wrong idea about me, I'm rarely the one in costume. I'm the sneaky writer hiding in the back, watching people and gathering material. There's something about these communities that I just adore—it's partly the romance and fantasy of it, but it's also the friendships between people who would probably otherwise never interact.
Stella: Describe a typical day of writing? Are you a planner or pantser?
Tamara: I'm a total pantser, much to my everlasting dismay. On a good day, I can see into the future about two scenes. Most of the time, though, I have no idea what I intend to write about when I sit down to the computer. This lends itself to much deleting and cursing and frustration.
I also find it lends itself to quite a bit of fun. I've tried being a plotter, and it just doesn't work for me. In writing (as in life), I would much rather give in to impulses and regret the outcome than create a careful plan ahead of time. I'm like a feisty, TSTL heroine!
Stella: What do you think is the difference between a reader and a real Book Lover?
Tamara: The number of bookshelves in one's house.
Okay, maybe that's oversimplified, but I consider myself a Real Book Lover (cue the pretentious chuckle) because I hold on to books for no real reason other than the desire to be near them. I have tons of novels I enjoyed and know I will probably never read again, but I like to walk by the bookshelf and see the creased spine peeking out at me. For that brief second, I'm transported back to that world and what was going on in my own life when I read that particular book.
(Don't worry—I do it for ebooks, too. I'm no paper snob. I'm constantly buying ebooks and loading them onto my Kindle, even though there is no feasible way I will ever read them all in this lifetime. I just like knowing they're there.)
Stella: Your debut novel Love is a Battlefield was released on Valentine's Day, congratulations! Can you tell our readers what they can expect of it?
Tamara: You can expect to laugh (I hope!). The thing about a book that pits a team of Highland Games athletes against a Jane Austen re-enactment group is that it can't take itself too seriously. The romance and the lives at the center of the book are taken seriously, but the antics around them are not.
Stella: Can you tell us any behind the scenes secret related to Love is a Battlefield? (either to the writing process, or some tidbit about the characters that didn't end up in the final version, the inspiration behind the novel, etc.)
Tamara: Because I'm a total pantser, there are quite a few scenes that I write and later discard. It's a painful process, but one I'm growing used to.
One of my favorites to hit the cutting room floor was a scene in which the Scottish Highland athletes razed a Renaissance village, complete with pillaging and sexytimes. As much as I tried to make it fit, the fates of narration intervened.
Alas. No pillaging and sexytimes.
Stella: Can you please give a short profile introduction of the characters?
Tamara:
Julian Wallace
27 years of age
6'
Brown eyes
Brown hair, shorn close to the head
¼ Japanese, ¼ Pacific Islander, ½ Caucasian
Sports a traditional Micronesian tattoo on his right shoulder and bicep
WEARS A KILT
Kate Simmons
26 years of age
5'4"
Hazel eyes
Blondish-brownish hair that falls just below the shoulders
Caucasian with a smattering of freckles
Has a tiny sheep tattoo on one foot
Stella: Can you summarize Love is a Battlefield for us twitterstyle (140 characters or less)?
Tamara: A battle of the sexes story that pits a group of Scottish Highland athletes against a Jane Austen re-enactment group.
Stella: Now can you tell us 3 reasons why people should read Love is a Battlefield?
Tamara:
1) Hot, half-Asian Highlander in a kilt.
2) Hot, half-Asian Highlander in a kilt. (He's worth two mentions!)
3) To join the Smart Bitches chat on the 26th! If you've never stopped by Sarah's Sizzling Book Club chat before, you should give it a try. I've peeked in on a few occasions, and everyone is always having a good time.
Stella: What shall we expect from you, what is next on your schedule?
Tamara: On June 5th, the next book in the Games of Love series comes out. The World is a Stage has a Taming of the Shrew storyline, and it follows Highland athletes Michael O'Leary and Peterson as they take on a (what else?) Shakespearean acting troupe.
After that, I have a superhero novella coming out in an anthology alongside Adrien Luc-Sanders and Nico Rosso. It should be a lot of fun…I hope to be able to share more details soon.
Stella: You are a working mom, how do you find the time to write, what is your secret?
Tamara: That's easy—I'm the neurotically anti-social mom at all the school and sport functions. I'm the one at the McDonald's playland with a computer in the corner, or the one hiding in her car during ballet so she doesn't have to chat with the other moms.
I also have a super short attention span, so writing in brief snatches where I can get them works well for me.
Stella: What kind of books/genres do you like to read? Any favourite authors/novels you'd recommend?
Tamara: I like romance novels (of course!), but what I read varies year by year. When my daughter was really young, I glommed on historicals to the tune of about one book a day—I especially liked the old Georgette Heyers and Barbara Cartlands. Last year I was all about the contemporaries, and I read quite a bit of Victoria Dahl and Kristan Higgins. Rainbow Rowell's Attachments was one of my top picks for 2011.
These days I'm really enjoying the world of m/m fiction. JL Merrow is my most recent favorite. If you haven't tried m/m, I highly recommend Merrow's Muscling Through.
Stella: You are a big fan of anything related to Scotland (be it Highland heroes or bagpipes), how did your fascination with Scottish culture start?
Tamara: I'm not entirely sure where my fascination comes from, aside from the pervasive men-in-kilts fetish that seems to be going around these days. (And for good reason. Those legs! Those accents! Red hair!) I've got a good mixture of Scottish and Irish blood in me, though, so I imagine it probably started there.
But really, all I want is some wild, untamed passion on the wild, untamed moors. Is that asking so much?
Stella: Can you share with us some little secret trivia, something that not many people know about you?
Tamara: I'm terrified of goats. I'm pretty sure I could take on spiders, rabid dogs, and zombies with just my bare hands. But throw a goat in the mix, and you'll find me cowering in the corner, awaiting a quick and painless death.
About Tamara:

Tamara Morgan is a romance writer and unabashed lover of historical reenactments—the more elaborate and geeky the costume requirements, the better. In her quest for modern-day history and intrigue, she has taken fencing classes, forced her child into Highland dancing, and, of course, journeyed annually to the local Renaissance Fair. These feats are matched by a universal love of men in tights, of both the superhero and codpiece variety.
Where to find Tamara:
Website | Twitter | Facebook | Goodreads
About the Book:
Purchasing Info: Goodreads, Author's Website, Amazon, Barnes & Noble, Samhain

Love is a Battlefield by Tamara Morgan

Book #1 in the Games of Love series

It takes a real man to wear a kilt. And a real woman to charm him out of it.

It might be modern times, but Kate Simmons isn't willing to live a life without at least the illusion of the perfect English romance. A proud member of the Jane Austen Regency Re-Enactment Society, Kate fulfills her passion for courtliness and high-waisted gowns in the company of a few women who share her love of all things heaving.

Then she encounters Julian Wallace, a professional Highland Games athlete who could have stepped right off the covers of her favorite novels. He's everything brooding, masculine, and, well, heaving. The perfect example of a man who knows just how to wear his high sense of honor—and his kilt.

Confronted with a beautiful woman with a tongue as sharp as his sgian dubh, Julian and his band of merry men aren't about to simply step aside and let Kate and her gaggle of tea-sippers use his land for their annual convention. Never mind that "his land" is a state park—Julian was here first, and he never backs down from a challenge.

Unless that challenge is a woman unafraid to fight for what she wants…and whose wants are suddenly the only thing he can think about.

Warning: The historical re-enactments in this story contain very little actual history. Battle chess and ninja stars may apply.
~~~~~~~~~~~~~~~~~~~~~~~~~~~~~~~~~~~~~~~~
~*~*Giveaway*~*~
 Tamara has generously offered an ebook copy of Love is a Battlefield to one lucky commenter!
All you have to do is leave a meaningful comment about the interview or tell us: who is your favourite man in kilt? Who would you like to see wearing one? 😉
(You can read our full giveaway policy here)
Please be sure to include a valid email address in the comment form (need not be in the actual body of the comment).
This giveaway is open to all!
Giveaway ends on Saturday, April 21th, 2012; we will announce the winner on Sunday.
Good luck!