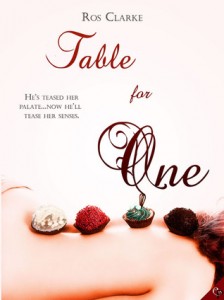 Format read: ebook
Genre: Romance
Release Date: 14 February 2012
Number of pages: 52 pages
Publisher: Entangled Publishing
Formats available: ebook
Purchasing Info: Goodreads, Publisher's Website, Amazon
Book Blurb:
When food critic Claudia Thomas gets dumped on Valentine's Day, she finds herself occupying a table for one at London's hottest new restaurant. If her job wasn't on the line, she'd skip the whole affair, but her editor's waiting for a review—and with luck, an interview with sexy chef Ward Nicholls.

Ward, intrigued by the single woman in a restaurant full of couples, sets out to tease her palate. Claudia has never tasted anything so luscious as the special meal Ward prepares for her, but when the seduction moves from the restaurant to his bedroom, Claudia discovers the only thing more tempting than his food is the chef himself.

Their connection is instantaneous, sizzling, and spicy—until Claudia comes clean about her job, reopening a wound Ward had thought long-healed. Could one accidental lie of omission end a delicious relationship before it even has a chance to start?
My Thoughts:
Table for One by Ros Clarke is an unusual read for me in that it is only 52 pages long. So, of course, my first thought was: Seriously?! How much of a connection can be built in this short, quickly read story? I'm happy to report that in some matters, size truly does not matter!
The story is set into motion with a break up on Valentine's Day. For some, this would be the ultimate disappointment, followed by tubs of ice cream and emo music. For Claudia, it was an inconvenience, but also a bit of a relief. I think the author, Ros Clarke, handled this with class and a level of maturity not always known in "end of relationship" scenarios, or in real life either. In a few short paragraphs, our heroine is free to explore a new interest, guilt free. This sets the stage for the next scene in this very short play.
What I enjoyed most about Table for One is that it didn't insult either the reader's intelligence nor that of the main characters. It's clear that Claudia is used to getting what she wants, but that she has met her match in Ward. Ward is a man that is good at what he does and has no trouble wooing Claudia with his menu (no, not a euphemism :)). But, while it might seem easy to throw them together, both the couple and the reader have to work for this love connection, through a misunderstanding that is plausible.
Clarke constructed a well crafted story of two somewhat jaded people and embellished it with superb food references that leaves its audience torn between the love story and the fine dining. Is there a better combination? This reviewer thinks not! I really enjoyed this relatively short story that contained just enough substance to make it realistic, hot, and yummy.
I give Table for One 4 stars
***FTC Disclaimer: Most books reviewed on this site have been provided free of charge by the publisher, author or publicist. Some books we have purchased with our own money and will be noted as such. Any links to places to purchase books are provided as a convenience, and do not serve as an endorsement by this blog. All reviews are the true and honest opinion of the blogger reviewing the book. The method of acquiring the book does not have a bearing on the content of the review.