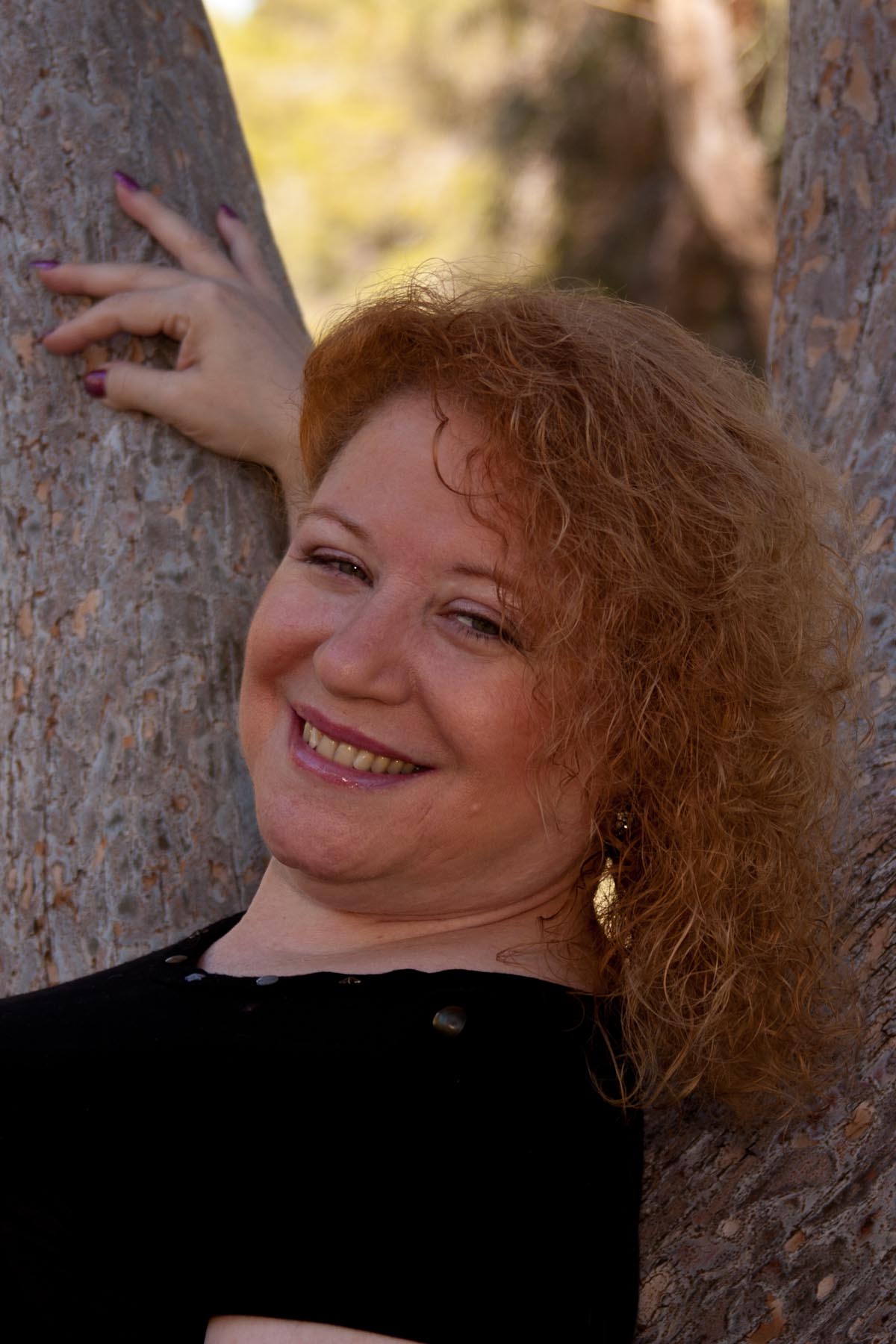 We are very happy to welcome G. J. Koch here today. Most of you might now her under one of her under pen names e.g. Gini Koch. Her latest novel, Alexander Outland: Space Pirate is a hell of a ride and today she will tell us a bit her novel and the world it is set in. She also has a giveaway in tow so be sure to take your chance to win your own copy. 
BLI: Gini, can you please tell us a bit about yourself?
G. J.: I live in Hell's Orientation Area (aka Phoenix, Arizona) with my husband, three cats (aka the Killer Kitties) and three dogs (aka the Canine Death Squad), and one very spoiled daughter, who admits to being spoiled, but likes to point out that the pets are more spoiled than she is…which is probably true. The chicklet is heading to law school this year, making her mamma very proud.
Before I started writing I had hobbies and interests. Now? Um…I'm really interested in meeting all my deadlines and my hobby is sleep, which I don't get to do very often anymore.
BLI: Gini, you're writing under numerous pseudonyms. Why did you or your publishers decide to go that route? And how do you come up with them?
G. J.: I write in every genre and my voices are different, which is why I have pen names. Your name is your commitment to your readers, and they deserve to get the tone and general story they expect from you when they see your name.
G.J. Koch is very close to Gini Koch in voice and tone, but there are differences. There were enough differences that Night Shade wanted to keep Alexander Outland: Space Pirate coming from G.J. Koch, and since that was the name I'd written it under, I was pleased with their decision (and still am).
I have long stories for how I come up with my various pen names (which would be a full on long post just by itself), but each name means something to me, and each name helps me write in "their" voice. (And that's all we'll say about the interesting inner workings of my mind. For now. LOL)
BLI: You are very active in socializing not only on the main social networks but also on your own newsletter. It's always a party at the Hook Me Up Gang. Why is reader/author interaction so important for you?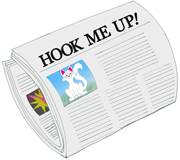 G. J.: For me, my readers and my fans are my crack. I love my fans. And, therefore, I like to interact with my fans. Without people reading my books, I'm writing for myself only. I do write for myself first, but if you're publishing, the goal is to have others read and like what you write.
Before Touched by an Alien came out, I honestly didn't expect to have fans, to have people who were talking to me about my books after they'd read them. I expected people to read and enjoy the books, I just didn't expect anyone to personally tell me about it. The moment someone did, and then a bunch of someones did, it really altered my reality, in a great way. So, these days, to me, having reader/author interaction just seems natural. And I wouldn't want to give it up for anything. ANYTHING. (I told you, my fans are my crack, LOL)
BLI: Your novels genres vary widely – do you have a favorite genre to write in? And is that the same one you prefer to read yourself?
G. J.: You know, it's kind of funny — when I look at our library at home (and yes, we converted our spare bedroom into a library/closet so we could store more books that way), it's a pretty even mix of almost every genre out there. I tend to go in phases, reading all I can get in one genre and then switching to another and doing the same thing.
As for writing, I like all the genres there, too. It's one of the reasons I have all those pen names. I enjoy getting to write something dark and then write something funny, many times in the same day, or same hour. And after writing humor for a good stretch, nothing feels better than writing something in the horror genre. (What can I say? I have, as stated before, an interesting mind.)
It's a big smorgasbord of options out there and I like trying them all.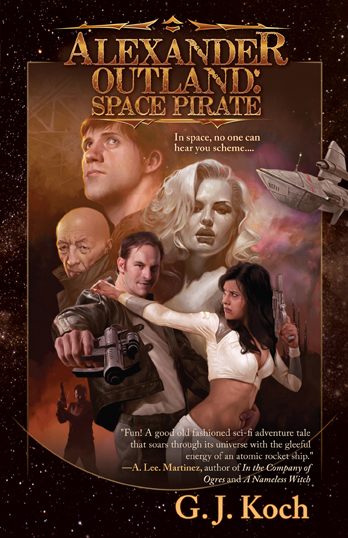 BLI: Your new book Alexander Outland: Space Pirate is, as the name suggests, a science fiction novel.  What is the appeal of science fiction for you? Where does your love for this genre come from?
G. J.: My love of the genre came from my grandmother. We're all mega-readers in my family: we read fast, and we read everything, including the back of the cereal box and other labels. But my grandmother LOVED science fiction, especially the hard stuff, because she felt that whatever the human mind could imagine, the human mind could create. And she's been proved right again and again.
If you'd asked me what I'd end up writing the most, though, when I started writing, I'd have told you fantasy. But I have far less fantasy out there than science fiction, or any other genre at the moment, so all I can say is that I read everything but I seem to filter a majority of it into science fiction. Probably because of my grandmother's influence.
BLI: Tell us about the world this new series is set in? What makes your world tick?
G. J.: The Alexander Outland series is set in the Milky Way galaxy…but it's set in the far future, when space travel is as common as intercontinental travel is now.
And that's what makes it tick, so to speak. There are a lot of planets out there, and Earthlings have managed to get to all of them and join their genetics into the overall gene pool as much as possible. Each planet has its own identity, phrases, and way of looking at things, but ultimately people haven't changed that much.
This series has no connection to my Alien series — they exist in completely different versions of the galaxy. But, as in the Alien series, there's always some megalomaniac trying to take over the world and make things tough on an honest pirate and his crew who just want to steal and smuggle in peace.
BLI: What can we expect of Alexander Outland: Space Pirate?
G. J.: In Alexander Outland: Space Pirate, trouble's brewing out in space, and Alexander Outland — the least likely hero in the galaxy — and his eccentric crew have to save the day, despite the fact they'd prefer to take the money and run.
Alexander Napoleon Outland is the best pilot, and ladies' man, in the galaxy. But Nap, as his friends call him, is more than that — he's a schemer with a heart of gold he desperately wants to hide, a soft spot for other people's cargo and his exotic weapon's chief, and the unerring ability to find the biggest misfit on any planet or space station and somehow join that person onto his crew.
Nap's not your classic hero, but that tends to make him the right guy for the job…whatever the job happens to be. He's also a whole lot of fun to fly with, as long as you don't mind near-death experiences.
There are aliens, explosions, telepaths, donkeys, space pirates of all kinds, and a galaxy-wide conspiracy. And the most horrifying "underwater" trip any crew's had to face in a long, long while. But mostly, there are laughs.
BLI: Captain Alexander Napoleon Outland, aka Nap, isn't only a pirate, he's so much more. To make it a bit harder on you: how would you describe him while only using other fictional characters' (or maybe actors')  attributes (e.g. as hairy as Chewbacca *wink*)?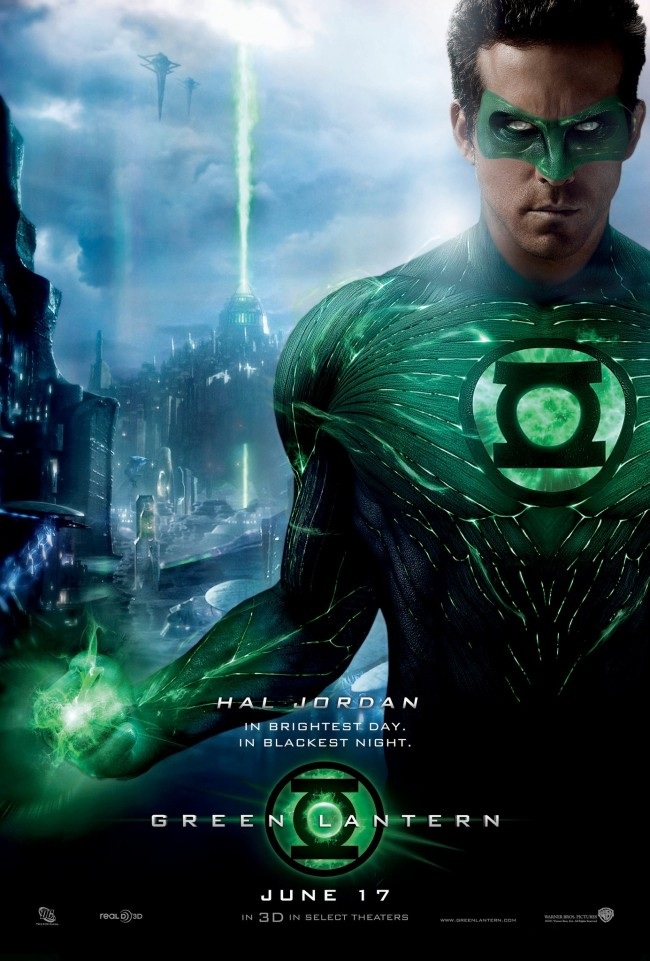 G. J.: Oh, this one's EASY. (Thanks for the easy question, your check is in the mail.)
Nap's as handsome as Green Lantern/Ryan Reynolds and Captain America/Chris Evans, combined. A better pilot than Han Solo. As good a pirate and smuggler as Han and Malcolm Reynolds, with both of their morals. Nap also has Jack Sparrow's ability to think several moves ahead of everyone else. Oh, and he has the mouthiness of Katherine "Kitty" Katt. ;-D
BLI: The crew on this ship is a real conglomerate of interesting characters. Can you tell us about them? And I know it's like asking for your favorite child, but who's your favorite and why?
Well, the crew of the Sixty-Nine is made up of misfits and outcasts who, when put together, are stronger and better as a group than the sum of their individual parts. To say much more would give away a lot of the book, so I won't. Other than to say that they're all cool and fun and most of them surprised the hell out of me as I was writing the book.
As for my favorite, that is hard to pick, but I'd have to go with Nap, because without him, I wouldn't have a story. And I do love the Outland.
BLI: Will there be more books in this series?
G. J.: I certainly hope so! Much of that's up to Night Shade, but I "see" in series, and I certainly see at least a trilogy for this series, probably more. (Master, aka my hindbrain, who runs everything, is sharing that it's six books, easy. LOL)
BLI: What is next on your schedule? Any other release we should keep our eyes open for?
G. J.: Alien vs. Alien, Book 6 in my Alien/Katherine "Kitty" Katt series from DAW Books/Penguin releases December 4, 2012, and Alien in the House and Alien Collective release respectively in April and December 2013. The next installment of my Martian Alliance series with Musa Publishing, Three Card Monte, will release just as soon as I finish it and get it turned in to my editor (yes, Musa's waiting on me, not the other way around).
BLI: Now can you tell us 3 reasons why people should read your books?
G. J.: They're the best books ever written and a deal at twice the price! (Hey, you can't blame a girl for trying.)
Okay, how about this: They're funny, they're fun, and they're sexy.
BLI: Can you summarize Alexander Outland: Space Pirate for us twitterstyle (140 characters or less)?
G. J.: It's the best book ever written and a deal at twice the price! (Hey, you still can NOT blame a girl for trying!)
No? (Geez, this is hard.) Okay, how about this:
 See Nap & his crew take on a military planet, a pirate armada, the craziest animal lover around & the worst underwater trip EVER – & survive.
BLI: What kind of books/genres do you like to read? Any favorite authors/novels you'd recommend
G. J.: I read in every genre. My favorite living author is Terry Pratchett, and I heartily recommend his Discworld series. Beyond that, there are so many authors I like, and so many authors I know now, that it's really difficult to recommend them all, in part because there's not enough room or time, and in other part because I don't want to leave someone off the list and hurt feelings.
Basically, while I have met books I didn't like, that doesn't mean that someone else didn't love them, so I tend to say what my grandmother said, which was, "Read everything, because you'll get something out of even what you consider the worst book, even if you don't realize it at the time."
BLI: Can you share with us some little secret trivia, something that not many people know about you?
G. J.:  I used to be almost cripplingly shy. Then I realized that everyone's afraid and everyone just wants someone to smile and say "hi" to them and I decided to shove the shy into a corner and keep it there. Where it has stayed.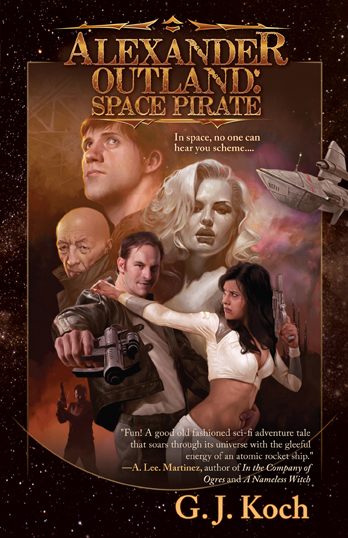 About the Book:
Captain Alexander Outland of the Sixty-Nine (short for Space Vessel 3369, of course) is the best pilot in the galaxy. He's also a pirate, a smuggler, and loved and loathed by women in umpteen solar systems. His crew of strays and misfits includes an engineer of dubious sanity, a deposed planetary governor, an annoyingly unflappable Sexbot copilot, and a slinky weapons chief who stubbornly refuses to give the captain a tumble. Outland just wants to make a decent living skirting the law, but when an invisible space armada starts cutting into his business, he soon finds himself in hot water with the military, the mob, mad bombers, and an extended family of would-be conquerors. And that's not counting an occasionally telepathic spy . . . . Like any sensible scoundrel, he hates heroics. They're risky and they don't pay well. But to keep his ship and crew in one piece, and make time with a certain hard-to-get weapons chief, he might just have to make an exception-and save the galaxy in spite of himself!
About the Author:
G.J. Koch writes science fiction. Not the hard stuff, though. Because that requires actual scientific knowledge or at least actual scientific research. Knowledge may be power and research may be cool, but they take time away from writing jokes, action, and romance, and being witty in the face of death is what it's really all about. Check out G.J.'s rollicking Alexander Outland: Space Pirate series from Night Shade Books and reach G.J. at Space…the Funny Frontier.
~~~~~~~~~~~~~~~~~~~~~~~~~~~~~~~~~~~~~~~~
~*~*Giveaway*~*~
G.J. has generously offered an  copy of Alexander Outland: Space Pirate to a lucky commenter!
(paperback for US/ ebook copy for international winner)
All you have to do is leave a meaningful comment about the interview or ask G. J. a question.
(You can read our full giveaway policy here)
Please be sure to include a valid email address in the comment form (need not be in the actual body of the comment).
This giveaway is open to all!
Giveaway ends on Saturday, May 26th, 2012; we will announce the winner on Sunday.
Good luck!