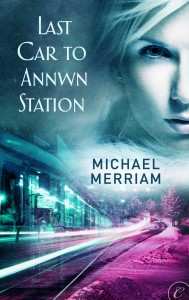 Format Read: ebook from Author
  Number of Pages: 326
  Release Date: June 27, 2011
  Genre: Urban Fantasy
  Publisher: Carina Press
  Formats Available:  ebook, audiobook
  Purchasing Info: Author, Goodreads, Amazon
  Book Blurb:
"The fare is ten cents, miss."

Mae Malveaux, an attorney with Minneapolis Child Protective Services, is burnt-out, tired and frustrated. Passing on an invite from Jill, her flirtatious coworker, Mae just wants a quiet night in. Leaving the office late, she's surprised to find the Heritage Line streetcars up and running and hops aboard, eager for a quick trip home. But this is no ordinary streetcar. Death is one of its riders, and Mae is thrust into Annwn, a realm of magic and danger.

"Your transfer, miss. You'll need that."

Mae's life is turned upside down as human and fae worlds collide. Her budding relationship with Jill takes a perilous turn when they are hunted by mythical beasts, and Mae is drawn into a deadly power struggle. With Jill at her side, Mae must straddle both worlds and fight a war she barely comprehends, for not only does the fate of Annwn rest in her hands, but the lives of both a human and fae child…
My Thoughts:
Think about your all-time favorite TV show. The one that spans multiple seasons, spent considerable time on character development and world-building, and still managed to hook you every week with an edge-of-your-seat plot.
Now go back and watch the pilot episode. Come on, I know you own all the DVDs.
You love this show. You wrote fan-fiction in high school, and dressed up as one of the characters for Halloween. But you haven't watched the pilot in awhile, because it kinda bites. (Prime examples include: Buffy, Alias, the X-Files, and Doctor Who). How can this be YOUR show? You see the potential for awesome, there are some great scenes, but overall … meh.
This is the same feeling you get with the first part of Last Car to Annwn Station. It's rushed, the characters feel like cardboard cutouts, and the leading ladies "flirting" is painful. Not painful in a humiliatingly realistic fashion. Just painful:
"Do you know most of the guys in the office think you're a lesbian?"

Mae raised an eyebrow. While they had never talked specifically about sex, Mae was pretty sure Jill knew. "I am."

Jill shrugged. "I know. I'm just telling you what the office gossip is."
Ow. Owowowow. My brain hurts. HOW is this flirting? Does Jill think Mae is closeted and is warning her she needs to get herself a beard? Or does participating in office gossip about Mae's sex life count as flirtatious banter?
No. Just no. (Anyone interested in a fantastically developed relationship between leading queer characters that realistically handles past trauma and societal pressures should read Laurie Marks' Fire Logic)
We stumble along for a bit with Mae and Jill. They don't have any depth. You won't care about them. Sure, they are the Good Guys, but Zzzzzz…. You'll wake up whenever we get glimpses of a different point-of-view character. She is weird, cryptic, and either crazy-dangerous or dangerously-crazy. More, more, more. NO, stupid book! I don't WANT to read about Mae and Jill's decision to embrace every lesbian cliche and move-in together right away. GAH! (This is the point where I throw a paper book across the room, or slam the computer shut).
So I stuck it out. Things picked up after a bit and got more interesting. Once the author stopped trying so hard to tell me who Mae and Jill were, and just let me discover it by throwing them in this bizarre world of fae and magic in the Twin Cities, I stopped rolling my eyes, and started caring about what was going on.
I see sequel potential here – particularly one that gives my favorite point-of-view character top billing. (There are 3 first person POV characters in the book. Mae gets most of the screen time, but you get to spend a little time inside Jill's head, and my very favorite mystery woman. See above re: crazy-dangerous or dangerously-crazy.)
You should read Last Car to Annwyn Station if you think Lost Girl would be vastly improved if Bo and Kenzi finally caught on to how useless Dyson is, ditched his furry ass, and started getting shit done. Or if One Salt Sea bummed you out because Toby didn't just plant one on May.

In sum, I give Last Car to Annwyn Station 3 stars. If I were nicer, like Marlene, I'd probably go up to 3.5 stars since the last half of the book was so much better than the beginning. But I am a cruel and vicious task-mistress. I don't forgive mediocre starts just because they end on a blaze of glory.
(Apologies to all Book Lovers. This review has been sitting in my harddrive for a month two months. Along with a couple others. I write them, and then they don't just magically appear on the site. Susi needs to patch me into the telepathic network available to the full time reviewers. I'm sure it exists. How else could reviews appear at regularly spaced intervals all week?)
****FTC Disclainer. Most books reviewed on this site have been provided free of charge by the publisher, author or publicist. Some books we have purchased with our own money and will be noted as such. Any links to places to purchase books are provided as a convenience, and do not serve as an endorsement by this blog. All reviews are the true and honest opinion of the blogger reviewing the book. The method of acquiring the book does not have a bearing on the content of the review.