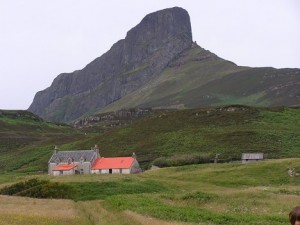 In my wildest dreams, I have all the money I could want and I'm able to buy myself a cottage in Scotland. This fantasy has been fueled even further in my current read, Midnight's Master by Donna Grant. The story takes off from Mallaig in Scotland, which is also the harbour you would travel from to reach Eigg. Once I started looking for pictures of the area, I got all dreamy-eyed at the thought of a quaint life in Scotland *huge sigh*.
Eigg is a small island in Scotland's Inner Hebrides. With a population of 67 (according to Wiki), I certainly wouldn't have to worry about busy body neighbours, right? But with it's small number of inhabitants, it makes it a great place for a greener living, environmentally speaking as well as with regards to the lush scenery.
Mallaig is no less picturesque, with it's harbour and town. It is "the main commercial fishing port on the West Coast of Scotland" (according to Wiki) and a busy port with ferries heading out the islands of the Inner Hebrides. Let's take a look and I'll see if I can convince you to visit too 😉 :
Have I convinced you that Eigg and Mallaig are must-travel destinations? I've personally never been there but on my next trip to Scotland, you can be sure I'll be visiting! Let me know if any of you out there have already visited too. I'd love to hear!