Welcome to this week's news post! It's been pretty eventful with a ruling from the  US judge who has decreed that Agency pricing is unlawful in the US, more rumours of new Kindles and Apple tablets and the sad passing of Monica Jackson who died earlier this week.
Well, things seem to be hotting up with the Anti-trust lawsuit against the Big five publishers. The judge ruling over the suit, has stated that the DOJ does have a case about the allegations of collusion and price-fixing and that a trial will go ahead. In addition to this another 17  states will be suing also, although it looks like that Simon and Schuster will be settling with  them along with Hachette and Harper Collins who have settled previously. Jane from Dear Author has summarised and explain the new developments with this fantastic  post and it is pretty amazing because it looks like pre-agency pricing was more profitable than post-agency books which surprised me because the argument that Agency was a better way for authors and publishers. There is also tidbits on Barnes and Noble and their role along with Random House who was basically forced to adopt Agency pricing.
It looks like the rumours about new tablets from Apple and Amazon are coming true as more reports are coming out that both companies are gearing for new releases.
The rumours about a 7 inch ipad from Apple has been around for the past few years but it looks like this will be the year! The 7 inch version of the ipad is rumoured to be slated for release this October but the real sweet aspect is that it will be around $200 – $250 which will probably be the clincher for many as well as being in competition for Amazon's and other tablets in a similar price range. It is also rumoured the tech specs that it will be close to the current ipads but just scaled down to a 7 inch screen.
Amazon is also rumoured to be releasing another new ereader and like the Nook front lit reader which is regarded to be a very good one. Amazon will be following with their own front-lit Kindle. There is also rumours of another Kindle tablet although no news about the specs or the pricing, but if anyone is gearing for a new ereader or tablet – I would wait around the summer because it looks like there will be some exciting new releases.
This week also heralded the sad news of the death of Monica Jackson and was very outspoken about racism, and the other in Romance. She will be very missed  and everyone at Book Lovers Inc would like send our condelences to Monica's family.  Karen Scott wrote  a fantastic  blog post about Monica Jackson, and I hope more readers will discover her books, because they are damn good!
News in Brief:
This week also had some major options for self published books- first up was Wool by author Hugh Hower, His dystopian series was picked up by the Ridley and Tony Scott's company for development.
Whilst MGM studios has optioned, On the Island by Tracy Garvis-Graves romance about a couple stranded on a desert island. I have heard of previous options from other indie or self published authors but I suspect there will be more pick-ups and options in the future.
More adaptation news – It looks like The Selection adaptation is not totally dead even though the CW has passed on the pilot. They will be reworking the pilot again with the original actor and producers attached to the project.
Amazon has announced that they will be launching their self publishing platform – Createspace in the UK and into Amazon European sites.
Author, Jennifer Estep has announced book 8 of the Elemental Assassin series will be called Deadly Sting! The book is tentatively out next April.
And now books to watch out for!
The Unfailing Light  is book two of the Katerina trilogy by Robin Bridges.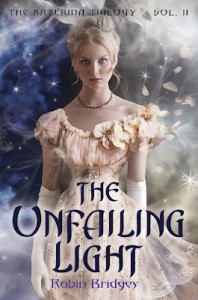 Having had no choice but to use her power has a necromancer to save Russia from dark forces, Katerina Alexandrovna, Duchess of Oldenburg, now wants to forget that she ever used her special powers. She's about to set off to pursue her lifelong dream of attending medical school when she discovers that Russia's arch nemesis–who she thought she'd destroyed–is still alive. So on imperial orders, Katerina remains at her old finishing school. She'll be safe there, because the empress has cast a potent spell to protect it against the vampires and revenants who are bent on toppling the tsar and using Katerina for their own gains. But to Katerina's horror, the spell unleashes a vengeful ghost within the school, a ghost more dangerous than any creature trying to get in.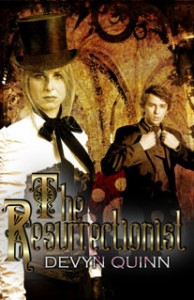 This isn't out till early 2013 but I loves me some steampunk! Devyn Quinn's The Resurrectionists. 
London 1830

In the emerging field of medicine, Lady Florentia Palmer is a firm believer in science. She has no patience for the simple beliefs of an earlier age, or the tenants of religion based on faith alone. She also does not care for the limits society places on her womanhood, and is determined to carve her own path in life. As a noblewoman with a substantial trust, she is able to follow her passion with complete impunity.

Unfortunately women of her era aren't allowed to attend medical school, which pushes Florentia to take a desperate risk: to disguise herself as a young man. Her deception, thus far, has gone undiscovered and Florentia is a top student and promising surgeon. But hiding her unfortunate gender isn't the sole obstacle this young student faces. In order to study anatomy, she must acquire stolen corpses, a highly illegal and dangerous measure.

Her current subject turns out to be the victim of a strange murder. But that's not the only thing Florentia is about to discover. In fact, she is shocked beyond reason when he revives during the autopsy!

Probing the miraculous event, Florentia learns he isn't exactly alive. The young man, Andrew Waterston, is one of the undead; a vampire. As science and superstition clash, Florentia delves deeper into the mystery of how Andrew became "infected" with what must surely be a strange new disease. Excited by the prospect of discovering the source, her search for the truth plunges her into London's dangerous underworld, where creatures of nightmare walk fog shrouded streets in search of victims they need to feed hellish hungers. There, she will encounter a darkly fascinating being, the ungodly beast Nicolae Miklos Dragomir~ who is also a master of seduction. Drawing Florentia in as a spider lures the fragile fly, Marcellus threatens to steal not only her heart, but drain away her very soul…
And finally –  I want this book so badly!  (And HUGE thanks to Cuddlebuggery for the cover reveal also checkout their own blurb! Which is awesome!)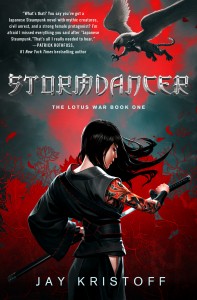 Stormdancer by Jay Kristoff
A DYING LAND
The Shima Imperium verges on the brink of envi­ron­men­tal col­lapse; dec­i­mated by clock­work indus­tri­al­iza­tion and the machine-worshipers of the Lotus Guild. The skies are red as blood, land choked with toxic pol­lu­tion, wildlife rav­aged by mass extinctions.

AN IMPOSSIBLE QUEST
The hunters of Shima's impe­r­ial court are charged by their Shō­gun to cap­ture a thun­der tiger – a leg­endary beast, half-eagle, half-tiger. But any fool knows thun­der tigers have been extinct for more than a cen­tury, and the price of fail­ing the Shō­gun is death.

A SIXTEEN YEAR OLD GIRL
Yukiko is a child of the Fox clan, pos­sessed of a hid­den gift that would see her exe­cuted by the Lotus Guild. Accom­pa­ny­ing her father on the Shōgun's hunt, she finds her­self stranded: a young woman alone in Shima's last wilder­ness, with only a furi­ous, crip­pled thun­der tiger for com­pany. Even though she can hear his thoughts, even though she saved his life, all she knows for cer­tain is he'd rather see her dead than help her.
But together, the pair will form an indomitable friend­ship, and rise to chal­lenge the might of an empire.
So what do you think of the ruling about Agency pricing? Is new revelations shocking or not that surprising? What do you think will happen next? And what do you think of upcoming new tablets? 
I am going to leave you with another parody of 50 Shades of Grey – I got to admit the penis jousting is what made this for me! 😀