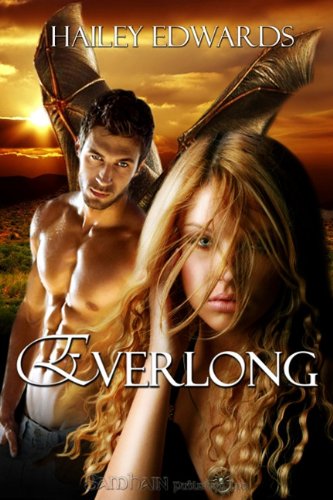 Today we are excited to welcome Hailey Edwards to Book Lovers Inc! Hailey is the author of fantasy and paranormal romance series, including her most recent release, A Hint of Frost. We had a whole host of questions for Hailey, and she very graciously answers them all (including a tidbit about a secret foot-writing skill!).  Check out what she has to say about her writing and reading habits, her characters, and her future writing plans. Then be sure to check out the end of the post, where Hailey has a few questions for you!
—–
Stella: Hi Hailey, welcome to Book Lovers Inc! Can you please tell us a bit about yourself?
Hailey: Hi! Thanks for having me. There isn't too much to know about me. I'm married, a mom, I love to bake and I always have some sort of home improvement project underway. Reading is, of course, my favorite hobby. When I manage to pull my nose out of whatever book I'm currently reading, then I get to work. Writing is my full-time job, and I write fantasy and paranormal romance for Samhain Publishing and Forever Yours.
Alisha: Describe a typical day of writing? Are you a planner or pantser?
Hailey: I have a 2k-a-day word goal. I tend to write 1k early in the morning after my daughter leaves for school. I like doing #1k1hr sprints on Twitter with anyone else awake and working that time of day. The second half of my write goal is met after everyone goes to bed and I have a nice, quiet house to work in.
I'm definitely a pantser. I do outline to get a feeling for where I want the book to go, but characters often have their own ideas about what story gets told. It's not uncommon for me to outline a book, then toss the outline after writing the first chapter.
Alisha: What do you think is the difference between a reader and a real Book Lover?
Hailey: I think readers are people who read either to inform themselves or for pleasure. Book Lovers are the people who get lost between the covers, who travel every page alongside the characters and mourn the end of a great story.
Stella: You pen fantasy romance/romantic fantasy series: the Daughters of Askara and the Araneae Nation series. Why did this genre appeal to you, what attracted you to the world of fantasy, what is its appeal? And do you remember how you discovered it?
Hailey: In a word? Possibilities. They are limitless in fantasy. Anything I can imagine, I can write into existence. I think my first exposure to fantasy was the dark fantasy in the movies Labyrinth and The Dark Crystal. I loved those movies and watched them over and over as a child. I still quote Labyrinth. My favorite is "How you turned my world, you precious thing."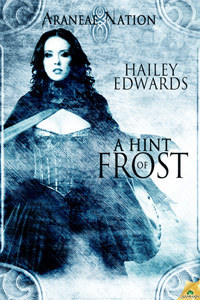 Stella: The first book in your Araneae Nation A Hint of Frost was released by Samhain in April, congratulations! Can you tell our readers a bit about this series, what inspired it, what is its concept and the unique world it is set in?
Hailey: Thank you! The ideas for the Araneaeans were born from my love of vampires. I wanted to create something different, something new, a race of people with fangs that liked to get a little bite-y. The more I thought about it, the more spiders fit the role. They have fangs, venom, and wicked clever tricks that give the clans in my series endless variety. The world itself has been described as medieval, and I suppose it is. The world is divided into the northlands and the southlands with an energy curtain dividing the two. North is perpetual winter, south perpetual summer, and the curtain itself has a nasty habit of consuming people who try to cross it. There are also bear and dragon riders, just lots of really fun and unusual things to be found.
Stella: Can you tell our readers what they can expect of the series and of A Hint of Frost?
Hailey: Readers can expect adventure and romance. Some of the books, or parts of each book, will take dark and unexpected turns. There are cannibals and much worse things that have yet to be revealed preying upon Araneaeans.
Stella: Would you like to introduce the hero and heroine of A Hint of Frost to our readers?
Hailey: This is how Lourdes first sees Rhys:
The tallest among them stood two heads above my height of five feet. His black hair brushed broad shoulders, and his eyes, the fierce green of new growth in spring, tracked me with predatory interest that raised gooseflesh.
And this is one of my favorite descriptions of Lourdes:
I stared where my hands clutched the silken fall of my gown. I was golden and glorious. Even my dark hair shimmered with glittering ribbons and adornments, all woven by the males of my clan.
Stella: If Lourdes had to describe Rhys what 3 words would she use? And Rhys when describing Lourdes?
Hailey: Rhys would say Lourdes is brave, strong, and stubborn.
Lourdes would say Rhys is fierce, determined, and loyal.
Alisha: Can you summarize A Hint of Frost or us Twitter-style (140 characters or less)?
Hailey: Lourdes enters into an arranged marriage with Rhys to save her clan. Her sister is implicated in the murder of their parents. Chaos ensues.
Stella: Now can you tell us 3 reasons why people should read A Hint of Frost?
Hailey: I would say give Frost a try if you love fantasy romance, if you want to read something different, or if you've ever wondered what dragon tastes like.
Stella: Can you tell us any behind the scenes secret related to A Hint of Frost?
Hailey: Pascale, Lourdes's sister, didn't survive the first draft.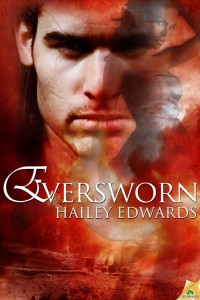 Stella: What shall we expect from you, what is next on your schedule? Will there be more books in the Araneae series (both Lourdes and Rhys had quite a few siblings, so there are quite a few possibilities *hint hint* ;-)?
Hailey: Next up is Eversworn (Daughters of Askara, book three) in June. Then Soul Weaver releases digitally and in print from Forever Yours in August. (I just caught a sneak peak of this cover and *swoon*) I found out last night that the next Araneae Nation novel, A Feast of Souls, Vaughn's book, will be released in December. So it's been a very busy year for all three of my series.
Stella: Can you share with us some little secret trivia, something that not many people know about you?
Hailey: I can write my first name with a pencil between my toes.
Alisha: You write wonderfully complex fantasy romance in a range of series. But what kind of reader are you? What genres and tropes do you usually favor in your reads? Are there any other genres or themes that interest you to write in the future?
Hailey: I read primarily urban fantasy and paranormal romance. My favorite tropes are arranged marriages and friends-to-lovers.
I doubt I ever step outside of the fantasy and paranormal genres as a writer, but I've learned to never say never.
Alisha: The world of the Araneae nation is vast, and we've been treated to only a slice of its complexities. How do you keep all the details and nuances together?
Hailey: I have a series bible I made in OneNote. Each character has a section with their description, relatives, and role. Each clan has a section with its allies and enemies, clan home information, as well as what it trades and to whom. Each location has a section with description, notes on ownership, and important events that took place there. It's almost as much work updating the bible as it is writing the books. I am slowly transferring some of those notes onto my website for the readers who have asked for more information on the world than has been revealed so far.
Alisha: Do you have a sense of how the Araneae nation series will look overall? What kind of series arcs are in store? How many couples we'll get to meet? Or are things developing more organically, as they go?
Hailey: I do have a loose series arc in mind. Book three is the midpoint of what I have planned for this set of characters. Since I'm a pantser and do prefer more organic series/book/character development, it's entirely possible my answer will change as the series progresses.
Thank you so much, Hailey, for answering all of our questions!
How to keep up with Hailey:
Website | Blog | Twitter | Facebook | Goodreads |  Newsletter
~~~~~~~~~~~~~~~~~~~~~~~~~~~~~~~~~~~~~~~~
~*~*Giveaway*~*~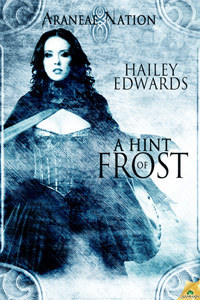 Hailey has generously offered one commenter the choice to pick a title from her backlist in any digital format!
All you have to do is answer Hailey's question: Now that you all know how much I love reading fantasy/PNR, does anyone have any recommendations for me? Who are your auto-buy authors and what are your must-read series?
(You can read our full giveaway policy here)
Please be sure to include a valid email address in the comment form (need not be in the actual body of the comment).
This giveaway is open to all!
Giveaway ends on Saturday, June 2nd, 2012; we will announce the winner on Sunday.
Good luck!