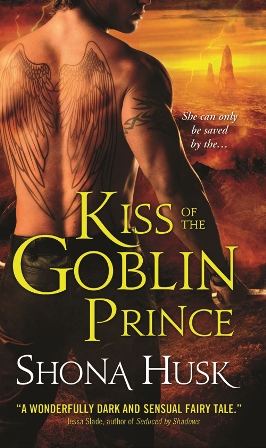 Format Read:egalley from NetGalley
Number of Pages:352 p.
Release Date:May 1, 2012
Publisher:Sourcebooks Casablanca
Series: Shadowlands #2
Genre: paranormal romance
Formats Available: Mass Market paperback, ebook
Purchasing Info: Goodreads, Author's Website, Amazon , Barnes & Noble, Book Depository
Book Blurb:
Trapped for centuries in the bleak Shadowlands, Dai clings to his humanity with a thirst for knowledge. But now he's free of the goblin curse, and some would say he knows too much—he can make nature bend to his will, influence the minds of others, and command magic. Yet love eludes him. Then he meets Amanda, a single mother with a sick daughter whom he feels compelled to protect. But could she possibly place her trust in the kiss of a goblin prince?



My Thoughts:

Kiss of the Goblin Prince is even better than The Goblin King, and The Goblin King was awfully, awfully good.
Okay, now that I've got that out of the way, I'll stop squeeing and try to write an actual review.
If you haven't read The Goblin King, than go forth and read that first. Kiss of the Goblin Prince does presume a fair amount of knowledge from the first book. And besides, like I said, it's damn good.
Goblins generally aren't the heroes of paranormal romance. They aren't the villains either. I think the last time I saw "goblin" before this was The Hobbit. Really.
Dai spent over 1,900 years as a goblin, because his brother Roan was cursed. Talk about carrying guilt by association to a whole new level! But it went the other way too. When Roan was cured, so was Dai.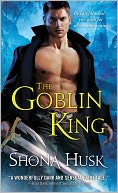 But Roan's cure was to be loved by Eliza, that's the story of The Goblin King. (go, read, now!). Being cured by proxy does not resolve 1,900 plus years worth of torment. And there's nothing anchoring Dai to the 21st century.
Instead, he has LOTS of nightmares of all the things he did while he was a goblin. Sometimes he dreams he's still back in the Shadowlands. Maybe part of him still is.
Talk about a tortured hero!
Then he meets Amanda. At Roan and Eliza's wedding. Amanda is Eliza's sister-in-law. And Amanda is almost as tortured as Dai is (minus a few centuries).
Amanda was married less than a year, to Eliza's brother Matt. She's been a widow for seven years. Her daughter, Brigit, never met her father. Matt died three months before she was born. Brigit has severe asthma, and every attack steals a little more of her lungs. Brigit won't live until adulthood.
Brigit is Amanda's whole world. And she's dying by inches.
Dai and Amanda are drawn to each other like magnets. But Dai has never let himself be with a woman. Not before he became a goblin, and not after. While he was a goblin, he studied magic. Too many of those vows required secrecy, celibacy, or a piece of his soul. Or all of the above. He's the last practitioner of an amazing number of disciplines.
Amanda hasn't felt anything for any man since Matt died. She was pregnant. She was a widow. And Brigit took all her energy. Now, suddenly, there's this mysterious stranger who can't seem to figure out how to make a move.
Then the situation gets really complicated. Dai discovers that all the magic he studied actually works! So he starts trying to do things with it. Which further complicates life. And the more he feels for Amanda, the more he wants to tell her the truth. Which he knows will drive her as far away from him as she can get.
But the neat part of this story was how it wove the past, the present, and Dai's need for redemption into a single thread. Dai couldn't save his sister, all those years ago. But her spirit has been reborn many, many times. In this life, it's Brigit. In order for both of them to heal, they have to save each other. It worked so well in the story.
Kiss of the Goblin Prince is one of those stories that sweeps you away into its world. I give it 5 stars.
***FTC Disclaimer: Most books reviewed on this site have been provided free of charge by the publisher, author or publicist. Some books we have purchased with our own money and will be noted as such. Any links to places to purchase books are provided as a convenience, and do not serve as an endorsement by this blog. All reviews are the true and honest opinion of the blogger reviewing the book. The method of acquiring the book does not have a bearing on the content of the review.