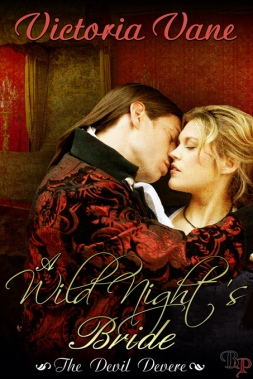 Format Read:ebook from author
Number of Pages:105 p.
Release Date:April 27, 2012
Publisher:Breathless Press
Series: The Devil DeVere #1
Formats Available: ebook
Purchasing Info: Goodreads, Author's Website, Amazon, All Romance Ebooks
Book Blurb:
WITH THE DEVIL IN CHARGE…THERE WILL BE HELL TO PAY… What happens when a struggling actress and a grieving widower come together in a night of unbridled debauchery orchestrated by a bored and machinating rake?

She's a lonely lady down on her luck…
Phoebe Scott, alias Kitty Willis, is a struggling Covent Garden actress with a bruised heart and a closely guarded secret.

He's steadfast and eminently respectable
Sir Edward Chambers, Ned to his intimates, is guilt-ridden over his beloved wife's death and avowed to live out a rustic and mundane life … of celibacy.

With the devil in charge — there will surely be hell to pay.Devil in disguise, Viscount Ludovic DeVere, is determined to return his best friend, Ned, to the land of the living. His meddling machinations result in a night of mind blowing passion after which "dull dog Ned" awakes to find himself in the King of England's bed!

A WILD NIGHT'S BRIDE, a sexy, rollicking Georgian romp!
My Thoughts:

There's a certain delicious irony to the title of the series being The Devil DeVere, when neither the hero nor the heroine of this book is, in fact, said Devil.
Not that the Devil in question, Viscount DeVere, isn't in the story, he is. He's just, not the hero. At first, he seems to be the villain. He's not that either.
He is manipulative enough to be the Devil. He also has been a rakehell for his entire quasi-adult life, and has no intentions of changing anytime soon. He's also rich enough to keep indulging all of his bad habits.
What he can't figure out is why his friend, "Dull Dog" Ned Chambers, would want to go back to the country after three years of rusticating in solititude, and (shudder) celibacy.
DeVere decides that Ned has mourned his dead wife long enough. And while DeVere is extremely crude about his methods, he's actually completely right in his reasoning.
His methods make you want to punch him. Hell, they do make Ned punch him. Fortunately for the reader, DeVere is NOT the hero of the piece. He needs a whole lot of reforming first.
Ned Chambers is exactly the sort of tortured soul who makes a terrific romantic lead, which he does. With Ned as the hero, DeVere provides some needed levity. And a glass jaw.
And then there's Phoebe, the heroine. Her story might not have changed much from today. She wanted to be an actress, she just didn't want to get any of her parts on the 18th century equivalent of the "casting couch". And it didn't work that way.
Phoebe meets DeVere (and Ned) just when she finally decides that the only way to get acting parts as a strumpet onstage is to also play one offstage.
The collision was inevitable. Phoebe needs a patron. She hopes DeVere will be that patron. DeVere thinks that Phoebe is perfect for the role of bringing his friend "back to life". He manipulates them both into that scene in the King's bedchamber. And has wicked fun while doing so.
And so do the readers.
I give A Wild Night's Bride four stars. They'll need a fan. And maybe some bon bons would be good, too.
***FTC Disclaimer: Most books reviewed on this site have been provided free of charge by the publisher, author or publicist. Some books we have purchased with our own money and will be noted as such. Any links to places to purchase books are provided as a convenience, and do not serve as an endorsement by this blog. All reviews are the true and honest opinion of the blogger reviewing the book. The method of acquiring the book does not have a bearing on the content of the review.