We are delighted to welcome Carrie Lofty to BLI today! Carrie is here to to celebrate the release of A LITTLE MORE SCANDAL a novella and the latest in her Christie family series which will be available in digital format tomorrow, May 29th! A LITTLE MORE SCANDAL is a historical romance and the second story in her highly acclaimed series.
Carrie has some Random Questions and Answers to share with us! Take it away Carrie! 🙂
Thanks so much for having me stop by! I'm excited to talk about "A Little More Scandal." At just $.99… Take a chance! This is an adorable intro to my Christies series of Victorian romances.
It's one of Pocket's first original digital releases. You can read more about those fabulous new originals here, including an extended excerpt of "A Little More Scandal."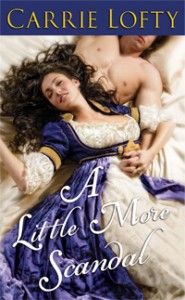 Length: Novella
Release Date: May 29, 2012
Publisher: Pocket Books (Simon & Shuster)
Genre: Historical Romance
Formats Available: Digital
Purchasing Info: Author's Website, Publisher, Goodreads, Kindle, Nook
Book Blurb:
Another scandalous addition to the Christies series.

Welsh minister's daughter Catrin Jones is the talk of Britain. Many women served as nurses in the Crimean War, skirting the edge of propriety to tend lonely soldiers' wounds, but only Catrin survived a shipwreck on her return voyage. Suddenly, like a circus curiosity, everyone wants a glimpse of the scandalous Miss Jones. Scarred, opinionated, and adjusting to a rush of fame so very different from far-away battlefields, she's not the sort of woman Scottish robber baron William Christie aspires to marry.

Following a decade of brilliant business maneuvers, William is on the verge of securing a key railroad contract. But his aristocratic wife's death during childbirth meant the loss of considerable influence. Few in Society have forgiven his up-from-the-gutters youth. With respectability, wealth, and his two-year-old son finally his to claim, William must decide whether an extraordinary nurse is worth embracing just a little more scandal….
But there. Aside from the blurb, that's my sales pitch. Let's do silly stuff now…
Q: Give us some insight into your typical "feather boas and bon bons" authorly day.
I wake up too early, generally get my kids to school just this side of late, and try to avoid McDonald's on the way home. Then it's all manner of potential procrastination, such as sending my three cats to separate corners. At ages 14, 5 and twelve weeks…there is much discord.
Oh, and writing! I try for three thousand words a day (about 18-20 pages) when I'm drafting. Otherwise we're talking revisions, promotions, editing or agenting chat thingies, admin, and finally, maybe getting around to making dinner. Ok. That last one is a lie. My kids have become gratifyingly self-sufficient.
Q: Speaking of, what's the dumbest thing your kids have done this week?
Ticked off my husband and I at the same time? Usually they manage to do it one at a time, where one of stays sane and plays voice of reason. That's a lot harder to do when we both lose our tops. I think it had to do with Wii games. Or homework. Or syrup in their hair. Just pick one and it probably happened.
Q: Favoritest place in the whole, whole world?
The London Underground. I met my husband in England, and we lived three hours apart. Every time I wound up on the Tube, it meant I was going to see him. Liverpool Street station is the best. Sitting on a patch of marble, eating a tuna baguette, watching thousands of people going somewhere. The author in me always wants to make up stories for each one.
Q: It's widely known that office supply stores are like enticing mythic sirens. But why??
They put an addictive scent in ink. I think it's called eau de potential.
Q: TV shows you love—and feel free to admit loving?
"So You Think You Can Dance," "Doctor Who," and "Game of Thrones." Absolutely. I think that's where Lorelie Brown and I started as writing partners. (DOUBLE DOWN, our first erotic romance for Samhain under the name Katie Porter, will be released July 31st.) We couldn't stop making up happy endings for dance couples we loved, and writing together extended from there. Now just about everyone I know is addicted to "Game of Thrones." Arya Stark is the littlest, awesomest heroine ever. But Lorelie has no taste when it comes to turning up her nose about "Doctor Who". The poor dear.
Q: TV shows you love—that feel really totally embarrassed loving?
"Say Yes to the Dress" in all its incarnations, and "Smash"—although that's borderline. It's cheesy, but it might almost be considered not embarrassing. In the right company, anyway, such as theater people!
Q: What word can you never spell right on the first try?
Cousion. Cushoin. Coushon. Cushion, dammit!
Q: Trapped in an adults-only resort, which three celebs would you like there with you?
Michael Fassbender, Tom Hardy, and Joseph Gordon-Levitt. And I'm not sharing.
Q: What's next for you?
STARLIGHT, the second full-length romance in the Christies series, is set in Victorian Glasgow. It just got a 4 ½ stars Top Pick from RT BookReviews, which was such a happy honor. It comes out on June 26th. So soon!
Then comes another Pocket Star digital original, HIS VERY OWN GIRL. It's a historical romance set in WWII. Seriously. Not women's fiction. Not literary fiction. But a full-on honest to goodness historical romance. I hope it helps broaden the sub-genre into the early 20th century. I'm stoked. Like…amazingly stoked.
Where to find Carrie Lofty
Website l Facebook l Twitter l Goodreads
~~~~~~~~~~~~~~~~~~~~~~~~~~~~~~~~~~~~~~~~
~*~*Giveaway*~*~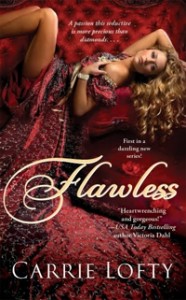 Carrie has generously offered a print copy of FLAWLESS to one lucky commenter!
All you have to do is leave a meaningful comment about Carrie's post or a question for her!
(You can read our full giveaway policy here)
Please leave us a way to contact you.
(Email in blogger profile or twitter name – no way to contact you – no entry).
This giveaway is open to International entries!
Giveaway ends on Saturday, June 9, 2012; and we will announce the winner on Sunday.
Good luck!