Welcome to this week's news post and it has been pretty eventful, with the sad passing of Ray Bradbury, more publishing news as well as new covers/books to watch out for!
The major news this week in the world of publishing was the sad passing of Sci Fi author Ray Bradbury, the author behind Fahrenheit 451 and other classics died earlier this week at the age of 91. Neil Gaiman has written a wonderful article on the life of the prolific and influential author. This year has been pretty bad with the passing of some great authors.
And in a way the news that Harper Collins is preparing to publish quite a few of his backlist books in ebook format over the coming months will be fitting. Although Bradbury was against publishing his books in e-book format but did allow some short stories and his classic Fahrenheit 541 to be allowed to be published, if it was available in all formats as well as libraries. But this news is very welcome and shows that he wasn't really against ebooks  and that he had changed his mind about them recently.
Sony has launched a web-based store and it is about time, after 6 years since they have started their their online book stores which was only available via their software browser to buy books. The UK also has also a Sony web-store although they previously linked to the Waterstones website for orders.
Barnes and Noble have come out to state that the DOJ settlement with several of the Big 5 publishers linked with Agency pricing means that ebook pricing will actually go up. I think it is kind of odd with this thinking because evidence seems to suggest that alleged collusion which led to fixed pricing actually increased ebook pricing. Although the Agency move has definitely helped Barnes and Noble to gain a stronger foothold the ebook market and that the settlement may mean they would have spend more to compete with Amazon and other stores.
News in Brief:
Julie James has announced the title for her next FBI/US Attorney 4th book which will be titled Love Irresistibly. It is also up for preorder right now! 
Jane from Dear Author and Thea and Ana from The Book Smugglers both have  fantastic write-ups on this year's BEA, and there is some great tid bits and news coming out from this year's convention, including the announcement that Kobo will be launching a self publishing platform and revamped lines from Harlequin.
And now for upcoming books!
First up is Chloe Neil's House Rules
In a city full of vampires, trouble never sleeps.

At the tender age of 27, Merit became a sword-wielding vampire. Since then, she's become the protector of her House, watched Chicago nearly burn to the ground, and seen her Master fall and rise. Now she'll see her mettle—and her metal —tested like never before.
It started with two . . . Two rogues vanishing without a trace. Someone is targeting Chicago's vampires, and anyone could be next. With their house in peril, Merit and her Master, the centuries old Ethan Sullivan, must race to stop the disappearances. But as they untangle a web of secret alliances and ancient evils, they realize their foe is more familiar, and more powerful, than they could have ever imagined.
The Shadow Reader by Sandy Williams was one of my favourite books from last year and the followup, The Shattered Dark has a cover and blurb which I cannot wait to get my hands on!
McKenzie was a normal college student, save for one little twist: she's a shadow reader, someone who can both see the fae and track their movements between our world and the Realm. It's a gift for which she has been called insane, one for which she has risked family and friends—and one that has now plunged her into a brutal civil war among the fae.

With the reign of the king and his vicious general at an end, McKenzie hoped to live a more normal life while exploring her new relationship with Aren, the rebel fae who has captured her heart. But when her best friend, Paige, disappears McKenzie knows her wish is, for now, just a dream. McKenzie is the only one who can rescue her friend, but if she's not careful, her decisions could cost the lives of everyone she's tried so hard to save.
And finally we have the big unveiling of JR Ward's 11th BDB book and it is the long awaited book which will feature Qhuay aka Qhinn and Blaylock!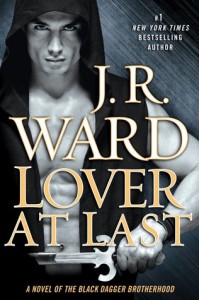 What do you think of any the items I highlighted this week? And if you have read Ray Bradbury what is your favourite book?