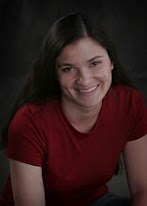 Our guest today is E.M. Tippetts, an author who has ventured into quite varied and different genres: she started out writing science fiction and fantasy stories but later penned some chick lit novels as well! Emily stops by today to tell you a bit more about her latest release Someone Else's Fairytale which embodies every woman's secret fantasy: having a handsome Hollywood actor falling for the everyday girl.
Stella: Hi Emily, welcome to Book Lovers Inc! Can you please tell us a bit about yourself?
Emily: Hi Stella. My name's Emily Mah Tippetts and I have two writing careers, basically. I write chick lit as E.M. Tippetts and science fiction and fantasy as Emily Mah. E.M. Tippetts is an indie author and Emily Mah is going the traditional publishing route.
Stella: Describe a typical day of writing? Are you a planner or pantser?
Emily: Depends on which stage I'm at. I do a lot of freewriting and just letting the characters do what they want, to begin with, but then once I see who they are and how they work, I then plan out how to build a plot around that.
Stella: What do you think is the difference between a reader and a real Book Lover?
Emily: I guess I'd say that a Book Lover is the kind of person who can't go without reading. They feel like they're starving. Readers can take time off. Book Lovers have to have a book on them at all times.
Stella: Your latest novel Someone Else's Fairytale was recently released in print, congratulations! Can you tell readers what they can expect of it?
Emily: Fairytale is a light romance about a A-list Hollywood actor who falls for a college student who isn't much of a fan. While I worked hard to make the characters and their reactions to the situation real, the basic situation has that element of absurdity to it that I think people will find fun.
Stella: Can you tell us what inspired Someone Else's Fairytale? Was it a specific moment/dream/thought? Oh and speaking of inspiration, who inspired Jason Vanderholt the sexy and drop-dead gorgeous movie star?
Emily: It was reading entertainment headlines and imagining how underwhelmed I'd be if I saw a movie star, and then it hit me what a funny premise that is. Imagine being the girl who all your friends are dying to be when you're the last person on Earth who wants what they covet? As for who inspired Jason Vanderholt, the actual life events are a homage to Neil Patrick Harris, who is also from Albuquerque (where the book is set), is the grandson of a very well known lawyer, and has a brother who used to own a restaurant, but those facts only form the bare bones of Vanderholt's character. I worked for Harris's grandfather's law firm, but never knew the family at all (his grandfather was already deceased by then.) As for his looks? I think there are a lot of actors who could do them justice if the book were ever filmed. Hard to pick just one!
Stella: Can you please give a short profile introduction of the hero and heroine of Someone Else's Fairytale?
Emily: Jason would describe himself as a normal guy who just happens to be a movie star, that's his dream at least. He doesn't always achieve it. He's been mega famous since he was sixteen (and is twenty-eight when the book starts). His career is flying high, but the more he works, the greater the disconnect he feels from the rest of his family. His siblings are both married and settled in Albuquerque. As the book opens, he's got a part in a film being shot in Albuquerque, and he's quite open to the idea of finding someone to fall madly in love with and stay with forever.
Chloe Winters is a rising senior in college, about to finish her degree in archeology and biology. She is very reserved about her past because she feels it's nothing to be proud of. She has the same last name as a prominent Albuquerque dentist, but her mother was his intern, not his wife. She's also got some mysterious scars on her body and a very pragmatic approach to live. She doesn't do fairytales.
Stella: If Someone Else's Fairytale was made into a movie, who would you like to play Chloe and Jason (and maybe some other characters you have already cast as well)?
Emily: My dream casting for Jenn (Jason's sister) would be Maggie Gyllenhaal, and that's really the only dream cast person I've got. I don't tend to imagine what my books would look like on the big screen. It'd be extremely cool if that happened, but so far, it's not very likely at all.
Stella: You write chick lit, YA, science fiction and fantasy novels, why this is quite a varied spread, which one is closer to your heart, or if you can't pick one, can you tell us why you write in these genres and what you like best about them?
Emily: Science fiction is what I've always written, since I was a little girl. When I decided to pursue writing seriously, I applied to the Clarion West Writer's Workshop for Science Fiction and Fantasy and got in. I didn't start writing chick lit until years later, when I was just starting to sell short stories to science fiction anthologies and magazines. I wanted to publish a novel, but wasn't to a point where I could realistically do that in the national market, so I write a chick lit for the LDS (Mormon) market, which is quite a bit smaller and thus more accessible. The publisher I worked with and I parted ways after that and I shelved the rest of my chick lit projects.
But then last year, I started to take notice of the indie writing movement, and it looked like a ton of fun, so I took my chick lits and indie pubbed them. Much to my amazement, I actually make enough money this way that it makes sense to keep going, and so at this juncture, I'm a working chick lit writer, something I never expected to be.
Stella: You have three published chick-lit novels: Someone Else's Fairy Tale, Paint Me True and Time and Eternity, would you like to tell our readers about the latter two? How did you become a published writer? How did it all start and become reality?
Emily: Time and Eternity was the book I wrote for the LDS market, and I had a lot of fun doing it. It's the story of an LDS convert who, on the day of her baptism, prays to know if she'll be engaged before she has to decide whether or not to move for her job. She gets an answer. Yes. And then her love life falls apart and she's left wondering if she's going crazy.
Paint Me True I wrote while still under contract with that publisher, but I ended up not going to press with them on it. I later rewrote it before indie publishing it. That is the story of a thirty year old LDS woman who's about to become too old to attend church in a singles ward – our church has whole congregations of singles that an unmarried person can attend between the ages of eighteen and thirty. She used to be the most popular girl in the ward with no end of dates, but at thirty she's got a boyfriend who barely holds her interest, and when he takes her out to a nice restaurant, she dreads that he's going to propose. He dumps her instead, so she's at a point in life she never thought she'd get to, but this leaves her wide open to learn a lesson about love she'll never forget.
Each book took a very different path to publication, as is often the case in any writer's career.
Stella: Can you summarize Someone Else's Fairytale for us twitterstyle (140 characters or less)?
Emily: Hollywood A-lister falls for an everygirl who has no interest in living a fairytale, or so she thinks
Stella: Now can you tell us 3 reasons why people should read Someone Else's Fairytale?
Emily: 1) It will help me feed my kids, who are very, very cute
2) It's a story set in my beloved home state of New Mexico, a place I want to tell the world about.
3) It's my attempt to tell a fairytale in which Prince Charming can rescue the damsel without diminishing her in any way. It sets a goal that I think any of us can achieve in our own relationships, but it's magical every time.
Stella: Can you share any behind the scenes secret regarding Someone Else's Fairytale? (it can be connected to the writring process, deleted scenes, characters who ended up in the finished version way different than they started out, etc.)
Emily: I wrote it when I had no plans to resume my chick lit career. It was just a story I really, really wanted to write, so I had this lingering feeling of despair as I worked on it. The chick lit market was melting down spectacularly, so no publisher was going to pick up a chick lit by a new author. Every time I sat down to work on it, I'd think, "Now why am I doing this, again?" But then it was a solid success on Amazon, so I'm grateful I did write it.
Stella: What shall we expect from you, what is next on your schedule?
Emily: My next book as E.M. Tippets is a YA novel called Castles on the Sand, and I'm hoping against hope that I can afford to submit it to Kirkus for a review. I need to raise $600.00 to do that, so I've set up a Kickstarter campaign here.
Stella: Can you share with us some little secret trivia, something that not many people know about you?
Emily: I never, ever read chick lit or romance. When people ask me how I make mine different from what's already out there, that's it. That's the secret. I have no clue what's out there!
Someone Else's Fairytale by E.M. Tippetts

Jason Vanderholt, Hollywood's hottest actor, falls head over heels for everygirl, Chloe Winters, who hasn't gotten around to watching most of his movies. She becomes the woman every other woman in America is dying to be, but it just isn't her fairytale.
Emily Mah Tippetts writes romance under the name E.M. Tippetts and science fiction and fantasy under the name Emily Mah. Originally from New Mexico, she now lives in London with her family. Before she was a published author, she was an attorney who specialized in real estate, contracts, and estate planning, especially literary estate planning.

Her most recent publications have been her science fiction and fantasy short stories in magazines like Black Gate, Analog Science Fiction and Fact, and the anthology, The Dragon and the Stars.

You can find out more about Emily and her books at her website. She is also a jewelry designer, and her jewelry can be found at: www.emilymah.etsy.com.
~~~~~~~~~~~~~~~~~~~~~~~~~~~~~~~~~~~~~~~~
~*~*Giveaway*~*~
Emily has generously offered a copy of Someone Else's Fairytale by E.M. Tippetts to a lucky commenter!
All you have to do is answer Emily's question: Who would you cast as Jason in a film of the book?
(You can read our full giveaway policy here)
Please be sure to include a valid email address in the comment form (need not be in the actual body of the comment).
This giveaway is open to all!
Giveaway ends on Saturday, 22 June 2012; we will announce the winner on Sunday.
Good luck!