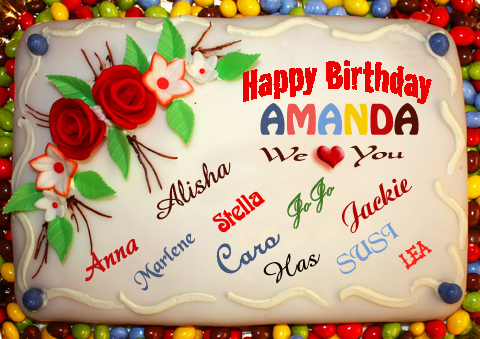 Today is Amanda's %&$§ Birthday and we have some wishes here waiting just for her.
Has: Happy Happy Birthday Amanda!!!! I hope you have a fantastic day with lots of books and goodies! Lots of Love xxx
Alisha: Happy happy birthday, my Aussie Angel! I hope that your special day starts off an awesome and memorable new year for you! <3
Marlene: Have the absolute bestest of birthdays, Amanda. I hope you get lots of yummy presents! And some delicious books, too! Hugs!
Lea: Happy, happy birthday to you. Have an awesome day full of prezzies & sweets, hope it's the best ever! 🙂 (((HUGS)))
Jackie: Have a fantastic birthday, Amanda! Hope your day is filled with books, laughter, and maybe a few True Blood freeze frames…of ASkars in the buff 😉
Caro: Joyeux Anniversaire Amanda!! I hope you had a fantastic day on your side of the world! Now It's time to celebrate on our side too 😉 Let's drink Champagne and wish you a wonderful day. *hugs*
Stella: Happy Birthday Amanda, wishing you lots of joy, laughter and great books (and of course yummy heroes) for your birthday, hope you'll have/had a wonderful day with lots of celebration, delicious cake and bookisgh presents! Hugs.
Susi: Alles Liebe und Gute zum Burzeltag Amanda. May the cake and book faeries be nice to you! ((hug))
and some more:
Have a great day sweety!