Today we are happy to welcome back to BLI author Stacey Kennedy, who is celebrating a double release now: both the next instalment in her Frostbite paranormal/Uf series as well as in her Seduction Pack erotica series released recently! So of course I took the opportunity to grill Stacey about her series, her writing and how she gets in he smexy mood 😉 Please give her a warm welcome and you could even win one of her books!
Stella: Hi Stacey, welcome to Book Lovers Inc! Can you please tell us a bit about yourself?
Stacey: Hi Stella! Thanks for having me! Hmm…a little about me. Well, I'm a stay-at-home mom, but do get the chance to write in the afternoons while my kids are at school. I've been writing since 2009 and was first epublished in 2010. It's been a whirlwind since and last year I had a lovely agent, Lauren Ruth offer to represent me. My first mass-market paperback will be releasing with Entangled Publishing in the Summer of 2013, and I have a whole bunch of ebooks coming out in the next year too. Clearly, I'm a very busy woman, but I'm lovin' every minute of it!
Stella: What do you think is the difference between a reader and a real Book Lover?
Stacey: Oh, a Book Lover is someone who has a book hero crush! That I think shows how much someone is invested in books. A reader still has a love for books, but it's just not as intense as a Book Lover. They are 100% committed to the book, maybe even jealous of the heroine, and will avoid responsibilities to fit in time to read. I'm definitely a Book Lover.
Stella: Describe a typical day of writing? Are you a planner or pantser?
Stacey: A typical writing day for me is checking my emails and maybe doing an interview or guest blog in the morning. Then I belong to my four-year-old until noon. After that I belong to my characters. It's amazing how much you can get done in four hours when you know you have to, because once four o'clock hits, I turn the author switch off and go back into mom mode.
I'm a panster, but sometimes I outline. Basically that's because a few chapters will come to me so I jot them down so I don't forget them. But it's very simple. I recently had to write a synopsis for a book I haven't yet written. You can imagine my worry since I've never done anything like that before. I normally just sit down and let the book flow as it wants. To my surprise it was much easier than I expected. And I have to admit that I found it easier to write the synopsis first. It's actually nice to have a feel for the story before going into it. So, that might be something I get into the habit of doing.
That being said, because I am a panster my first drafts are usually a mess. On larger stories, I will usually do a little chart after I write it to see when things are happening and if anything is missing. Sometimes it's easier to see the bigger picture when it's laid out in front of you. And I always use this technique if I'm stuck and can't figure out where to go. It usually gets me unstuck. But for the most part, I let the characters own the show.
Stella: You write novels from various genres: urban fantasy, paranormal romance and erotic romance. Which one was your "first", and do you have a favourite to read or write? Or if you can't pick one, what is it you like about these genres, why did you decide to write stories in these?
Stacey: I love all the genres I write in for completely different reasons. Of course, my favourite is urban fantasy romance because it's the genre that brought me into writing. My first book released was The Willow, and it was Nexi's story that encouraged me to write. Luckily, I have the chance to re-write Nexi's books into full-length novels. That's the series that's coming out in mass-market and it's been retitled WEREWOLVES BE DAMNED. Plus, I got the chance to switch it from first person to third and added in the hero's POV, which was just a blast to do. It's pretty exciting taking a story you love and making it better.
I suppose why I love urban fantasy is because of the paranormal elements, fast-paced action, and kick-ass heroines. They are by far the easiest books for me to write. So, yes I adore that genre. But I love my erotic romances, especially my BDSM books. I've just finished a new novel called SWEET SUBMISSIVE. It's my first ever novel length erotic romance and it's BDSM too, which just rocks. What can I say? Once the characters start bringing out handcuffs, ropes and floggers…I'm there.
For me the switch between genres isn't all that difficult because there's one common element between all my books and that's an alpha hero. It really doesn't matter what genre I'm writing in, that's a must have!
Stella: You have two new recent releases: one of them is Demonically Tempted, the 2nd book in your Frostbite series, can you say a bit about it to those readers who have read Supernaturally Kissed (the 1st book) and are eager to get their hands on its sequel? Any good teaser excerpt/scene you'd like to share (or just some titillating lines)?
Stacey: The Frostbite series put simply is about a woman named Tess who has the ability to talk to ghosts. She received the gift after a near-death experience. The first book, SUPERNATURALLY KISSED was Tess's journey accepting to use her gifts, which she avoided for a long time. It's also where she meets the hero (a ghost), Kipp. It's a rocky road for sure while Tess is fighting her way to accept not only her gifts, but Kipp too.
The second book, DEMONICALLY TEMPTED is Tess and Kipp's counting journey. Now Tess is part of the cold-case division with the Memphis P.D. and helping to solve past crimes. Of course, nothing comes easy for her, because heck, what would be the fun in that? This book is much darker than the first and Tess's strain is obvious. She's learning how little she knew about the world and really, how much danger surrounds her. At the same time, it's her and Kipp's love story. They're struggling to figure it out all seeing that he's a ghost. Clearly that comes with some problems. But one thing is certain, DEMONICALLY TEMPTED answers a big question that came up in SUPERNATURALLY KISSED. But just because that question gets answered doesn't mean things lighten up for Tess. It just spins her into a whole new type of trouble.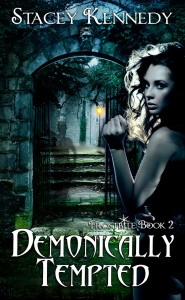 Here's a sexy snippet from DEMONICALLY TEMPTED:
Kipp's heated gaze warmed me from head-to-toe. The feel of his touch against my skin shivered within me. An icy wisp of air brushed over mine, raising more warmth than cold in my body.

He smiled, a delicious grin, as his touch swept up my thigh and moved toward my center. I held my breath in anticipation of the cold air. When the chilly breeze swept over my most intimate flesh, I sighed as wild sensations stole over my mind.

"I love watching you like this." His tone was rich, thick with lust. "And imagining what it feels like to have your warm breath rush from your lips."

He placed both hands beside the pillow staring down at me. Regardless that the chill from him touched me, heat burned wicked in my body.

"You're so beautiful when your pretty green eyes dilate. When I can tell that you want nothing more than for me to touch you." He leaned away, swiping his hand over my breast. "In places like this." He trailed his fingers down my stomach and reached my center. "And here."

I laughed softly, yet my voice held a husky edge. "You drive me crazy when you talk like that."

"Then touch yourself," he whispered. "And imagine it's me caressing you, teasing and marveling over your body, as I wish I could."

With my focus on him, I lowered my hand to my heated flesh watching his gaze burn deeper as I satisfied my ache.

"That's sexy." His voice dipped low. "You're sexy." His attention shifted from my hand, to my face, and repeated the move a few times over before he shed his clothes in his magical way.

I wanted to touch him, reach out and feel his hardened length in my hand, as I brought him to the same level of pleasure I experienced. He, though, proved to bring himself there without my help.

His jaw clenched as he stroked himself in slow movements mirroring my own soft embraces. Nothing looked as incredible as Kipp did in throes of passion. Zings of sensations coursed through my body and my eyes fluttered closed.

He tsked. "You wouldn't deny me the right to watch you when you lose yourself, would you?"

I struggled to open my eyes to him, moaning not only against the building tension, but at his expression. No man. Not once. Had ever looked at me like he would go to the ends of the Earth for me to fulfill all my desires.

He nibbled on his bottom lip, as he always did when his release was near. I zoned in on it; mesmerized by his beauty. His eyes widened, yet the depths of them remained deep and primal. His hand around his erection moved faster and I kept up with the speed that he set on my own body.

"It's time," was all Kipp groaned.

I answered his plea of release with a whimper as my muscles tightened. My body quivered. I was stolen by sensations that left me a panting woman in their wake. More than just a release of pleasure, but the acknowledgment that we belonged to each other.

"I love you, Tess," Kipp said, quiet and tender, drawing me out of my climax. The intensity in his features touched me right down to the tips of my toes. "I love you more than a man ought to love any woman. I love you enough to stay here as a ghost until you join me."

I leaned up, brushing my lips over his and met frosty air with no pressure. "And I promise you that one day I will."
Stella: And the other one is a spicy, what spicy, scorching hot story: Beg For It, the second novella in your Pact of Seduction series, a BDSM erotic romance series. Could you introduce this series to our readers and give them an idea of what can they expect from it?
Stacey: BEG FOR IT is all erotic romance, baby! And yummy BDSM romance, at that. The Pact of Seduction series is about four best friends who have been bored out of their minds and have now entered into a pact to fulfill their ultimate fantasies. BEG FOR IT is Bella and Kole's story. Basically, it's about two people who have known each other for a little while and are lusting after each other like crazy. Only problem? Kole is a Dom and Bella has never been taken into a scene before, even if she's fantasied about. So the story is basically an emotional journey for both Kole and Bella. Its Bella learning to trust and Kole being the yummy Dom he is helping her through that. And the best part, it's full of BDSM smexiness!
WARNING: Naughty snippet ahead! (BDSM elements)

It'd been years since Kole had anyone new under his command. He usually enjoyed skilled submissives that he could push. Pain along with pleasure could leave women boneless. Yet he appreciated the innocence of Bella. Furthermore, he enjoyed Bella, the woman.

He inhaled and caught a waft of luscious woman mixed with cinnamon body spray. As he gazed over her naked flesh, his cock twitched. Her perky breasts with rosy nipples delighted him. The curves and hard lines detailing her athletic frame and shaved pussy invited him. His daydreaming over what she looked like beneath her clothes wasn't even close to how beautiful she really was.

Perfect.

Leaving her kneeling in the center of the room, he strode over toward the tray of items he gathered for the scene. Each item was chosen carefully from her list of limits she gave him when she signed the waiver required by the castle.

He grabbed the four leather cuffs with fur inside and also took the black ropes off the tray, then returned to her. "Stand."

She rose, awkwardly, which he'd not fault her for. Most times, he'd never tolerate such jerky movements from a submissive, but Bella wasn't his usual submissive. Something he reminded himself of as he wrapped the cuff around her left wrist, then repeated the move on the other. Her sharp inhale and the tremor that ran through her made him smile.

Very responsive.

Once her wrists were bound, he stepped in behind her and grasped her wrists at her back. Then, he laced one of the ropes through the loops on the cuffs.

Bella softened beneath his touch.

Lovely.

He pulled on the rope slightly until she backed up; then he attached the loose ends of the rope onto the wooden post in the center of the room. He added the cuff to her ankle and ran another piece of rope down to the loop on the floor to place her in an inverted Y position.

By the time he finished with the knot on her other leg, she panted in heavy breaths, and her muscles quivered. "Rose," she whispered.

"I'm pleased that you're aware when you should use your safe word. But I'm binding you because there's some trust between us since we've known each other for a while now." He brushed his fingers along her calf to soothe her. "If you go into a scene with another Dom, you're to refuse this until you trust him more." He tilted his head and studied her. "Now then, why are you worried?"

"I can't move, Sir."

"Breathe against your worry and grow comfortable within the restraints." He strode toward the wall to give her space, squatted down, watching for any sign that being bound was something she couldn't handle. The little woman trembled in fear, but those taut nipples couldn't lie. This aroused her.

Within a few minutes, the heavy rise and fall of her chest eased, and the redness in her cheeks faded. He approached, her wanton gaze and enticing scent drawing him to her. "You handled that well, Bella." A slow show of trust he appreciated.

"You have your safe word. Remind yourself of that."

"I will."

He grabbed her chin, angled her head back to ensure he garnered her attention. "I explained my rules to you when we discussed your limits and have also given you a reminder a moment ago." Her eyes widen in slight, but he carried on. "If I have to remind you again of how to address me, you'll be punished"

"Yes, Sir."

She might have bitten out the word, but he expected nothing less. Right now, she was playing along to see where this would take her, not giving him the respect he deserved. He sought to change that. "Very good."

Drawing in a long deep breath, he considered her. From what she'd told him and shown him, she had a curiosity toward being bound and flogged, but she was skittish. Proceed with caution, or she'll end this. Not on his life.

This little hellion made him curious, and now having her here, a desire rose to show her what she'd been missing in her life. And that included him being in it.

Not pissing around any longer, he reached forward, palmed her sex, and silkiness warmed his fingers. "So wet already, Bella." Her lips parted, a soft moan escaping at his caress. "You might fear the restraints, but listen to your body. It likes it."
Stella: Can you summarize Beg For It for us twitterstyle (140 characters or less)?
Stacey: The Pact of Seduction has one rule: fulfill your fantasy. Kole wasn't part of Bella's fantasy, but he's about to show her he should have been.
Stella: Now can you tell us 3 reasons why people should read Beg For It?
Stacey: Master Kole. He's probably one of the most intense Dom's I've ever written. But he'll surprise you. Just because there's one seriously dominating man in him, he sure knows how to love his woman. *swoon*
Sex scenes: This is just a given in an erotic romance, isn't it? The scenes are HOT and even my cheeks blushed while re-reading them. Kole is a man who knows how to turn Bella into a puddle of goo…and then some.
Emotional journey: I always try and stuff my stories with an emotional journey. In BDSM, this is usually easiest to do since the connection between a Dom and a submissive is so emotional. It's always the hardest for me to write because it's honestly very draining. But I love Bella's issue with trust in the story and the journey of how Kole helps her overcome it.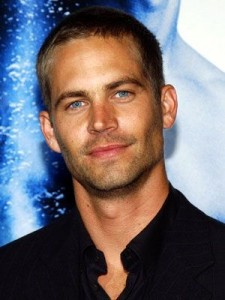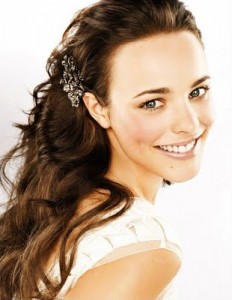 Stella: If you could have your dream cast, who would play the characters in your Frostbite series?
Stacey: Easy! For Kipp, it'd be Paul Walker. And for Tess it'd be Rachel McAdams. Their physical appearance is pretty much how I see Tess & Kipp in my mind. Yup…that'd be pretty darn cool!
Stella: Can you tell us any behind the scenes secret related to either the Frostbite series or the Seduction Pack series? (either to the writing process, or some tidbit about the characters that didn't end up in the final version)
Stacey:
Frostbite series: Oh, spilling secrets time. Well, I'll give one because I know that readers are wondering it. And it's a biggie…so here it is…in the third Frostbite book, Tess & Kipp will have sex! Like real physical body sex!!
I know some of you are instantly wondering if it will happen because of the big secret revel in book two. You might think that's where Tess & Kipp's story will end, but I'll tell you this…the sex scene is probably one of the most creative scenes I've ever written. It's definitely not the "norm" and it's…HOT! I knew that when those two finally got down to doing the "deed" it would probably be the hottest, most intense scene I've ever written…and I was right! It was the very first scene that I've written in the third book. Yes, I was dying to get there too!! So, yeah, how's that for a juicy secret?!
The Pact of Seduction series: This next book is Kyra's story and it's a ménage. While both of the last two books in the series will drift away a little from the BDSM element, there will still be dominant men. And you may find a little bondage in Kyra and Sadie's stories.
I've had Kyra's story simmering in mind for months now and once I get the chance to dig in, I will dive head first to write that story! It just might include a bet between two best friends that throws Kyra right into the middle of it. Lots of fun!
Stella: Do you have any special ritual to get in the mood to write smexy scenes? Some mellow jazz soundtrack? Hot chocolate? Scented candles?
Stacey: Truth is I have to be in the mood to write smexy scenes. If not they won't come out very hot! Some of the sexiest scenes I've ever written are ones where my hubby has been gone on a long trip. LOL! It helps get the creativeness flowing when you're in that smexy mindset. But I don't have any rituals. I just sit down with a coffee and write. Totally and completely unsexy!
Stella: You are an urban fantasy/paranormal author. Why did this subgenre appeal to you, what attracted you to this strange and fantastic world? And do you remember how you discovered it?
Stacey: I know exactly how I discovered the paranormal genre. It was because of Twilight. I loved that series. LOVED! But I wanted something with well…HOT…and that's what led me to adult paranormal books. After that, it was game over. I was hooked!! In the first year of my daughter's life, I read a ridiculous amount of books and that's how my itch to write started.
As for my own writing, I typically write between the genres. My books are usually a mix of urban fantasy and paranormal romance. I love the adventure, action and mystery that you find in urban fantasy. And I love mixing the mortal world with the immortal. So that part of urban fantasy appeals to me. But I need a love story. I just cannot write without one. The love story usually holds just as much strength in the plot as does the action. Luckily, I've been able to mix them and my publishers don't mind because I couldn't write any other way.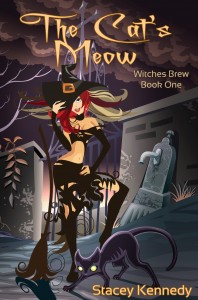 Stella: What shall we expect from you, what is next on your schedule? Any new project you'd like to tell us about?
Stacey: I'm just wrapping up THE CAT'S MEOW. It's a brand new urban fantasy romance that's a total blast!! I've had this one sitting around for a while, so I'm thrilled to be nearly finished it and getting it out in the world. I'm aiming for a summer release, either late July or early August. Nothing like a sexy warlock and let me tell you…Kale is one sexy warlock!!
Here's a peek at the story:
In Charleston, Libby is an Enchantress—a witch gifted by the Goddess to conjure spells. Her magic is strong and she's got a perfect track record when it comes to stopping evil. So when a magical presence is detected around a recent string of feline slayings, Libby must take the case to discover the reasons behind the odd deaths. Much to her displeasure, the coven has also sent the sexy warlock, Kale, to assist her.

While having the muscle around proves to be useful, fighting the attraction between them is worse than a hex, especially considering Kale is keeping secrets. But soon, Libby has bigger problems than the elusive warlock. Her spells are turning up clues that point to something far more sinister than slaughtered cats, leading her to a threat that could shake the very foundation of her world.

Now Libby lands herself in the midst of an uprising. She trusts no one and isn't safe. Not from the warlocks stirring up trouble. Not from the worrisome rebellion she can't escape. And certainly not from Kale who is weaving a very dangerous spell over her.
Stella: Can you share with us some little secret trivia, something that not many people know about you?
Stacey: I never refill ice cube trays. That's a totally odd piece of info about me, but it's true. It drives my hubby nuts! Well, it did until he realized I'd never change. It's not something I do on purpose. I always tell myself I'll do it later and then I never do! It's just one of my totally lazy habits that my hubby rolls his eyes at…often!
Stacey Kennedy's novels are lighthearted fantasy with heart-squeezing, thigh-clenching romance, and they even give you a good chuckle every now and again. But within the stories you'll also find fast-paced action, life-threatening moments and a big bad villain who needs to be destroyed. Her urban fantasy/paranormal and erotic romance series have hit Amazon Kindle and All Romance eBooks bestseller lists.

Stacey welcomes comments from readers. You can find her:

Website | Blog | Facebook |Twitter | Goodreads | Amazon Author Page
~~~~~~~~~~~~~~~~~~~~~~~~~~~~~~~~~~~~~~~~
~*~*Giveaway*~*~
Stacey has very generously offered a copy of winner's choice of any of her backlist books to a lucky commenter! Yay! So take a peek here to see what you can choose from.
All you have to do is leave a comment answering Stacey's  question:
Do you prefer to read BDSM or urban fantasy/paranormal romance?
Have you read any BDSM stories?
(You can read our full giveaway policy here)
This giveaway is open to everyone!
Giveaway ends on Saturday 14 July 2012, and we'll announce the winner on Sunday!
Good luck!