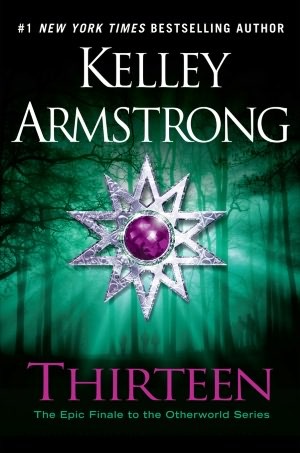 Thirteen (Women of the Otherworld, #13) by Kelley Armstrong
The #1 New York Times bestselling author Kelley Armstrong delivers the novel her fans have been clamoring for: The epic finale of the Otherworld series.

It's been more than ten years, a dozen installments, and hundreds of thousands of copies since Kelley Armstrong introduced readers to the all-too-real denizens of the Otherworld: witches, werewolves, necromancers, vampires, and half-demons, among others. And it's all been leading to Thirteen, the final installment, the novel that brings all of these stories to a stunning conclusion.

A war is brewing—the first battle has been waged and Savannah Levine is left standing, albeit battered and bruised. She has rescued her half brother from supernatural medical testing, but he's fighting to stay alive. The Supernatural Liberation Movement took him hostage, and they have a maniacal plan to expose the supernatural world to the unknowing.

Savannah has called upon her inner energy to summon spells with frightening strength, a strength she never knew she had, as she fights to keep her world from shattering. But it's more than a matter of supernaturals against one another—both heaven and hell have entered the war; hellhounds, genetically modified werewolves, and all forces of good and evil have joined the fray.

Uniting Savannah with Adam, Paige, Lucas, Jaime, Hope, and other lost-but-not-forgotten characters in one epic battle, Thirteen is a grand, crowd-pleasing closer for Armstrong's legions of fans.
. . .
A Matter of Pride (Cougar Falls, #5) by Marie Harte
Book Girl and the Wayfarer's Lamentation (Book Girl, #5) by Mizuki Nomura
Cold Fury (Cold Fury Trilogy, #1) by T.M. Goeglein (YA)
Colors of Love (Speed, #2) by Jess Dee
Cuttlefish by Dave Freer (YA)
Dragon Justice (Paranormal Scene Investigations, #4) by Laura Anne Gilman
Endlessly (Paranormalcy, #3) by Kiersten White (YA)
Friends Forever: A Novel by Danielle Steel
Guitar Notes by Mary Amato (YA)
I Am Number Four: The Lost Files: The Fallen Legacies (Lorien Legacies, #3.10) by Pittacus Lore (YA)
Need (Finding Anna, #2) by Sherri Hayes
Ocean's Surrender by Denise Townsend
Seduced by Blood (Sweetblood, #4) by Laurie London
Something Strange and Deadly by Susan Dennard (YA)
Technomancer (Unspeakable Things, #1) by B.V. Larson
Tiger Bound (Sentinels, #4) by Doranna Durgin
The Covert Wolf by Bonnie Vanak
Where We Belong by Emily Giffin
. . .
Another week that's quieter than most. (All the better to look into pre-ordering next week's books, my dear!) There are quite a few PNR titles of the bunch, not the least of which is the last(!!!) book in the Women of the Otherworld series by Kelley Armstrong. Now that that series is done, it'll be a long wait for her next PNR/UF series (called Omens & Shadows) about second sight and second chances. Sounds like a winner, that one…
Any surprises on this week's list? Have you read any of the Women of the Otherworld books? When you enjoy a series by a given author, do you then auto-buy their other series titles thereafter?