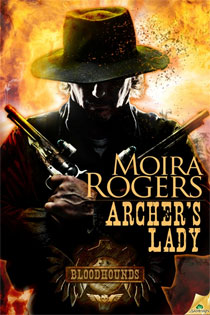 We are very happy to welcome Moira Rogers here at Book Lovers Inc again. I'm a huge fan of their Bloodhound series and the lates addition, Archer's Lady, isn't only pleasing the eyes it will also glue you to the pages. Bree is here today with a new tidbit about their Bloodhounds and shares another excerpt of Keeping Company With Bloodhounds. Be sure to leave a comment answering our question and you might win your own copy.
Hello there! I'm Bree, one half of the paranormal romance writing duo of Moira Rogers, and I'm on a wild and crazy blog tour talking about dangerous men and the women who love them. And I'm not just talking about their heroines—I mean all the women who love them, including those of us who read & write about them! That's why I'm here with an excerpt from Keeping Company With Bloodhounds, a book that gives all the dirty details about those dangerous warriors. (Even if it only exists in the fictional world of the Bloodhounds.)
Over the past few weeks we've had fun sharing tidbits about the Bloodhounds, their world and the people who inhabit it. Most of our discussion has been about where the bloodhounds work (on the border, killing vampires, of course!) and where they sleep (with a willing lady, if at all possible, and did we say sleep?) but we haven't talked much about where they play.
The truth is…well, they don't get much chance to. Life as a bloodhound is pretty hard. Even a party is work, more often than not. The men who sign up to join the Guild know they're giving over their lives to a higher cause. Chances are they'll lose that life, sooner rather than later. If they run into the rare sort of injury that can cripple a bloodhound, they're liable to be pressed into an entirely different sort of service—hero and mascot. Anything to keep raising money to keep the Guild in business.
Of course, that means finding a bloodhound who's enjoying some previous free time is pretty difficult, unless you're willing to look on the shady side of town…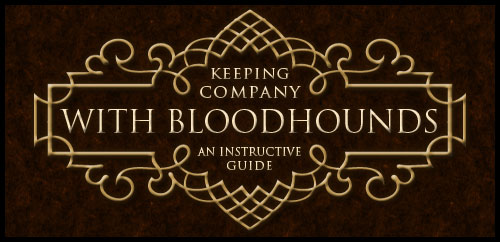 CHAPTER SIXTEEN – POPULAR ESTABLISHMENTS: MEET YOUR HOUND
Where one might meet and make the pleasing acquaintance of a bloodhound varies greatly depending on one's location, resources, and social station.  As we've already discussed the societal differences between cities and small towns, I'd like to take this opportunity to list some establishments of particular acclaim.

When in New York, the unfortunate truth is that bloodhounds are not often found in public establishments, but rather private clubs and formal parties hosted mainly by politicians.  Certainly, if one has access to such an affair, do attend.  However, these events are oft times political in truth—namely, vehicles by which the Guild garners support, both practical and financial. Therefore, any hound in attendance may feel as though he is working, and thus not in the right frame of mind for open, free socialization.

In New Orleans, Miss Lulabelle's mansion on St. Charles Avenue is, without a doubt, the place to be.  Yes, it is, in the simplest of terms, a sporting house.  A dear acquaintance assures me, however, that not only fancy ladies dance attendance at Miss Lulabelle's.  On any given night, one can find a handful of young, unattached women playing cards or drinking with the other patrons. Even I must admit I'm scandalized by the notion.

The Hampton Gentleman's Club on South Clark Street in Chicago, on the other hand, offers a different sort of society entirely.  I'm told the women who offer companionship here are neither fallen ladies, nor are they entirely proper.  Rather, they lie in wait for a patron—much as an artist would, I suppose—a wealthy gentleman who will keep them in style and affluence.  Nevertheless, bloodhounds do frequent this establishment with regularity, and in considerable number.

From Diamond Jessie's three-story palace in San Francisco to Jennie Rogers's establishments in Denver, every other establishment on the list is, unequivocally, a house of prostitution.  I cannot, in good conscience, suggest you frequent a brothel in your search for a happily ever after.  Perhaps we should only note that where there is sport, one may also find bloodhounds…and leave it at that.
* * *
Read more about Moira Rogers & the Bloodhounds series at http://www.moirarogers.com/bloodhounds Book #3 in the series, Archer's Lady, is available on July 3rd, 2012.
* * *
~~~~~~~~~~~~~~~~~~~~~~~~~~~~~~~~~~~~~~~~~~~~~~~~~~~~~~
Giveaway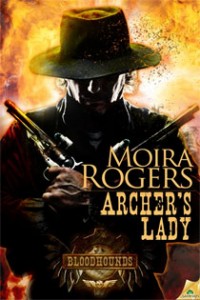 I'm offering an Ebook copy of Archer's Lady for 1 lucky commenter (Ordered through Are)
All you have to do is answer this question: Tell us a place where meeting a Bloodhound would be a lifesaver- or not! 
(You can read our full giveaway policy here)
Please be sure to include a valid email address in the comment form (need not be in the actual body of the comment).
This giveaway is open to all!
Giveaway ends on Saturday, August 4th, 2012; we will announce the winner on Sunday.
Good luck!