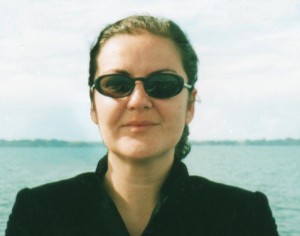 I am very happy to welcome back to BLI contemporary romance author Elle Aycart, whose novels are so steamy you'll need a fan not to burst out in flames! She stops by today to answer some of my and the fans most burning questions about her new release Heavy Issues and her smashing debut novel More Than Meets the Ink, which I loved (as you can see in my review here). Please give her the warmest welcome and you could also win a copy of her new novel, yay! 😀 
Q: Do we get to see characters from More than Meets the Ink in Heavy Issues?
A: Yes, you get to see almost all the crew from More than Meets the Ink. James and Tate who are about to get married, brazen Elle (Tate's sister) who is in charge of organizing the bachelorette party, Jack (Mr. Silent), James's younger brother Max (the male whore with the Hollywood looks who clearly needs an intervention lol) and every one from Rosita's, Tate's restaurant.
Q: Christy's issues with food are heavy (hence one interpretation of the title). You conveyed her struggles, fears and anxiety fantasticaly and that made me wonder whether you were speaking from experience, or if you knew anybody who was battling eating disorders or if you had just done some extensive research to portray this side of Christy's life truthfully?
A: Compulsive/emotional eating is a disease I'm familiar with because it runs rampant in my family and among many of my friends. It's my experience that faced with anxiety men usually turn to alcohol. Not women; women turn to food. Bad thing is, comfort eating isn't considered a disease by many, but a character defect. So, those suffering from it end up ashamed of themselves, ashamed of their inability to control something that the rest of the population don't seem to have a problem with.
Q: What is on the soundtrack of Heavy Issues?
A: Oh that one is easy; I listened to Eminem all the time while I was writing Heavy Issues. The new album and some of the older ones. And I got a kick out of it, because Christy loved rap, while Cole, diehard fan of Metallica, hated it. Which in turn is ironic, because if you listen to Eminem's lyrics, you'll see he has as many women issues as Cole does lol.
Q: Your novels are full of sex scenes, does writing sex scenes come naturally to you or are they challenging? Do you blush when writing them or these part are the parts which are flowing the most smoothly from the whole story?
A: Thinking about the sex scenes comes naturally, getting them down on paper is much more challenging ;-). And yeah, I absolutely blush when writing them, especially while writing those in Heavy Issues, because let's face it, Cole doesn't mince words and in what concerns sex, he's a wrecking ball.
Q: In both your novels ink and tattoos are mentioned: do you/your husband have any? what's your fascination with it, what started it? If you don't have one yet, are you planning on getting one? if so, what will it be?
A: I looove tattoos, they are just the shit 😉 Tattoos make for very powerful statements and men with tattoos are in my opinion very sexy. I don't have any tattoos though, nor does my husband. I keep saying that that's because I haven't yet found the proper design, but I think I'm just plain chicken.
Q: What's next? Is it Max's story?
A: Heavy Issues had a couple of subplots that were dropped by the publishing house because they considered the book to be too long. One of those subplots was about Mike, Cole's foreman. As Mike's story happens at the same time with Cole and Christy's, I thought it should go next. Then, after I'm done with Mike, it'll be time for Max to bite the dust 😉
Q: What happens when you run out of brothers? Will it be the end of Alden then?
A: Not to worry, between James's work associates, Christy's posse, and Tate's sister, we have Alden for a while.
Q: Did you make up the town of Alden?
A: Yes, I made up the town of Alden. And I'll let your readers in a secret; I have never been in Boston. Or in Florida for that matter.
Q: Are the Bowen brothers based on real men you know?
A: I don't think they are. Maybe there is a bit of some men I know in them, but generally speaking I like to let my imagination fly when I create my male characters. Every man I write is in a way my dream man.
Q: Which heroine are you most like – Tate or Christy?
A: Christy, definitely. They are both flawed in their own ways, but Christy's thought processing and insecurities are closer to me than Tate's balls-to-the-wall, I-don't-need-help-from-anyone attitude.
Where to find Elle: Website / Goodreads
Heavy Issues by Elle Aycart

Book #2 in the Bowen Brothers series

Steering clear of relationships has never been difficult for demolitions expert Cole Bowen, but now, with his brother's engagement sending the female population into full-blown hysterics and the town of Alden's month-long festivities helping along, he finds himself in hell. When he discovers Alden's new resident and the object of all his wet dreams, Christine Sheridan, has sworn off relationships and is going to hire a gigolo to get professionally laid, he decides to kill two birds with one stone.

Christy is so not drinking again. Thanks to José Cuervo she has her friends signing her up for stud conventions and Cole frigging Bowen offering sex in exchange of fake dates, which is so out of the question it isn't even funny. She knows the domineering man will push her boundaries, and after battling all her life with self-esteem issues, she isn't ready for that. Too bad he won't take no for an answer.

Cole is determined to strip away all of her defenses but refuses to lower his ever-present walls, so when Christy realizes she wants more, she's left with only two options; walk away or crack his shield and risk her heart in the process.
~~~~~~~~~~~~~~~~~~~~~~~~~~~~~~~~~~~~~~~~
~*~*Giveaway*~*~
Elle has generously offered an ebook copy of Heavy Issues to one lucky commenter!
All you have to do is leave a question for Elle, or tell us: if you were a compulsive/emotional eater what food would be the death of you? 
(Mine would be French fries and desserts I just wouldn't be able to stop)
(You can read our full giveaway policy here)
Please leave a valid email when placing your comment so we can inform you if you win.

This giveaway is open worldwide!
Giveaway ends on Saturday, 4 August 2012; and we will announce the winner on Sunday.
Good luck!
 For a second chance to win a copy of Heavy Issues enter here at Ex Libris.