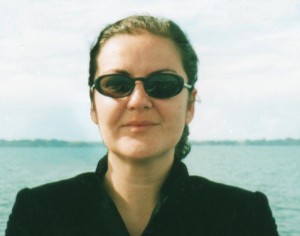 We are very happy to welcome to BLI international author and certified globetrotter Elle Aycart, who is here today to tell you about her smashing debut novel More Than Meets the Ink, which let me tell you is a seriously scorching hot and sexy read! *fans herself* (You can read my interview here.)
Stella: Hi Elle, welcome to Book Lovers Inc! Can you please tell us a bit about yourself?
Elle: Hi Stella, and thanks for having me.
What to tell you about me? I'll give you the basics; I'm a 37 year old mother of two – a 9 and a 5 y. o. girls – who spends her days running after them and trying to take care of a small sushi take-out business.
I was born in Barcelona Spain but at age 18 I went to study abroad, first to Russia for two years, and then to Finland, where I stayed for 10 years.
I was never one to have a clear idea what to do for a living, so when I finished my Slavic Philology studies at the Helsinki university I decided to try different things; I've worked as a translator, a travel agent, a sushi chef and a flight dispatcher to name just some.
Writing had been a dream of mine for quite a while, but it was only around 3 years ago that I seriously gave it a try.
Stella: Describe a typical day of writing? Are you a planner or pantser?
Elle: I have to fit my writing somewhere in between caring for the girls and working at my day job, so a typical day of writing is quite chaotic to say the least. I write when I have time, which is usually in the night.
As for whether I'm a planner or a pantser, I'd say I'm a pantser who needs a bit of planning 😉 I have to know where the scene is going and what's going to happen more or less, but if I have all the ins and outs worked out in my head before I sit to write, then I get bored with it before it gets on paper and it comes out dull. Jaded. The longer I let a scene linger in my head without writing it down, the worse it comes out.
I get the best ideas while pantsing.
Stella: What do you think is the difference between a reader and a real Book Lover?
Elle: I think we are talking about totally different party animals here, much like the difference between an occasional drinker and a full-blown alcoholic. A reader reads when and if has time for it, a real Book lover makes time for reading. A big hunk of her/his free time goes to reading (and sometimes not only free time). A real Book lover can easily read through the night because putting the book down was a total impossibility (been there, done that!).
Stella: Can you summarize More Than Meets the Ink for us twitterstyle (140 characters or less)?
Elle: A hot sweet romance between a rather judgmental woman who is hurting big time and a big tough-assed tattooed bad boy who refuses to give up on her.
Stella: Now can you tell us 3 reasons why people should read More Than Meets the Ink?
Elle: Oh, that's easy: James, James and James 😉
Now seriously, there are many reason why I think this book is worth reading. James of course is one of them. He's just Mr. Wonderful – dominant and possessive but sweet and caring at the same time. If I recall correctly, there was one reader who summarized it perfectly for me. She said that heroes like James had ruined her for real men everywhere. I so totally agree.
Another reason why people should read More Than Meets The Ink is that it's hilarious. I found myself laughing out loud many times while writing it.
And last but not least, More Than Meets The Ink is not only a hot romance but it also depicts the healing process of a woman who has lost half her family in a car accident.
Stella: What is your favourite scene in More Than Meets the Ink? And why that one? Was it easy/hard to write it?
Elle: That's a tough one because I love all the scenes, especially the ones happening in the retirement community. If I had to choose, I'd say the opening scene is my favorite. At the end of the interview you'll find out why…
Stella: English is not your mother tongue, why did you decide to write a book in English? Is More Than Meets the Ink your first novel or have you written others in other languages? Was it challenging writing a novel in a language other than your mother tongue?
Elle: I don't write in Spanish, I honestly don't think I'd know how. I left Spain when I was 18 years old and I came back at age 30, married and with two kids. I spent most of my adulthood abroad, speaking something else other than Spanish.
Not to mention that I'd be more than a bit embarrassed if my grandparents (all of who are still very much alive despite being on their 90's) would get a hold on my books and be able to read them. I'd never live that one down 😉
Stella: What's your stance on tattoos: are you like Tate who dislikes and distrusts anyone having one or are you rather like her sister Elle who falls for those tattooed, dangerous looking bad boys?
Elle: I'm like Elle, hands down; tattooed, dangerous looking bad boys are just irresistible.
And when they have a heart of gold like James to go along with their take-charge attitude… just mouth watering.
Stella: Do you have a tattoo? What's the story behind it/them? Or if not yet, would you ever consider getting one? And if so what would it be?
Elle: No, no tattoos for me. I wanted to get one when I was on my late teens, but my parents were totally against it (20 years ago tattoos weren't as mainstream as now, they probably thought their daughter was going to slide in the world of depravity and drugs because of it).
Now I don't know, I'm not sure I want a permanent reminder on my skin of a fleeting thought. Hell, probably I'm just a wuss and plain scared of needles.
Stella: Can you share with us some little secret trivia connected to the writing of More Than Meets the Ink or something that not many people know about you?
Elle: The opening scene in the book, the one with Tate and her mother and the mess with the cats and the neighbour… I didn't make that one up, my crazy – God bless her soul – mother-in-law pulled that one for real.
(Stella: Lol, that is too funny! When I read that scene, I was wondering the chances of that happening in real life, fantastic, that it is something that actually happened! :-D)
Stella: What shall we expect from you, what is next on your schedule?
Elle: I'm now finishing Cole's story (James's older brother).
People keep writing to me wanting to know about Jack Copeland, the silent mysterious bikers' bar owner in More Than Meets The Ink, so I'm going to have to get to him at some point in the near future.
Where to find Elle: Website / Goodreads
Where to buy More Than Meets the Ink: Loose Id / Amazon
~~~~~~~~~~~~~~~~~~~~~~~~~~~~~~~~~~~~~~~~
~*~*Giveaway*~*~
Elle has generously offered an ebook copy of More Than Meets the Ink to one lucky commenter!
All you have to do is leave a meaningful comment about the interview or a question for Elle, or answer Elle's question and tell us whether you find tattoos sexy or repulsive? Do you like your men with tattoos? If so, what is the sexiest tattoo you have ever seen on a man?
(You can read our full giveaway policy here)
Please leave a valid email when placing your comment so we can inform you if you win.

This giveaway is open worldwide!
Giveaway ends on Saturday, 31 December 2011; and we will announce the winner on Sunday.
Good luck!