Welcome to this week's news post and we have a bumper edition full of books to movie adaptations and book news!
It seems Hollywood's appetite book adaptations is not going to diminish,  Big Books, Tiny Voices have compiled a huge list of 60 YA books that has been picked up for movie options, which range from The Hobbit to the upcoming adaptation of Divergent. Whilst the majority of these options will be stuck in development hell and probably will never be made – already quite a few have gone in production, although there is a few books that I  don't consider YA such as  the The Night Circus or A Discovery of Witches as YA .
There is also more adaptations in the offering, with the BBC  and BBC America will be co-producing a ten-part drama based on The Musketeers.  The ten part series will be set in the same period as Alexandre Dumas' novel and will capture same tone and swashbuckling adventure.
The Syfy channel has also announced they greenlit the  pilot for High Moon an adapation based on John Christopher's cult classic The Lotus Caves. The book is about colonists on the moon who discover a new alien lifeform while mining for minerals which causes tension.  Bryan Fuller (Pushing Daisies) will be the executive producer alongside Robert Halmi Snr (Neverland, Tin Man) will also be producing and distributing outside the US.
And finally – I have reported the pickup for The Dark Tower movie which was initially optioned with Universal which had plans to be a tv series as well as a movie but that fell into development hell but it seems that Warner Brothers is very keen on this project and wants Russell Crowe to star.  Director Ron Howard is still on board with the idea of the  t.v series that will bridge the story in between the movies and with the recent successes of epic fantasy such as Game of Thrones it does seem this genre is gaining steam in the small and big screen.
Sourcebooks are celebrating Georgette Heyer's Birthday on the 16th of August which would have been her 116th year. To commerate they will be having a huge party and sales of her books. There will be an ebook sale which will start on the 14th and ends on the 20th where all her available ebooks will set  for $2.99. And her print books will also have a 30% discount at their site where you can order for the entire month with this discount.   Sourcebooks will also be hosting discussions/giveaways and a celebration at their Facebook page where you can join in or discover the joy of Georgette Heyer's books.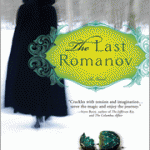 Sourcebooks is also offering The Last Romanov by Dora Levy Mossanen for free as a special Free Friday Barnes and Noble Pick.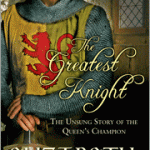 They are also have Elizabeth Chadwick's The Greatest Knight  for $2.99 for a limited time and the prequel, A Place Beyond Courage is slated for release next month. 
News in Brief:
Anyone looking forward to the sequel of Enclave by Ann Aguirre? Well this has definitely whetted my appetite, the trailer for Outpost unveiled this week -and all I can say I want the comic book adaptation for this series! You can also check out a cool interview with Ann at the link.
Another book that I am lusting after is The Shattered Dark, Sandy Williams has posted an excerpt for the book and roll on October! You can read the excerpt here.
It seems publishers' cant get enough of Twific – Gabriel's Infernal by Sylvain Reynard scored a huge deal with Penguin who will be picking up the book. This use to be a fanfic based on Twilight which was called The University of Edward Cullen but was pulled to publish by Omnific. There is quite a few Twific which has been pulled to publish and with the recent successes of 50 Shades series I suspect there might be more.
And now for books to look out for!
Touched by Corrine Jackson looks very interesting.
Remy O'Malley heals people with touch—but every injury she cures becomes her own. Living in a household with an abusive stepfather, she has healed untold numbers of broken bones, burns,and bruises. And then one night her stepfather goes too far.

Being sent to live with her estranged father offers a clean start and she is eager to take it. Enter Asher Blackwell. Once a Protector of Healers, Asher sacrificed his senses to become immortal. Only by killing a Healer can a Protector recover their human senses. Falling in love is against the rules between these two enemies. Because Remy has the power to make Protectors human again, and when they find out, they'll becoming for her—if Asher doesn't kill her first.
Jessica Sims' Desperately Seeking Shapeshifter is another fun and sexy entry in her PNR series which I am looking forward to!
Following the page-turning debut Beauty Dates the Beast, this is the second novel in the fresh and funny new series about a paranormal dating service. 

Sarah Ward, the werewolf sister of Bathsheba fromBeauty Dates the Beast, and co-owner of their paranormal online dating agency Midnight Liaisons, is voluntarily traded to a wolf clan in exchange for a kidnapped female were-cougar. Fearful of what might happen to her while with the wolf clan, she and Ramsey, a were-bear who's part of the were-cougar alliance, pretend to be engaged so he can stay with her for protection. The last thing either of them expect is for their pretend engagement to lead to a very real love affair….
Anne Marsh has a sexy new series featuring firemen coming out later this year. Burning Up is slated for this November.
It takes a special kind of hero to be a smoke jumper. To take the greatest risks. To live or die in the raging heat of the moment. And it takes a special kind of woman to love him. . .
Where There's Smoke. . .

For Jack Donovan, smoke jumping is a way of life. He lives for the adrenaline rush–the thrill of flying over the burning California hills, the intensity of diving straight into the inferno, the glory of taming the forces of nature. Love is a distant ember compared to the feeling he gets fighting fires–until an emergency call from his hometown brings him face to face with the one woman he can't forget. . .

There's Fire

Lily never got over the handsome rogue who once kissed her senseless–and then left. She vowed she was done with love-'em-and-leave-'em men and small town life. Until a series of malicious fires set by a stalker has her running home to hide. Now, their summer is heating up as Jack fights to save her from the stalker's fiery threats and to convince her to give the passion between them a second chance
And finally we have Kristin Callihan's 3rd Darkest London instalment, Winterblaze.  I adore this series and recently read Moonglow which I loved!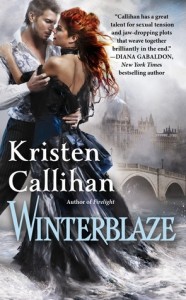 So what do you think of the increasing popularity of book adaptations especially with the huge focus on YA? And what do you think of the trend of pulled to publish fanfic especially with the huge success and popularity of 50 Shades? Do you think this is a good trend by publishers?