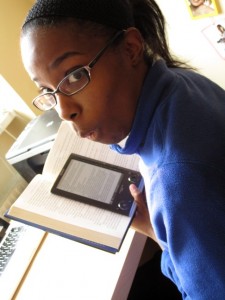 Commuting on the subway every morning can be quite amusing, if one can take time to notice the little details. I recently had a moment of sudden awareness in which I looked up and down the train platform and noticed that the VAST majority of the countless people waiting for the train were reading from various electronic devices–tablets, phones, e-readers. Of course, there were still many reading the daily (free) newspaper supplement circulated locally, but it was hilarious looking around and seeing how ubiquitous the use of devices was. It really made momma proud.
These days, pointing out that electronic reading (e-reading) is the norm is a boring, unsurprising understatement. However, the fact that it feels like it's happened in the relative blink of an eye is absolutely fascinating. Not even four years ago (when RIM's Blackberry was all the rage) was there so much use of portable devices for recreational reading (checking emails sooo doesn't count). At that time, the Amazon Kindle seemed like a wealthy person's toy. And the thought of reading long-form material–whole newspapers, novels–felt weird for many. The popular opinion seemed to be that books smelled and felt like magic in one's hands–and who doesn't love to sniff a good hardcopy book?
Such a sentiment is heard with much less frequency now. For me, someone who'd worked at libraries for years and did indeed love the tactile qualities of a book, adapted, and fast. And I'd be lying if I said that e-reading methods haven't drastically changed the way I read. I've long been the kind of person to read a book at a time (as it's never been fun to carry several heavy tomes). Since I began using an e-reader (sometime in 2008), I more frequently read numerous books simultaneously–or at least read them in much quicker succession. I also found that I engaged with a book more, taking notes and (later) highlighting passages or looking up word definitions on the fly (a welcome change from sitting down with the huge dictionary, which I did do). Heaven forbid I EVER marked up a physical book–gasp!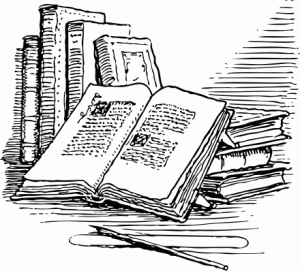 Furthermore, a few years of e-reading on a regular basis have brought on an appreciation the immediacy of consumption that's afforded a frequent reader. Someone recommends a book, and if it's interesting enough, you can pop onto your computer (or better yet, an e-reading device) and buy the book straight away. Even for book reviewing…consider the ability to send e-ARCs or give away copies of books without having to distribute as selectively and/or ship books well in advance. We want our books now? So it shall be.
It's also noteworthy that there's been a seeming rise in the number of books of atypical length (if "typical" is about 90,000 words). You'll find so many more shorter stories–novelettes, novellas, and short stories–sold as single titles, as well as 100,000+ books of all stripes that, in print, would've traditionally been reserved for certain subgenres like epic fantasy. Unsurprisingly, this seems to be most common with titles that are e-only.
(Another alternative to traditional reading is audiobook "reading." Yes, yes, it's not the same as reading visually, but I think it's at least worth mentioning, seeing as how it's yet another example of the increasingly common ways of consuming books beyond the paper-paged experience.)
All these things that have been affected by reading electronically, whether it be on a computer, a phone, a tablet, or a dedicated e-reader. From the very personal to the very practical, e-reading has changed so much is so little time. I can only imagine what Gutenberg would think of it all.
What about you?? Do you use electronic devices to read? If so, has e-reading drastically changed the way you read or how you perceive books? How so?