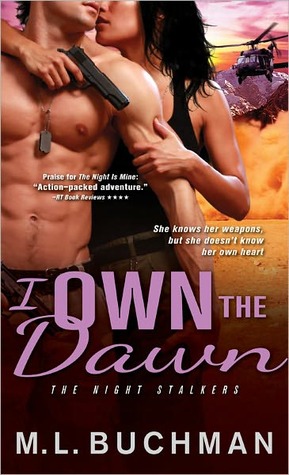 Format Read:ebook from NetGalley
Number of Pages:416 pages
Release Date:August 1, 2012
Publisher:Sourcebooks Casablanca
Series: The Night Stalkers #2
Genre: Military Romantic Suspense
Formats Available: ebook, Mass Market Paperback
Purchasing Info:Amazon | B&N | Kobo | Book Depository US | Book Depository (UK)  | Author's Website | Soucebooks 
Book Blurb:
Kee Smith battled through a difficult childhood to work her way up the ranks of the U.S. Army. When she finally makes it into the elite Night Stalkers, she feels thrilled, honored, and vindicated…until she finds out she's been assigned to the "girlie-chopper" piloted by the only other woman in the regiment.
Kee is determined to show Lt. Archie Stevenson, one of the male co-pilots, that she is just as tough as the guys. Throughout their special mission, Archie doesn't know whether to make love to her or plant her face-first into the dirt. But he'll do whatever it takes to break through that shield Kee wears around her heart.

.
My Thoughts:
M.L. Buchman's military romance series is about the four soldiers who crew one particular chopper in the 160th Special Operations Aviation Regiment (Airborne), famously known as The Night Stalkers. SOAR exists; they operate out of Fort Campbell, Kentucky, just as the unit does in Mr. Buchman's first two books, The Night is Mine, and I Own the Dawn.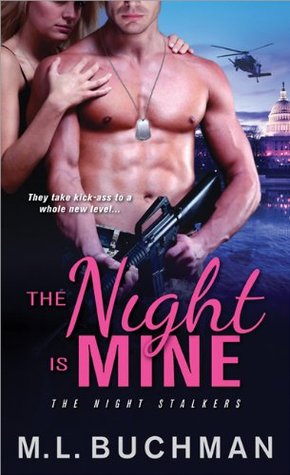 What SOAR doesn't have, at least according to the documents I can find, is female pilots like Emily Beale (heroine of  The Night is Mine), or female soldiers like Kee Smith in I Own the Dawn. To which I say, "Damn!". I want that to be possible.
The fact that the romances in both books violate the military anti-fraternization regulations to hell and back is a whole other matter. But the romance is so damn good in both cases, I don't care.
What I enjoy about both stories is that these military women are the equal of their men in every single way, including as soldiers.
"Men of quality are not threatened by women of equality". Sometimes the old clichés are the best ones.
But in the case of Kee Smith, it's not her qualities as a soldier that are ever in doubt, it's whether her background on the very, very wrong side of the tracks that has her doubting herself, and whether she's good enough for a Boston blueblood like Archibald Jeffrey Stevenson III. The fact that he's a Lieutenant and she's a Sergeant is just a matter of Army regulations.
That her mother was a whore and that Kee murdered the gang-banger who shot her best friend in a drive-by shooting, that might be a problem for any real relationship. His people go way back. Her people are the Army. Up 'til now, that's been fine.
But Archie is not what his world would have made him. Not after following seven years in Emily Beale's turbulent wake through the Army. Whatever he would have been, now he's addicted to the danger that SOAR represents. That Kee represents.
Kee's never let anyone close. Not since her only friend was killed. But when their unit finds a little girl in the Hindu Kush, one lonely survivor of her family, walking across Afghanistan alone, Kee sees herself in the girl, and Dilya finds, not just a protector, but an avenging angel.
Dilya saw the man who murdered her parents. And Kee, the unit's sniper, promises Dilya that she will kill him for her, if she ever finds him. Little do they know just how many rocks they'll have to turn over to find the bastard, and how many political plots they'll uncover along the way.
Archie watches over the girl, Dilya, and finds his way into Kee Smith's heart–even though she wasn't planning on letting anyone in–not the girl and certainly not the man.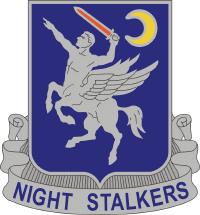 Verdict: If you love military romance, you'll love this series. When I read the first book in the series, The Night is Mine (reviewed at Reading Reality), I was up until after 3 am trying to finish (it's a 400 page book!) I Own the Dawn is a terrific follow-up, and I'm overjoyed that Buchman is planning to write about the rest of the crew! Kee Smith is both tough and tender, and her gradual opening up to Dilya as well as Archie is marvelous. In most military romances, the soldier in the story is the man, and it's refreshing to have Kee be both all-soldier and all-woman at the same time.
When Kee rescues Archie it's the icing on a very delicious cake. I so love my tropes reversed.

I salute I Own the Dawn with 4 stars.
***FTC Disclaimer: Most books reviewed on this site have been provided free of charge by the publisher, author or publicist. Some books we have purchased with our own money and will be noted as such. Any links to places to purchase books are provided as a convenience, and do not serve as an endorsement by this blog. All reviews are the true and honest opinion of the blogger reviewing the book. The method of acquiring the book does not have a bearing on the content of the review.