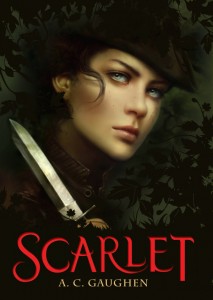 Format Read: Hardcover
Number of Pages: 304
Release Date: February 14, 2012
Publisher: Walker
Genre: Historical YA/Folk Tale Revision
Formats Available: Hardback, ebook
Purchasing Info: Author, GoodReads, Amazon, Book Depository
Book Blurb:
 Many readers know the tale of Robin Hood, but they will be swept away by this new version full of action, secrets, and romance.

Posing as one of Robin Hood's thieves to avoid the wrath of the evil Thief Taker Lord Gisbourne, Scarlet has kept her identity secret from all of Nottinghamshire. Only the Hood and his band know the truth: the agile thief posing as a whip of a boy is actually a fearless young woman with a secret past. Helping the people of Nottingham outwit the corrupt Sheriff of Nottingham could cost Scarlet her life as Gisbourne closes in.

It's only her fierce loyalty to Robin—whose quick smiles and sharp temper have the rare power to unsettle her—that keeps Scarlet going and makes this fight worth dying for.
My Thoughts:
Tiny planes and tiny airports are not good places to rely on ebooks. They have some pretty hardcore anti-tech mandates against any electronics being used too close to the planes.
There's also no TSA. I can bring my favorite bomb on board, but god forbid I try to whip out the iPad.
What am I going to READ?!
Oh why hello there random person who just finished your book. Tell me about this book. Was it any good? Wait, before you answer that, what are your opinions on Twilight? The Left Behind books? Hate them both? Excellent. Now you were saying something about socialism and gender nonconformity…
And so I found myself reading Scarlet. In the world's tiniest airport. Let's look at this baby pro/con style. I've gotten a little attached to my +/- rating system.
Pros:
Scarlet, our main character, is fantastic. She's fierce. Totally able to hold her own – punching out soldiers when they harass children, scaling castle walls, lecturing Robin Hood about classist stereotypes, and trying her damnedest to provide the girl-folk of Nottingham with a bit more agency she had. She is the #1 reason to read this book.
Nascent feminism and class-consciousness! Sadly, Scarlet's wasting her breath preaching to a couple morons who fly into tizzies when there is any slight potential for lady injury. (Psst, Rob. Do you mind if I call you Rob? Lemme let you in on a little secret. When a girl joins an outlaw gang, conducts regular prison breaks, maims corrupt soldiers, and gets into fist-fights – it's not a crime against humanity to take a swing at her.) Here's my girl taking one (of many) stands for equality:
"I don't like that Rob thinks he's better than us, and I don't like how women get nothing for their own selves."
Next up, we have Much, a member of the Merry Men who doesn't spend every breath qualifying Scarlet's skill set based on her genitals. Treats her as an equal, is great with explosives…. Why doesn't Much get more screen time? I'd rather read about his exploits then never-ending references to all the women Little John is banging. Also, why isn't Much the romantic lead?
I deeply love the constant examples of women-supporting-women. Plenty of women in and around Nottingham know Scarlet is a girl, and none of them give her any crap for it. No slut-shaming, backstabbing, or any other negative response to her gender nonconformity or career choice. Scarlet has relationships with various women in town built on trust and mutual respect. This is wonderful to see. Especially in YA. Most YA offerings completely ignore the importance of an extended female support system. Sisters. Friends. Neighbors. They help eachother, even when not to their personal benefit.
Cons:
So. Many. Double-Standards. Robin Hood is the primary culprit. He is incapable of seeing Scarlet as her own entity, and continually assigns her the responsibility for men's actions. Her dad. Little John. Gisbourne. Robin Hood himself.
The longest-running example comes courtesy of Little John, the gang's resident man-whore, who inevitably notices Scarlet's a chick, and decides he just has to hit that. Scarlet quickly puts him in his place.
 John were standing behind him, and he looked at me with a smile. "So, you're back."

I laughed. "Not for you, John Little."

He looked like I slapped him.

"Just because you kissed me don't mean I'm your girl none," I told him.

I heard Much chuckle, and John stepped closer to me. "Maybe I wasn't asking you to be my girl."

"I'm nobody's bit of fun either," I told him, right serious 'bout that.
What a tramp. That moment is just so loaded with subtext and sexual tension, I think I need to take a cold shower. Thankfully Robin is always ready to explain to Scarlet what a slut she is, and how he'll throw her out of the gang if she doesn't stop leading the poor boy on with her femaleness.
(There is a more infuriating example later in the book, but it treads into spoiler territory. Sort of. The 'big reveal' is blatantly obvious the moment you read the blurb.)
The love triangle is absolutely maddening. Come ON. Scarlet rejects Little John again and again and again. Why does Robin decide that they're sleeping together? Is a love triangle mandated by all YA publishers these days? Argh!
Finally, we have Scarlet's 'eating disorder'. This was pretty much shoe-horned in whenever the author wanted to weaken Scarlet. (Oh, my leading lady's been a bit too competent these last few chapters. Personally solving problems. The boys are all listening to her. She's been right about a half-dozen things. I need to remind people why Robin Hood's in charge despite toeing the Too Stupid To Live line. What to do, what to do? Rape? Ridiculous! I can't use sexual assault to weaken my heroine. A dramatic rape rescue will be a key component in the romance. What's another girly ailment? Oh right, eating disorders. Voila!) Every now and then this would crop up out of nowhere, and then disappear to the magical place inconvenient plot lines go to die.
All in all, I'll give it 3 stars. You lose a star for making The Merry Men (Much excepted) such sexist little shits. Scarlet's proto-feminism should have rubbed off on them. At least a little.

You should read Scarlet if you did Macbeth in high school and cast Banquo and Macduff as women only to discover that people had serious problems with powerful warrior women (but not crazy witches). Scarlet would also make an excellent gift for the young Twi-hard in your family. Though the inter-gender relations have room for vast improvement, it's still better than As the Vampire Sparkles. In this book, the obsessive abusive pedophiliac murderer is not a viable romantic interest.
***FTC Disclaimer: Most books reviewed on this site have been provided free of charge by the publisher, author or publicist. Some books we have purchased with our own money and will be noted as such. Any links to places to purchase books are provided as a convenience, and do not serve as an endorsement by this blog. All reviews are the true and honest opinion of the blogger reviewing the book. The method of acquiring the book does not have a bearing on the content of the review.