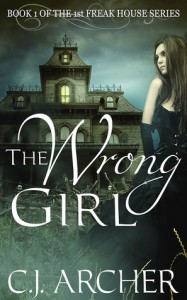 Format read: eARC provided by NetGalley.
Series: Freak House #1.
Genre: YA Historical Paranormal "Romance".
Release Date: May 25, 2013.
Number of pages: 215 pages.
Formats available: ebook, paperback.
Purchasing Info: Author, Goodreads, Amazon, Smashwords.
Book Blurb:
It's customary for Gothic romance novels to include a mysterious girl locked in the attic. Hannah Smith just wishes she wasn't that girl. As a narcoleptic and the companion to an earl's daughter with a strange affliction of her own, Hannah knows she's lucky to have a roof over her head and food in her belly when so many orphans starve on the streets. Yet freedom is something Hannah longs for. She did not, however, want her freedom to arrive in the form of kidnapping.

Taken by handsome Jack Langley to a place known as Freak House, she finds herself under the same roof as a mad scientist, his niece, a mute servant and Jack, a fire starter with a mysterious past. They assure Hannah she is not a prisoner and that they want to help her. The problem is, they think she's the earl's daughter. What will they do when they discover they took the wrong girl?
My Thoughts:
There is a good idea for a book in here. Namely that a group of mad scientists pulled an undefined yet freaky stunt on a bunch of babies years ago. The kids were abducted, abandoned, and/or locked up – until they started getting older and going varying shades of batshit nuts.
That is a book series that I would religiously follow. Each book told from the perspective of yet another Victorian-era teenager trying not to kill themselves (or everyone else around them) while dealing with some bizarre and inexplicable "conditions"? Awesome.
That is the book I was promised. Plus some identity-switching shenanigans to keep things interesting.
Sadly, that is not the book I was given.
What I got was a poorly edited, non-sensical, half story about a Victorian-era girl who is, quite literally, too stupid to live. I could list the ways that Hannah is a moron, but really, who has that kind of time? Pick a page, any page. Plus, what is the point? The author couldn't even be bothered to write a complete bloody story. You know one with a beginning, middle, and end. The way plots usually progress.
The author alleges this is a YA Historical PNR. I am skeptical. Due to the lack of romance. Maybe that comes up in the part of the book she thought about writing, but forgot to actually write. Who the hell edited this thing? I'm pretty sure an editor would have mentioned there was no romance, no character development, no progression of plot – just two events and people talking and riding in carriages between them. (Maybe three events. It's arguable that three things happened in this book. I'd be open to discussion on that point.)
Oh bloody hell, the damn thing is self-published. Well that explains EVERYTHING. The utter lack of editing. The clear lack of a complete story. How the hell do things even end up on NetGalley?
I give  The Wrong Girl 1.5 stars!

You should read The Wrong Girl if you loved the Sleepy Hallow movie with Johnny Depp, but thought the whole plot with the Headless Horseman really dragged the whole movie down, and would have been better without it.
***FTC Disclaimer: Most books reviewed on this site have been provided free of charge by the publisher, author or publicist. Some books we have purchased with our own money and will be noted as such. Any links to places to purchase books are provided as a convenience, and do not serve as an endorsement by this blog. All reviews are the true and honest opinion of the blogger reviewing the book. The method of acquiring the book does not have a bearing on the content of the review.