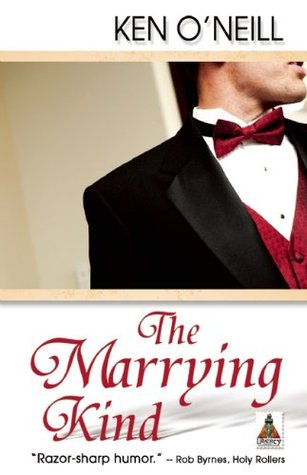 Format Read: ebook from the author
Number of Pages: 264 pages
Release Date: May 30, 2012
Publisher: Bold Strokes Books
Genre: Contemporary M/M Romance
Formats Available: Mass Market Paperback, ebooks
Purchasing Info: Amazon | B&N | Kobo | Book Depository US | Book Depository (UK)  | Author's Website | Publisher's Website | Goodreads | 

Book Blurb:
Wedding planner Adam More has an epiphany: He has devoted all his life's energy to creating events that he and his partner Steven are forbidden by federal law for having for themselves. So Adam decides to make a change. Organizing a boycott of the wedding industry, Steven and Adam call on gay organists, hairdressers, cater-waiters, priests, and hairdressers everywhere to get out of the business and to stop going to weddings, too. In this screwball, romantic comedy both the movement they've begun and their relationship are put in jeopardy when Steven's brother proposes to Adam's sister and they must decide whether they're attending or sending regrets.
My Thoughts:
When I picked up The Marrying Kind, I was aware that it was a story on two levels. There's the novel, the fiction about Steven and Adam and their boycott of the wedding industry and what it does to their relationship and everyone who touches their lives, and who their lives touch.
Then there's the other side. The one concerning the cause of marriage equality that this story was written to promote and support–hopefully without being preachy about it. The movement is simply titled "No Presence and No Presents" and it's explained at the author's website.
But I'm reviewing a book. And it's a good one.
The Marrying Kind tells a terrific story. It's a love story all right, not just about romantic love but also the love of family. There's also the joy of finding, and following, your best self, your true path.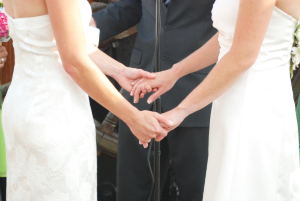 Because that's what happens when Adam has his epiphany and decides he's not going to take it anymore. He's going to stop pouring his heart and soul into planning weddings that, as a gay couple, he and Steven are not legally allowed to have.
(The Marrying Kind is set in 2007, before New York State legalized same-sex marriage)
Instead of continuing to torture himself, he starts a movement. And becomes a hero in the gay community. He also nearly runs his business into the ground.
But where this story really shines is its focus on all of the inter-personal relationships that are affected, and often screwed up, by the movement and the new-found fame it's brought to Adam and Steven.
Because they're not the only couple in their families. Steven's brother Peter is planning to marry Adam's sister Amanda. Which would normally be the happiest time in their lives. But Adam is sticking to his guns, and won't plan his sister's wedding. He's not even planning to go. Steven is caught between his family, his lover and an incredibly important principle he believes in wholeheartedly.
But that's not all there is to this story. It's also laugh-out-loud funny. While I wouldn't want Steven's mother for a mother-in-law, she makes for terrific comic relief. And then there are all the not-quite-over-the-top wedding stories. Never too many, but just enough.
Verdict: There's just enough of everything in The Marrying Kind. Just enough silly wedding stories. Just enough family melodrama. Absolutely the right amount of rocky-relationship turns into HEA. And just the right amount of message peeking through.

I give The Marrying Kind 4 stars.
Reviewer's note: U.S. states that permit same-sex marriage are only able to grant limited  rights and protections under the law. Quoting from Wikipedia, "According to the [U.S.] federal government's Government Accountability Office (GAO) in 2004, more than 1,138 rights and protections are conferred to U.S. citizens upon marriage by the federal government; areas affected include Social Security benefits, veterans' benefits, health insurance, Medicaid, hospital visitation, estate taxes, retirement savings, pensions, family leave, and immigration law." Making those 1,138 rights and protections available to everyone, whether they want to marry a person of the same sex or the opposite sex, is the point of Marriage Equality. 
***FTC Disclaimer: Most books reviewed on this site have been provided free of charge by the publisher, author or publicist. Some books we have purchased with our own money and will be noted as such. Any links to places to purchase books are provided as a convenience, and do not serve as an endorsement by this blog. All reviews are the true and honest opinion of the blogger reviewing the book. The method of acquiring the book does not have a bearing on the content of the review.